29-12-2022
Today the puppy's got their first meaty bones.
They have been busey with it for a while and it has not been so quit last days.
We only heard them enjoy their bones.
And at the end they all fall asleep.
~~~~~~~~~~
28-12-2022
Today we expand the puppypen again. The pen is bigger now and we already put some crates in.
For us it is very important that the puppy's are very familiair with the crates. That makes the movement to their future homes easier.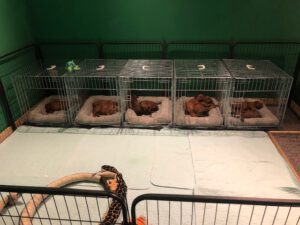 ~~~~~~~~~~
27-12-2022
Today the puppy's had an after Christmas day 😉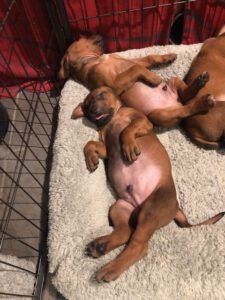 But for Mia and us it was an exciting day.
Mia always has been our girls with special needs.
One year ago some of here theeth where in bad shape.
So the vet removed some of them and cleanded the rest.
But today we had to bring her in surgery again for her theet.
Again the vet removed several teeth.
After her kind of epileptic seizures last week, it was a very nervous day for us.
We directly removed a limb that will be checked.
We hope that Mia is without pain now, and we will do everything we can to keep the rest of her teeth in good shape.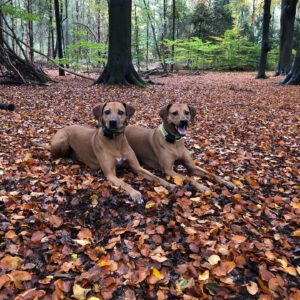 ~~~~~~~~~~
26-12-2022
The puppy's getting more active everyday and have more and more interest in the items we put in the pen.
They also start to play with eachother more and more, what now and then sound very heavy. But they learn eachother boundry' during their play sessions.
We also started with small training sessions with the puppy's. That makes that we can see how the puppies develope, and how their characters are.
Today the puppy's learned to take a little treat out of my hand. Some of them directly understand how to take it, and some more licked the treat out of my hand 😉
~~~~~~~~~~
25-12-2022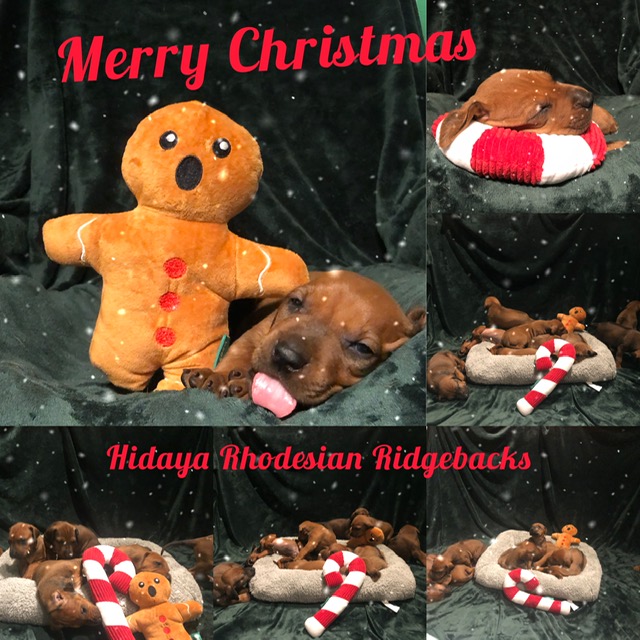 ~~~~~~~~~~
24-12-2022
At this moment we talk a lot about our D-litter puppy's.
But ofcourse we don't forget about our other puppy's.
We received a picture from beautiful Djambo (Hidaya Bello Bruno).
Djambo is from our B-litter (Dolce x Rio) and he really is a copy of his mother.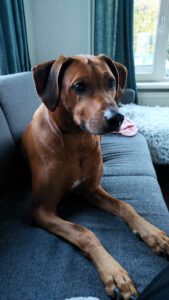 ~~~~~~~~~~
Every day the puppy's got something new to discover.
Today it was a music mat. That was a real party!
~~~~~~~~~~
22-12-2022
Again a lot happened in the short life of our dragons and their queen.
The last days the puppy's where walking around more and more, they are more awake, and they also came out of the whelpingbox more often.
So we gave the puppy's their first small pen.
De whelpingbox is stored again and will be back for our E-litter around 2024.
We made for the puppy's a little pen with 2 pillows.
There is also a pottyarea. Ofcourse they do not always make it to the pottyarea,
but more and more the go to the right place.
The pillows are very close to the pottyarea, becaus puppy's this age can not walk more then about 2 steps before they have to go.
They don't need a lot space at this age.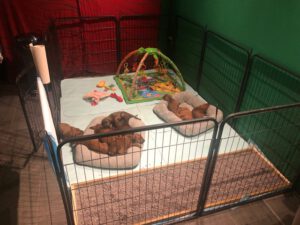 Feeding the puppy's is getting harder for Ani. And we can understand that very good, because the puppy's have really sharp theeth already.
The past days we gave the puppy's some puppymilk also.
They did like that a lot.
Yesterday we put some smashed potato in the melk.
The body can normally handle this food very good, so this is our way to see how
the puppy's body react on the food.
They did well, so today it was time for the next step.
We made a little slurry, with the milk and some fresh meat (energique KVV).
Well they loved it!!
~~~~~~~~
21-12-2022
Finally an update again!
Last days we did not found the time to update the website.
The puppy's had several visits from the future puppyowners.
That are very nice but also very intensive days for the puppy's and for us.
Also has our Mia been sick, some days ago, and have we been really worried about her.
At this moment it is going better.
The puppy's are doing really great!
They grow so fast and look like real little dogs now.
They are awake longer, and coming out of the whelpingbox often.
They play with eachoter and know how to growl and bark.
They get more and more interessted in the toys we offer them,
and they use the pottyarea very well.
The ears are now also open, so we started our soundprotocol,
to get them used to louder and softer sounds.
Yesterday, they also got their first wormtreatment.
From now the socialisation period really started.
That will be a very nice but also busey time.
We will try to update the website everyday again to share
the adventures of the dragons with you.
Fore most of our puppy's we have found perfect homes. But some of our boys are still available.
We don't have specific puppy's available, because we match the owner and the puppy around 7 weeks of age with eachother.
~~~~~~~~~~
14-12-2022
Yesterda we did not had the time to give you a puppy update on the website.
But so much happened the last 48 hours.
The puppy's are developing so fast and so much.
They can stand on their feet better and better and are so curious.
When I enter the whelpingbos they come to me and look for a nice place on my lap for a cuddle and sleep.
Everyday the puppy's get a new toy to discover.
It is special to sit and watch them sniffing and touching the toy.
Today I noticed a puppy with the teeth coming trough. After checking all the puppy's I saw it was very different. Some of them we can see the teeth, but with some of them not at all yet.
That will chance the upcoming days.
Ani is taking some time out of the whelpingbox more and more. She is looking a bit more after herself then te first weeks.
Zoë can not wait… Several times she looked over the whelingbox to see what is going on in there.
This morning was het moment, she was standing with me next to the whelping box and the puppy's showed their interest in her also.
That was a big adventure!
For the puppy's who I hear sleeping and dreaming/processing in the background.
But also for Zoë who is only 20 months yet and never seen this before.

~~~~~~~~~~
12-12-2022
The eyes are now almost open, the puppy's are waggling true the whelpingbox, and we get the idea that some of the puppy's start to hear noises.
So that means a new puppytime has started!
Today we placed a toy in the whelpingbox for the puppy's for the first time.
It is so great to see, how some of the puppy's go out on adventure to see, feel and smell what that new thing is.
~~~~~~~~~~
11-12-2022
Our puppy's are 12 days old and we made some new head pictures.
I like them so much and I am so proud of them.
Some of my beautiful dragons are still looking for the very best home.
Please feel free to contact me if you want more information.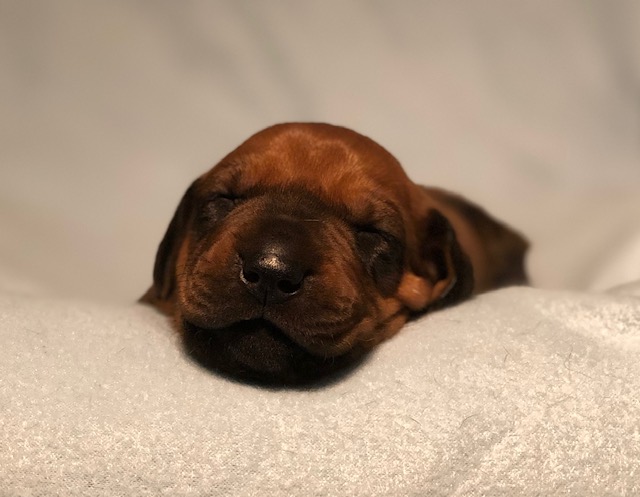 ~~~~~~~~~~
10-12-2022
For our future puppyowners we made an informationmap.
In this book we wrote a lot of general information about the Rhodesian Ridgeback,
but also about thing like driving home with the puppy, the first days at home and raising a rhodesian ridgeback. In this book we also explain everything we do with the puppy's and why we do things this way.
De future owners can read a lot about thing like deworming and vaccination.
We wrote a lot ourself because some subject are our personal ideas. But we are also verty thankful for the proffesionals who wrote an article for us.
This we we think we made a wonderful informationbook, that give the future owner the help, for the first day at home with their puppy, but also subject to think about, like what they want to do with de-worming, vaccination, food, looking for a dogschool etc.
Because we think that is is much nicer to get al the information and making the decissions before the puppy arrive home. When the puppy is there, you only want to enjoy this special time.
~~~~~~~~~~
09-12-2022
Yesterday we saw that Mister Dark Blue was waggling away a few steps before he started to pee.
This means he does not want to make his nest dirty.
We watching the other puppy's we saw more of them doing the same.
And that means we re-organized the whelpingbox, so that we can start with potty-training.
We placed two small beds in the whelping box, as their "nest". In front of the beds, we put some trainingpads.
The idea is NOT to learn the puppy's pee and poop on the trainingpads, but to learn to leave their nest, so it stays clean.
We choose those "bumperbeds" for this, so the puppy's really feel that they are leaving the nest.
Ofcourse we don't expect from them that they do it the right way directly.
But for us this is a great oppurtunity to use their natural instinct for potty-training.
~~~~~~~~~~
08-12-2022
Every day I take the puppy's in my hands several times. Next to the cuddle sessiond and ENS, I take every puppy with me for a moment.
In this way I can feel and see them and take a good look at them. So I can see it directly when something is wrong.
What I saw today was nothing bad, but just very nice and sweet.
The eyes of Mister Red are a little bit open now.
In the first week we already noticed that Mr. Red is very quick with a lot of things.
From the day he was born, he went trough the whelpingbox on his own.
When all the others where together, Mr. Red was sleeping on the other side of the whelpingbox alone.
When I take him with me we already can see his character a bit.
When he does not like to be picked up at that moment, he really does not like it.
So it was not a surprise to us that mister Red is the first who starts to open his eyes.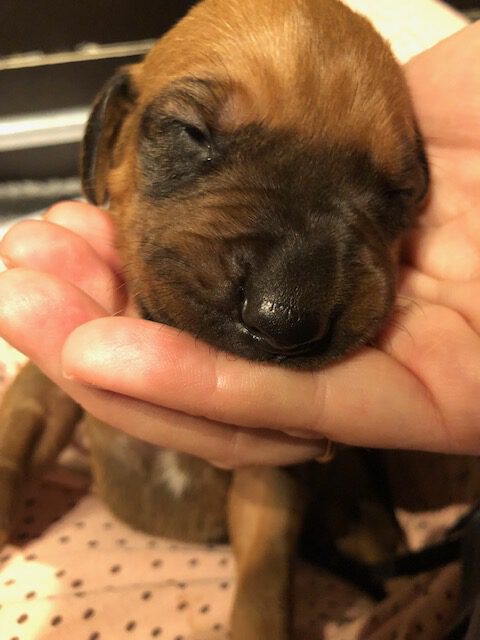 ~~~~~~~~~~
07-12-2022
Today I already had to cut de puppy's nails for the second time.
They also start to crawl trough the whole whelpingbox. It is nog going very stable but so great to watch.
Meanwhile Zoë is trying to dress Nero with some of the puppy toys.
~~~~~~~~~~
06-12-2022
1 week old already!
Time is going so fast right now.
This morning 2 puppy's already doubled their birthweight and most of them are over 1 kilo now.
Ani starts to spend a little bit of time, out of the whelpingbox now and then. Last night she tought it was a goog idea to take some sleep on my bed, what is standing next to the whelpingbox.
For her it is great to be out of the whelpingbox for a while, but for me it was not really comfortable 😉
But that it what is is when you have puppy's.
Some of our gorgeous boys are still available for the very best homes.
If you want more information, please contact me.
~~~~~~~~~~
05-12-2022
This morning we had our first puppy going over 1 kilo weight. Mr. Light Blue is the winner 😉
The lightest puppy now is 740 gram, but he is strong and growing very well!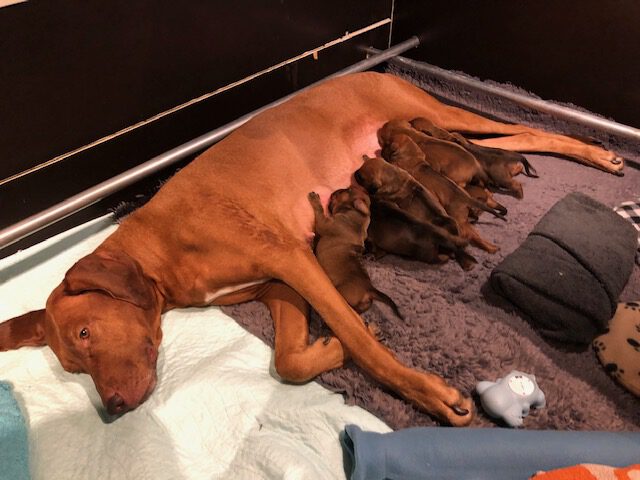 ~~~~~~~~~~
04-12-2022
~~~~~~~~~~
03-12-2022
With our puppy's we follow the puppy culture program from Jane Killion.
Puppy Culture is a socialization and training program specifically developed for puppies from birth through the end of their critical socialization period, with age appropriate protocols and lessons laid out in an organized format .Puppy Culture is based on the premise that the puppy always leads the learning, and puppies learn best by appropriate experiences at the appropriate time. So what we are doing is observe the puppy, and, based on the behavioral markers we see, serve the puppy the experience or lesson that is optimal for him at that moment in time.
Today we started with Early Neurological Stimulation (ENS) with the puppy's.
Early Neurological Stimulation (ENS), which involves applying gentle stressors to a very young animal for short periods of time, is thought to improve their stress responses later in life.
In the movie below you get more info about ENS.
~~~~~~~~~~
02-12-2022
The puppy's are growing very well! All gain weight everyday en they are very satisfied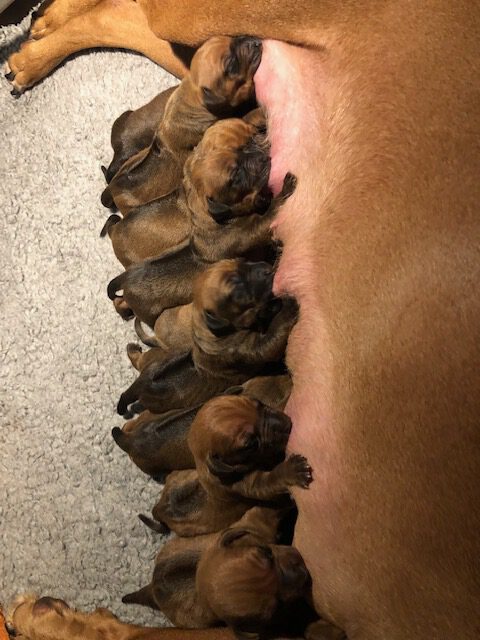 ~~~~~~~~~~
01-12-2022
Let us introduce you our beautiful Dragon litter

Some of the boys are still available for the best homes.
Feel free to contact us.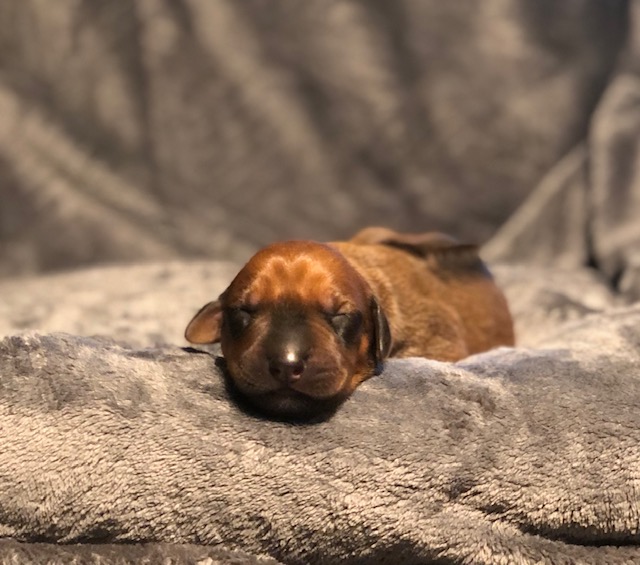 ~~~~~~~~~~
30-11-2022
Ani and her puppies are doing great!
Ani takes really good care of them, and all puppies gained weight after their birth.
For now all they do is sleep, eat and repeat.
For us it is very important that mother and puppies are getting the rest they need.
We don't allow visitors for the first 3 weeks. And all our attention is going to Ani and het puppies.
~~~~~~~~~~
29-11-2022
Here they are!!!!!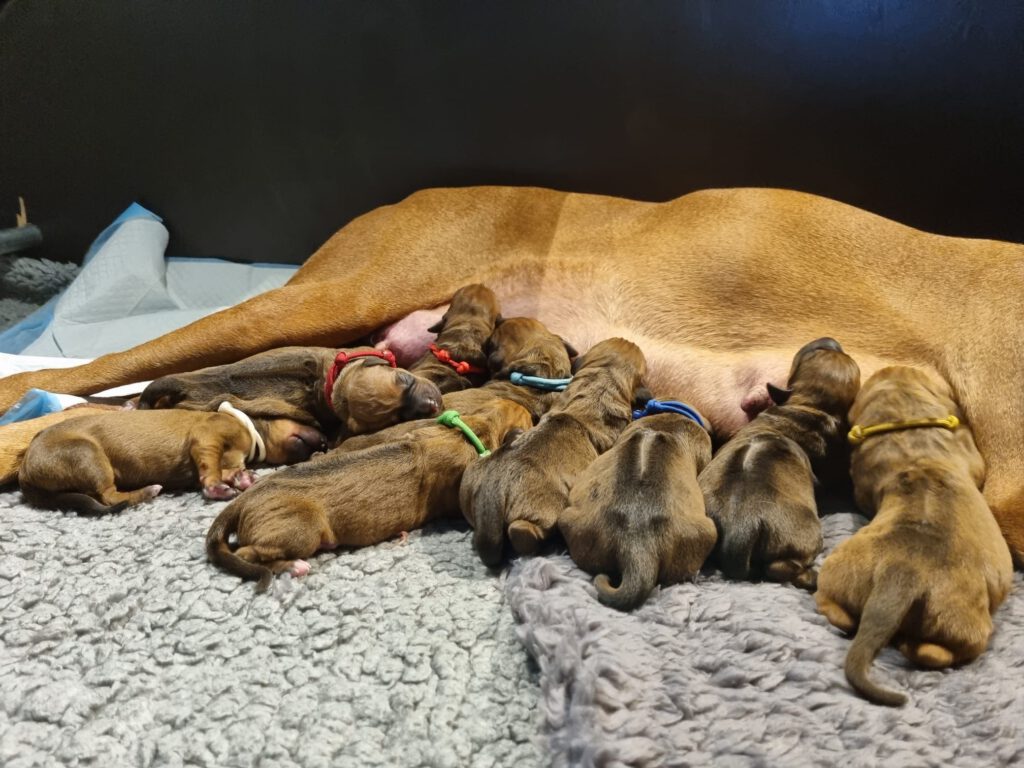 Tuesday very early in the morning Ani started her delivery.
All went very fine and Ani and her puppy's are doing great!

We have 9 puppies in the whelpingbox.
8 males and 1 female.

Some of the males are available.
~~~~~~~~~~
21-11-2022
1,5 week to go! ani is doing great, but we see it is going to be heavy for her.
She can not lay-down for a long time in the same potition. Now and then she sleeps very deep, but most of the time she takes short power naps.
Almost everything is ready.
We put up the whelping box, but for now that is the favourite place for Mia and Dolce ;-).
From now we try not the let Ani be alone for longer then necessary.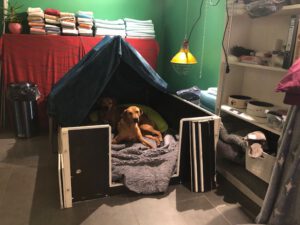 Pregnancy Calender:
Monday 21 november 2022
The bitch is now noticeable growing.
She spends most time taking care of herself.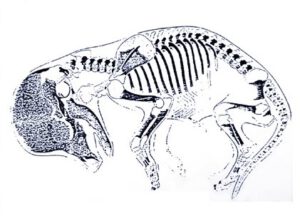 Sunday 20 november 2022
Few drops of milk may be released sporadically.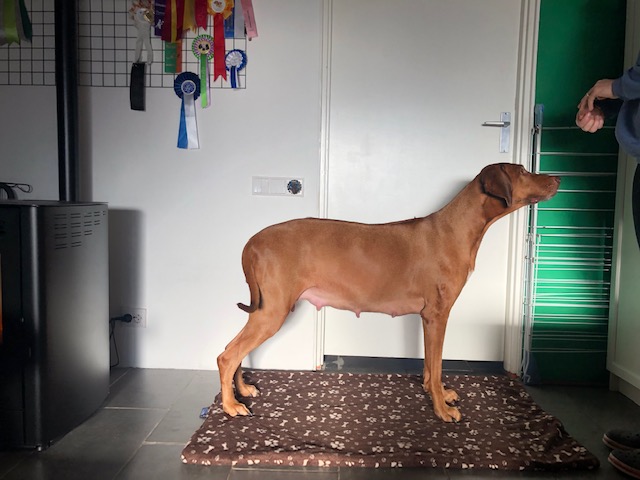 Saturday 19 november 2022
The abdomen is now full of puppies and we can see them moving.
The foetuses are now 75% of the birth size. Their body have now fully developed heads and the size of the puppies is now about 12 cm. The bitch may now lose appetite (but it is not a rule).
It is advisable to feed her more often and in smaller portions.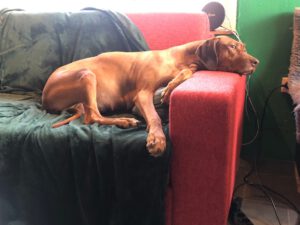 Friday 18 november 2022
It is necessary to get the female used to the whelpingbox.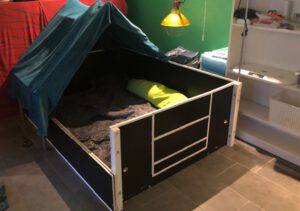 Thursday 17 november 2022
The bitch starts to grow.
She spends most time cleaning herself and taking care of herself,
her mammyary gland continues to swell.
She starts to be restless and with approaching delivery day she seeks nesting place.
She may start to dig holes and prepare her shelter.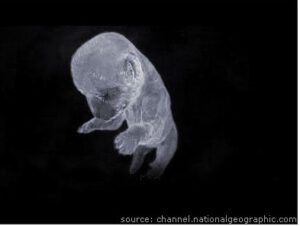 Wednesday 16 november 2022
Ossification of Pelvis and hair growth.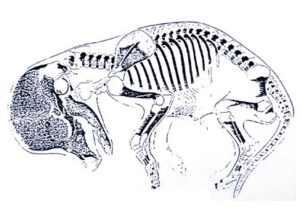 Tuesday 15 november 2022
Ossification of Pelvis and hair growth.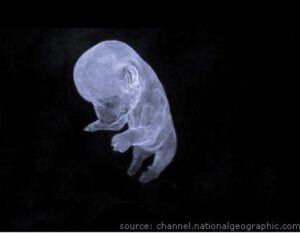 ~~~~~~~~~~
14-11-2022
Yesterdag I followed a very interesting lecture about Genetics and deversity in breeding dog.
The lecture was given by Dr. Pieter Oliehoek, who can talk very good about this.
I am happy that our breedclub orginaze activities like this for the breeders.
Pregnancy Calender:
Monday 14 november 2022
Ossification of pelvis and hair growth.
The size of the foetuses is about 9 cm.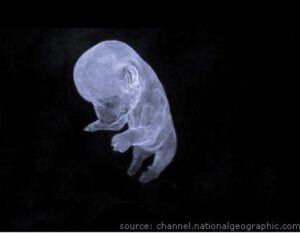 Sunday 13 november 2022
The puppies can already be felt in this period, but it is very difficult to count them.
The uterus takes up 2/3 of the abdomen.
It is recommended to feed the female 3-5 times a day in smaller portions.
The mammary glands starts to swell and the hair around the nipples sheds.
The female should be already restricted from fast and exhausting activities or jumps.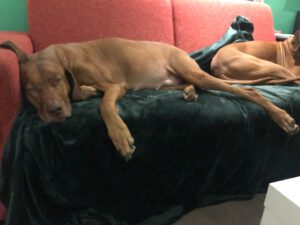 Saturday 12 november 2022
Ossification of vertebra and toes continues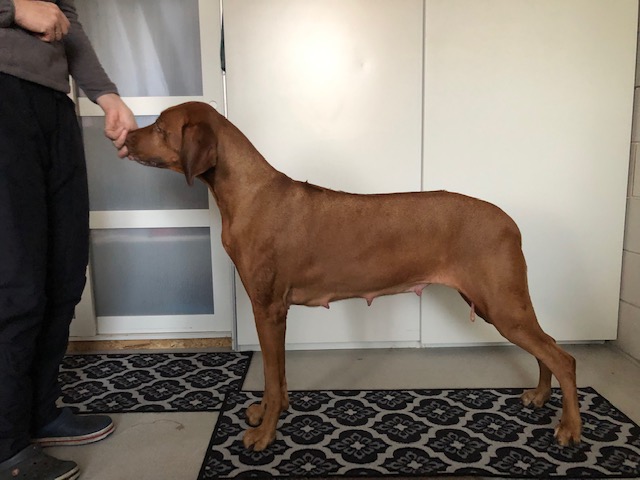 Friday 11 november 2022
Ossification of vertebra and toes continues
Thursday 10 november 2022
Ossification of vertebra and toes continues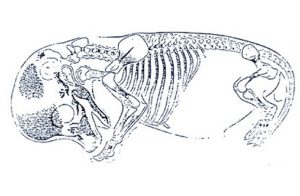 Wednesday 09 november 2022
All internal organs of the foetuses are present, ossification of vertebra and toes continues.
Eyes are closed. Size of foetuses is about 6,5 cm.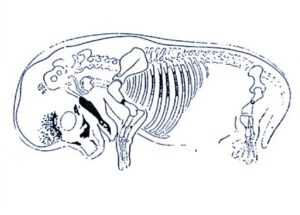 ~~~~~~~~~~
08-11-2022
Ani 40 days pregnant today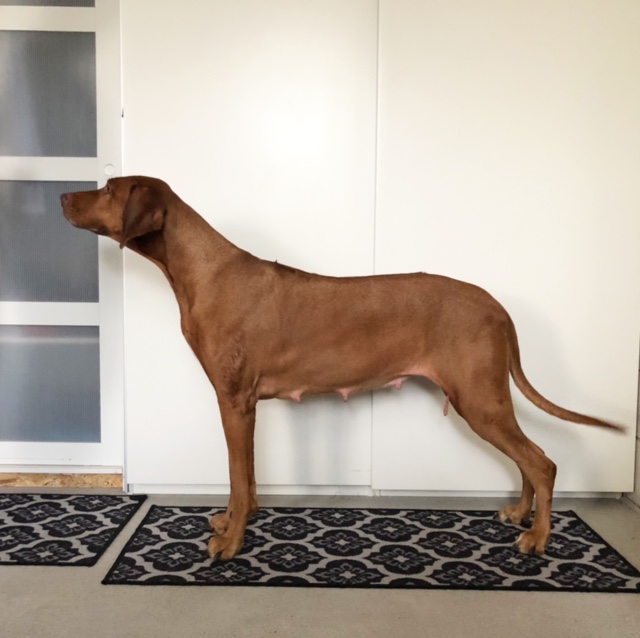 Pregnancy calender:
Tuesday 08-11-2022
More intensive growth of foetuses, ossification of bones continues.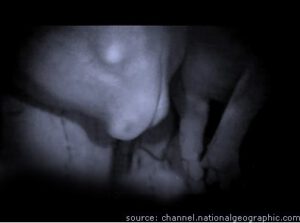 ~~~~~~~~~~
07-11-2022
We received a picture of our offspring Ambra (Hidaya Bello Ambra) together with her daugter. Ambra is living a wonderful live in beautiful Spain, and just turned 6 years old.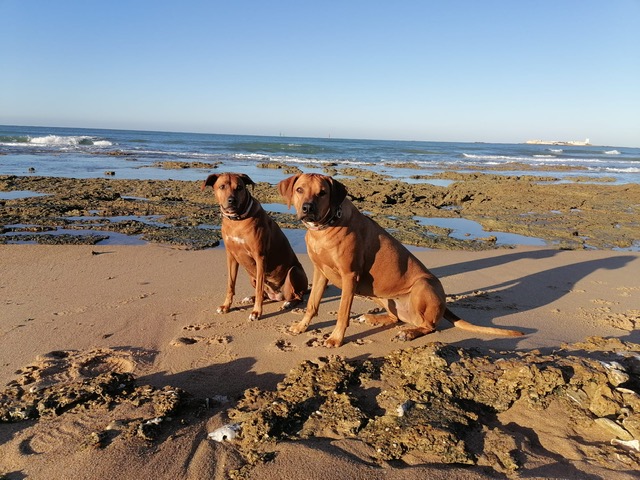 Pregnancy calender:
Monday 07-11-2022
More intensive growth of foetuses, ossification of bones continues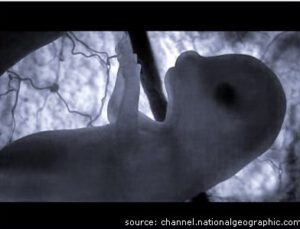 Sunday 06-11-2022
More intensive growth of foetuses, ossification of bones continues.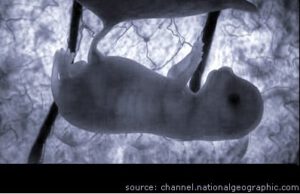 Saturday 05-11-2022
End of slow growth of foetuses.
Foetuses are increasing their size, ossification of bones and shoulder blade continue.
Hair start to grow and sexual organs differentiate.
Other systemic organs finish their development.
Size of the foetuses is about 3,5 cm.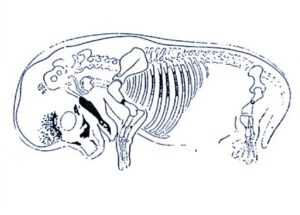 Friday 04-11-2022
Increase of appetite may be observed.
Do not overfeed; excess of wieght may be harmful for the bitch.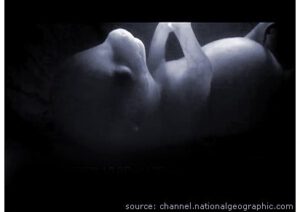 ~~~~~~~~~~
03-11-2022
Pregnancy calender:
Thursday 03-11-2022
Changes in bitch's behavior may be observed.
She is more quiet and sensitive.
Her belly and vulva starts to get bigger.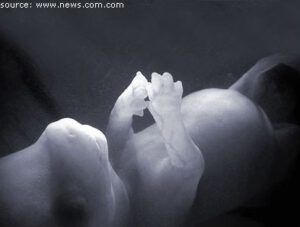 Wednesday 02-11-2022
Growth of toes, ossification of nose, bones in limbs and ribs.
Size of foetuses is about 2,7 cm.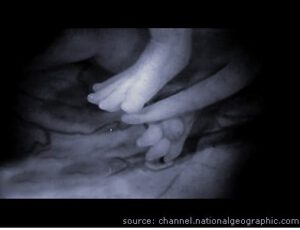 ~~~~~~~~~~
01-11-2022
Ani is doing great! She is changing in het behavior. She don't like to have walks with the other dogs at the moment. She likes it to go out with me just for a nice walk quiet and easy. Not to much running around.
We also noticed she needs her food on time, otherwise she does not feel very well.
So we give her food on strict time, and altough Ani think is is not enough food, we don't give her much more yet, because we don't want her to be too fat with the delivery.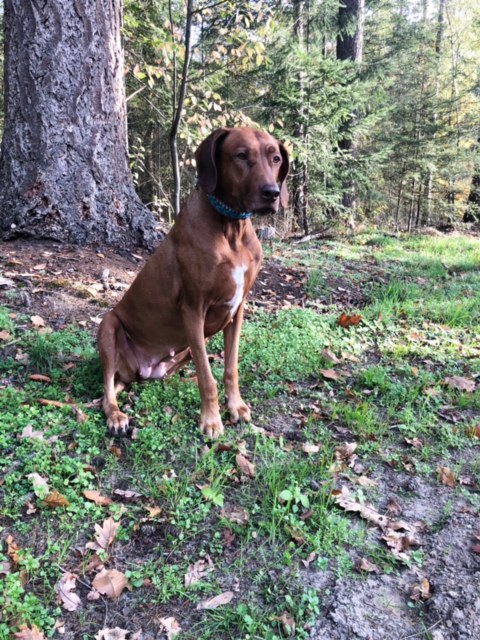 Pregnancy Calender:
Tuesday 01-11-2022
The bitch is in the middle of her pregnancy.
Embryos are developing into foetuses and weight about 20% of their birth weight.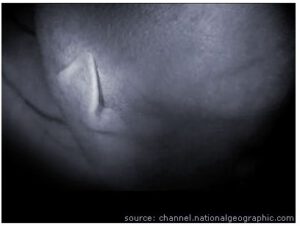 Monday 31-10-2022
Growth of sensorial hair on chin and nose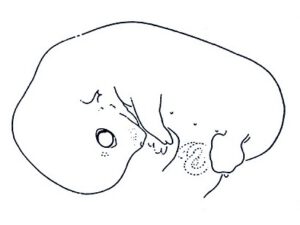 Sunday 30-10-2022
Ossification of mandibles and skull continues.
Size of the embryos is about 2 cm.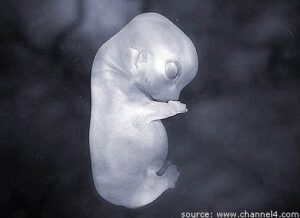 Saturday 29-10-2022
Embryos are now developed into miniature dogs.
You may increase the daily amount of food, do not overfeed.
Exhausting activities may harm the bitch.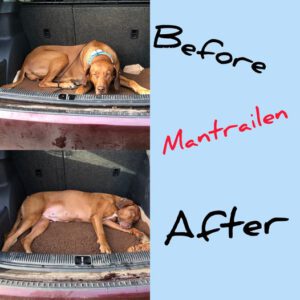 ~~~~~~~~~~
28-10-2022
We had some busey days, so we did not had time to update the website and pregnancy calender yet.
Ani is doing very fine. She likes to sleep and eat, but also still like te long walks and now and then she comes with for mantrailing.
In the meantime we started to make plans for when the puppies are there.
We want somebody to take care of the puppies every minute of the day, so that makes a lot of planning.
Ofcourse I started shopping this week 😉
Puppymilk, puppybeds, puppytoys……
Pregnancy Calender:
Friday 28-10-2022
Beginning of scull and mandibles ossification.
Size of embryos is now 1,7 cm.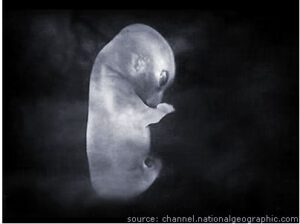 Thursday 27-10-2022
Wednesday 26-10-2022
The bitch should be restricted from exhausting activities.

Tuesday 25-10-2022
Teeth, vertebra and limbs start to develop.
Size of embryos is about 1.4 cm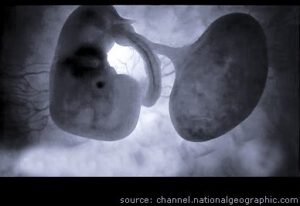 ~~~~~~~~~~
24-10-2022
Yesterday Zoë Became 18 months old, so today we went to the vet with her, for the x-ray of her elbows.
All looked perfect and we just received the official result!

ED-FREE!
This means that all Zoë her health results are perfect to breed a future litter with her.
Ofcourse she is way to young, but we are happy to know that she is in perfect health.
We also took ani with us for the "official" ultrasound.
Everytime it is so special to see the "puppies".
We counted more then enough puppies and are looking so forward, to welcome these little ones into the world.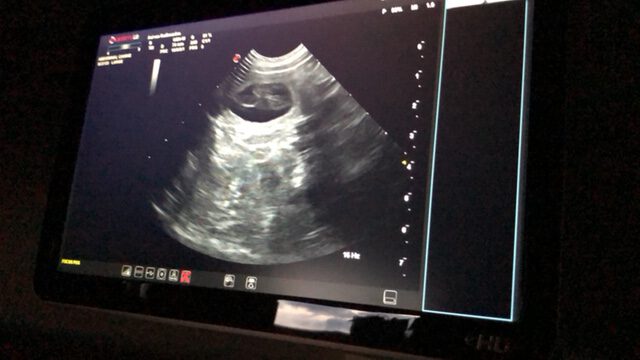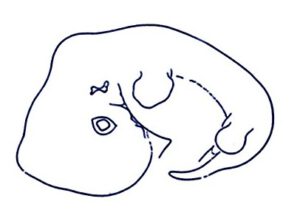 ~~~~~~~~~~
23-10-2022

Today our B-litter celebrate their 6th birthday!
How is time flying so fast?! I remember the day they where born like it was yesterday.

We wish all our B-litter puppies a wonderful birthday.
And ofcourse our own special boy Nero! We hope to have you with us for many more years.
You have some special needs, but we managed it together to make you life happy!
Happy birthday dear Nero!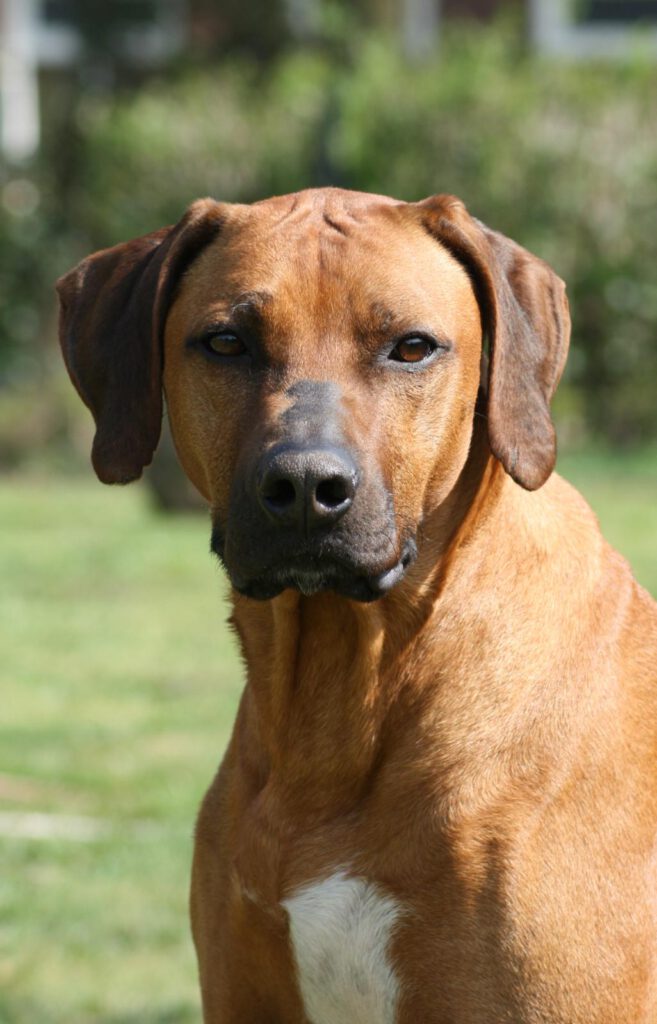 Pregnancy Calender Ani:
Liver, mandible, eyes, ears and nose start to develop.
Size of embryo's is about 1 cm.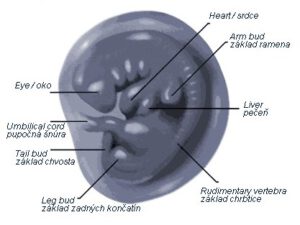 ~~~~~~~~~~
22-10-2022
The ultrasound for Ani was planned for next monday, but yesterday morning all my patience was just gone….
So I called the vet and in my lunchbreak Ani and me made a really quick visit to the vet.
I just wanted to know if she is pregnant.
And yes she is!!!!!!
We have seen several puppies at the ultrasound, so we are super happy!
Monday we will do the "official" ultrasound and take some more time to see how many we can find.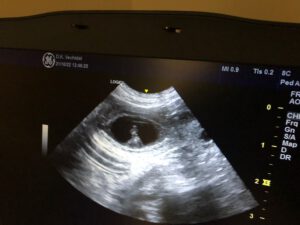 Pregancy Calender:
Saturday 22 October
The bitch may suffer from morning sickness and loss of appetite.
This is due to the hormonal chnages and tonus in the uterus.
The bitch may be insensible. Time to time she may be sick.
It is advisable to divide her daily amount of food into small portions and add some tasty ingredients to her food.
Clear discharge from vulva may appear which is absolutly normal.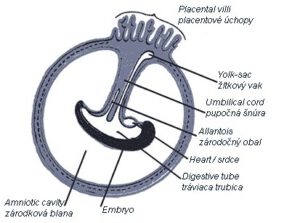 Friday 21 October
Development of placenta.
The size of the embyos is about 5 mm and heart start to develop.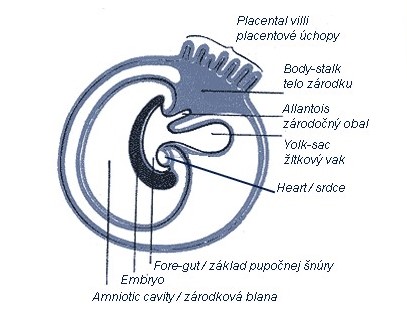 Thursday 20 October
The embryos are nidated in the uterine wall, the development of internal organs continues and neural tube closes.
The size of the embryos is about 4 mm.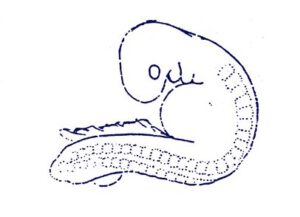 Wednesday 19 October
Development of the embryos internal organs.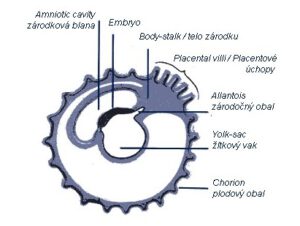 ~~~~~~~~~~
18-10-2022
Pregnancy Calender:
Tuesday 18 October
Development of the embryos internal organs.
Their size is about 2 mm.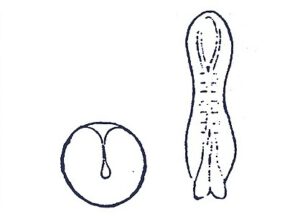 Monday 17 October
Head, body, spinal cord and central nervous start to develop in the embryos.
The basis of internal organs start to develop.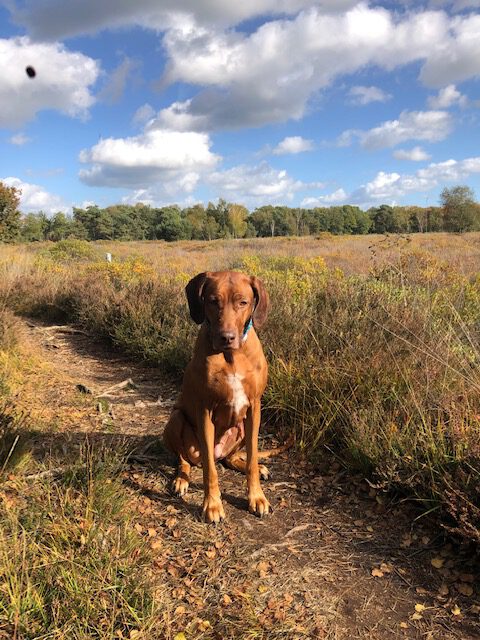 ~~~~~~~~~~
16-10-2022
Ani is (hopefully) 2 weeks pregnant now. She is doing really good. We noticed some changes in her behavior. She does not like to play very rough with Zoë at the moment, she want to cuddle with us all the time, and she still is extremely crazy for food. Those signs gave us a good feeling, but we also know this all can be a fake pregnancy. 1,5 week waiting to go and then we know for sure.
Pregnancy calender:
Sunday 16 October
Embryos are nidating in the uterine wall.
Their size is about 1 mm.
Her teats are getting bigger and turn pink.
Coat on belly and around the teats is getting finer.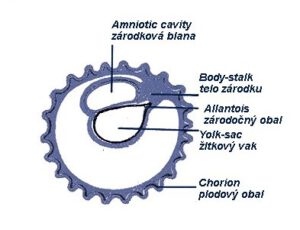 Saturday 15 October
Important organs are developing during the next two weeks.
Be carefull of al interverantion into female's organism.
The female is very sensitive to all changes therefore do not chance het daily regimen,
schedule of walks, type of food, place for rest as well as your behavior.
All necessary interventations should be noted in calender so that you know if
development of any organ could have been affected.
The uterine is able to resorb the embryos until day 35.
Friday 14 October
The embryos are getting ready for nidaton in the uterine wall.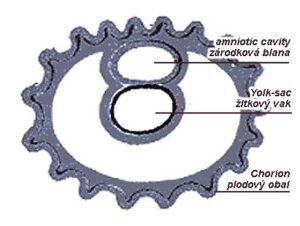 ~~~~~~~~~~
13-10-2022

Zoë her Genetic test results arrived! And we are very happy with the results!

JCh. Hidaya Queen of Chaos ~Zoë~
Blue Dilute: D/D (Clear)
Degenerative Myelopathy: N/N (Clear)
EAOD: N/N (Clear)
JME: N/N (Clear)
Hemophilia B: Xn/Xn (Clear)
Malignant Hyperthermia: N/N (Clear)
Ridge: R/r (Carrier for ridgeless)
Livernose: B/bs (Carrier for livernose)
Now we only need one more health test to do. When Zoë is 18 months (end of October) we will x-ray her elbows. We already know she is free for HD and her spine is Clear.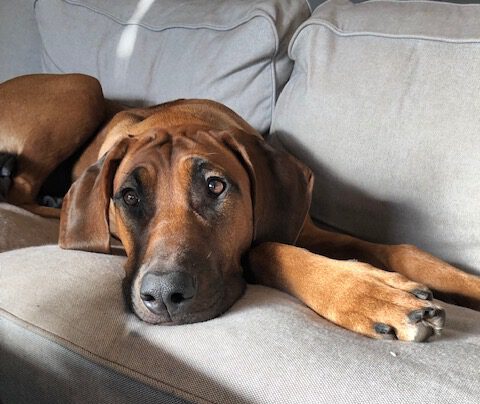 Pregnancy Calender Ani
Thursday 13 October
Early Embryos get cleared of shells, float in uterine liquid and search for suitable spot for nidation.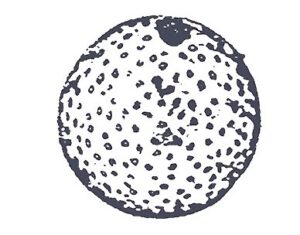 ~~~~~~~~~~
12-10-2022
Pregnancy Calender
Wednesday 12 October
Early embryos get cleared of shells, float in uterine liquid and search suitable spot for nidation.
The size of the embryos is about 0,6 mm.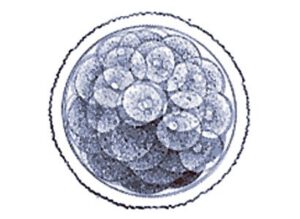 Thursday 6 October – Tuesday 11 October
Fertilised oocytes descend through oviducts into uterine horns
~~~~~~~~~~
05-10-2022
Pregnancy Calender:
Wednesday 5 October
Fertilised oocytes developed into zygotes and descend through oviducts into uterine horns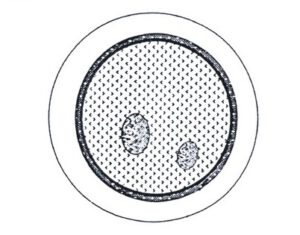 Tuesday 4 October
Fertilisation of oocytes.
The female is in the first trimester of her pregnancy and does not require any special attention.
She can have as much activity as she likes.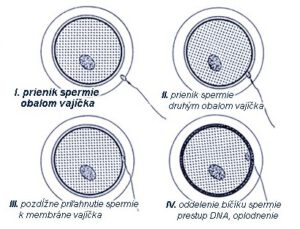 At the moment Ani is pretty lazy. Her favourite place at the moment is the on the sofa, sleeping under a blanker.
Altought it does not say anything, Ani thinks she is very pregnant, and needs to rest the whole day 😉
Lucky for her I was not feeling well myself, so she could be a bit more lazy those days.
~~~~~~~~~~
03-10-2022
After another mating yesterday morning, we arrived back home yesterday evening.
Ani was very tired and is sleeping a lot at the moment. She had some busey days 😉
On this newspage we will update you about what should be happening with the puppies in Ani her belly (if they are there ofcourse) using a pregnancy calender.
Also for us the time of preparing and checking everyhing will start, altough we don't know if the mating was succesfull yet, we will try to update our website as much as we so you can follow this adventure.

Pregnancy Calender:
Monday 3 October
Sperm released during the first mating reach the oocytes
in oviducts which connect ovaries and uterus.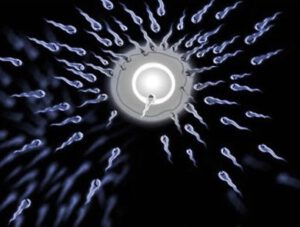 Sunday 2 October
Cleaned sperm travel and look for oocyt that can be fertilised

Saturday 1 October
First mating. The bitch has the ovulation (release of oocytes).
The mating date is not the same as fertilisation date. The oocyt matures after being realeased and can be fertilised in 2 days. Sperm also needs to mature for 6-10 hours after mating and are cleaned from biologically active substances present on the surface.
After this time sperm can fertilise oocytes durting next 4-6 days. The difference between mating and fertilisation date can thus be between 1-6 days depending on time of ovulation.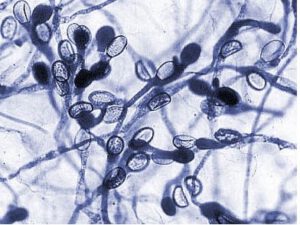 ~~~~~~~~~~
02-10-2022
This weekend it was time for the date between Romeo and Ani!
Again we made a trip to Czech.
For Zoë it was strange she had to stay at home this weekend, but Ani
enjoyed all the attention for herself to the fullest.
After a very long drive on Friday, the mating between Romeo and Ani was this weekend.
Everything went very fine, and they liked eachother a lot (of course 😉 ).
And now we can only keep our fingers crossed for a bunch of lovely, sweet and healthy puppies.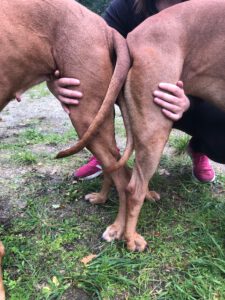 We still have some places available on the waitinglist, for a puppy from this combination.
When you are interested, you can always contact us for more info.
~~~~~~~~~~
28-09-2022
Zoë and I entered a lot of dogshows this year and made some beautiful trips for those shows.
Now it is time for a showbreak and all our attention will go the Ani her upcoming litter.

I hoped to finish Zoë her Slovenian championship (1 more CAC needed), this year, but because Ani started her heat earlier then we expected, we will try this again in spring next year.
Zoë and me are training very hard for the show, and we have so much fun together when we enter the ring. That is the most important, but I am very proud of all the results Zoë and I got last year.
She is only 17 months old and we already achieved so much together.
And because of that I put them in a list.
This year Zoë enterd 25 shows in Junior or Intermediate class and gainded so far:
8x 1st place Excellent
4x 2nd place Excellent
5x 3rd place Excellent
2x Excellent without placement
1x 3rd place Very Good
1x 4th place Very Good
3x Very Good without placement
1x Good
6x Best of Breed Junior
6x Best Bitch
4x Best of Opposite Sex
2x Best of Breed
2x Best Junior in Group 6
1x 2nd place Group 6
1x 3rd plave Group 6
Zoë got already got different CAC's and Reserve CAC's but next to that she also got her first CACIB at the age of 15 months.
And when I am bragging about Zoë…. She got this year these titles:
Slovenian Junior Champion 2022
Belgium Junior Champion 2022
Best Female BRRC Clubshow 2022
Spring Karst Winner 2022

But next to those beautiful prizes the most important is that Zoë is a wonderful familydog at home.
I enjoy her every single day. She is very interested, loves to work and always happy. She can be so naughty, but most of the times in a very funny way.
I really hope her half brothers and sisters will get the same wonderful character.
~~~~~~~~~~
28-09-2022
This weekend we have been to Czech for the 30th anniversary of the CKRR Rhodesian Ridgeback Club.
From Friday evening untill Sunday afternoon we had a weekend full of seminars, good food, 2 show and a being together with ridgeback friends from so many country's.
We really had a wonderful weekend!
Next to the shows and seminars, there also was the possibility to do the genetic tests for you dog.
We directly used this posibility and took a swab from Zoë.
For most of the genetic test we know Zoë is free by parantage, but she is also tested for the EOAD gen.
We know she can be carrier for that. Ofcourse that will not be a problem for our future (breeding)plans, but we really like to know if she is carrierr or free.
I hope to receive the results soon.
And ofcourse we have some showresult.

JCh. Hidaya Queen of Chaos ~Zoë~
Junior Class
Day 1: Very Good
Day 2: Very Good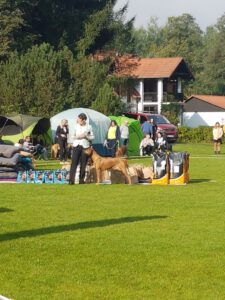 Both judges really made a beautiful report for Zoë. You can read it here.
But beacause of her size both judges deceided to award her with a very good.
I am super happy with the reports and specially the words that she is presented very well.
Every day we try the make it more perfect, and it is so cool when that comes out in the showring.

Denise and Esther also asked me to show their lovely Juna (C'huma K'akilah Juna Gaudiwa Musana) again. It is so nice to see that Juna trusts me more and more every time and we grow together in the ring.
Juna achieved an Excellent both days.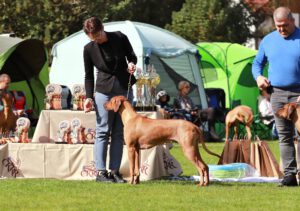 Juna and I also were asked to take part in the progeny group of her father.
I never did this before and it was great to be part of it.
And even more great that our progenygroup became 1st!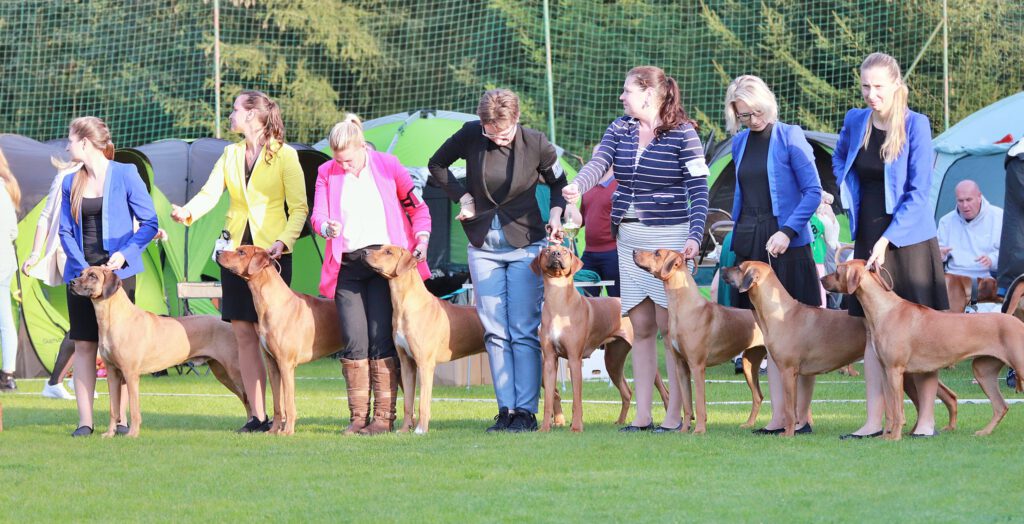 ~~~~~~~~
18-09-2022
It was time for the yearly Championship Clubmatch from the Rhodesian Ridgeback Club Netherlands.
This THE show of our own breedclub, so we always try to be there.
Zoë and Meneer Janssen both where entered today.
But unfortunally the wheater combined with Zoë her heat, made us do some changes.
Because of the really bad wheater the show was moved to a small indoor area.
Zoë started her heat last week and that made us deceided not to bring her to the show.
We don't think that is nice for all the males at the show. But also not for Zoë who will be followed everywhere.
But Meneer Janssen was present, and he and Ilona trained so hard last month!!
Janssen was stacked really perfect, and moving around the ring, almost went perfect.
Unless Janssen got a really really nice report, the judge qualified him with a Very Good this time, because of his hight.
Next time better luck! It was a nice training for Janssen and Ilona.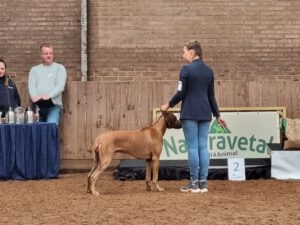 And altough I did not a bring a dog to show myself, I was lucky, that I totally unexpected was asked to show Esther and Denise's sweet girl Juna.
I did not plan to show a dog today, I did not take any special clothes with me, and entered the ring in my comfy jeans and shirt. But that did not matter!
Juna achieved a wonderfull 2nd place with Excellent in a very big intermediate class!!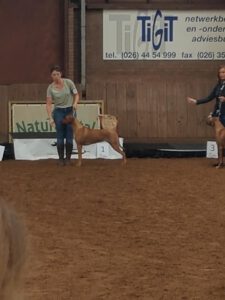 Instead of Zoë our "granny" Dolce, joined us today.
Dolce loves to cuddle with everyone, and is the best in clean all the pockets. I think she really had a great day today, and got so many treats.
And even on her age you can find yourself a new love, Daka her veteran friend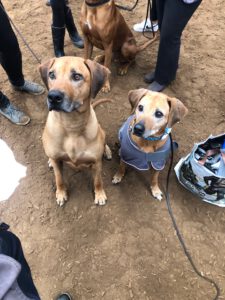 ~~~~~~~~~~
16-09-2022
Here we go!! A bit earlier then expected this time, but Ani started her heat!
That means that the D-litter adventure is going on!
We look so forward to this litter and again we will do everything, to bring a bunch of lovely puppies in this world, and gave them the best start in life there is.
We have some place free on our waitinglist. If you are interested in a puppy from our D-litter, feel free to contact us.
~~~~~~~~~~~~
12-09-2022

Last weekend Zoë and I made a trip to Slovenia again.
We went to Lendava international dogshow,
to give it a try to finish the Slovenian Championtitle for Zoë.
JCh. Hidaya Queen of Chaos ~Zoë~
Intermediate Class
Day 1: 2 Excellent with Res. CAC SLO
Day 2: 1 Excellent with CAC SLO

We are not there yet, but we are close.
1 more Slovenian CAC is needed.
We will try again next time!
Overall we had a wonderful weekend.
Nice walks, nice wheater, nice show.
Great results!
~~~~~~~~~~
04-09-2022
Martijn, Zoë and I have been to the Gundogshow in The Netherlands today.
It was a very hot dat day, but Zoë did her very best as always!
JCh Hidaya Queen of Chaos
Intermediate Class
4 Very Good
~~~~~~~~~~

26-08-2022
Last week we did not go to any dogshow, but enjoyed our time at home.
We have been busey witht the renovation of our farmhouse, whe we finally can live again with the dogs after two years.
We have also worked on our puppypalace, because the preparations have started.
We expect that Ani will start her heat somewhere in October, so that is coming closer really soon.
With the preparations we also take a new look at the cost of raising a litter, and as everything in live, these cost really went high.
Unfortunately that means we also have to increase the price for a puppy from our upcoming litter. You can read more about it, on our page "A puppy from us".
With Zoë I started scent detection training again, and she is doing really great. Zoë is a dog who really loves to work with me. No matter if it is for showtraing or scent detection, as long as she got the attention, and she can show her skills she is happy.
For September we have several dogshows planned. Zoë and I will go back to Slovenia to see if can win some more championship points. We have a showweekend planned in Tsjech, where we can aslo see Romeo (the father of our upcoming litter) again. And of course we will not miss our own Championship Clubmatch of the Rhodesian Ridgeback Club Netherlands.
And then we are at the end of the September month already, and in October we will focus more and more at Ani and het Upcoming litter.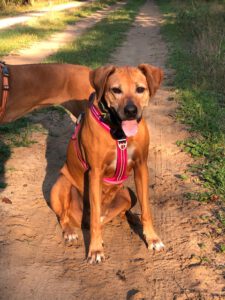 ~~~~~~~~~~
09-08-2022

We have been on a wonderfull holiday with Ani and Zoë in Slovenia, while Dolce, Mia and Nero had a great time at home with my parents.
We made long wolks in the mountains and visit some nice places.
But also enjoyed the silence and doing nothing in the garden from our appartment.


Ofcourse I like to combine a holiday with a dogshow.
We entered the girls for the 4 CACIB Summer Night Show in Koper.
Zoë was enterded in Intermediate class and Ani was entered in Champion Class.

JCh. Hidaya Queen of Chaos ~Zoë~
Day 1: 2 Excellent with Res. CAC SLO and Res. CACIB
Day 2: 2 Excellent with Res. CAC SLO
Day 3: 1 Excellent with CAC SLO and CACIB > Best Female & Best of Opposite Sex
Day 4: 2 Excellent with Res. CAC SLO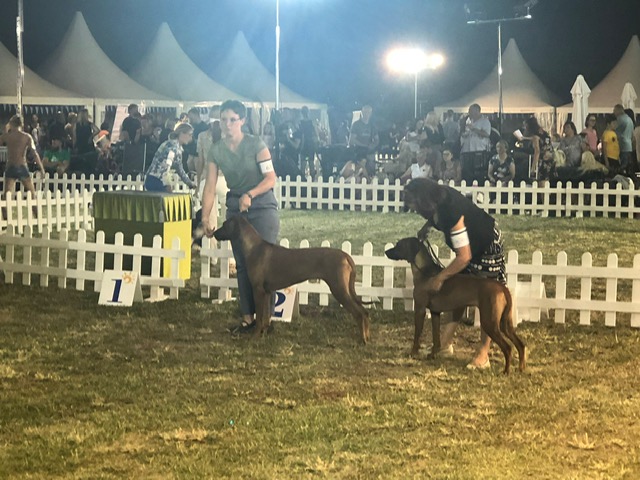 Ch. Heavens Red Angel by Luanda ~Ani~
Day 1: 3 Excellent
Day 2: 3 Very good
We did not show Ani at the last two days, because we noticed she lost her happines in the ring.
The show was to busey and crowdy for her. And the happines of our girls is more important then a dogshow!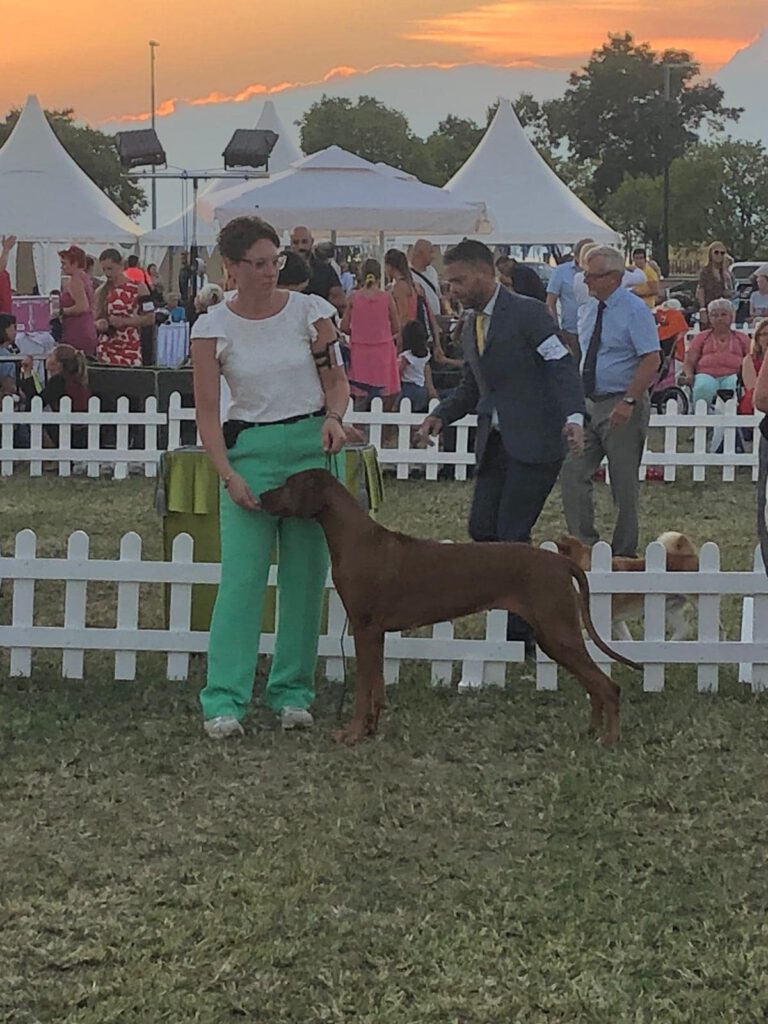 I am really proud of my girl, but especially Zoë. She just turned 15 months and already earned het first CACIB. 4 days of showing was not easy for her, but she really did wonderfull!
~~~~~~~~~~
24-07-2022
This weeken was the Golden Dog Trophy in Marche en Farmenne (Belgium). On Saturday Zoë was exactly 15 months old and allowed to enter the inermediate class.
Because Zoë is a Belgium Junior champion, I deceided to chance her to this class.
By far the youngest in het class she achieved nice results and worked like a pro!
Saturday 23-07-2022
CACIB Golden Dog Trophy Day 1
Intermediate Class
JCH. Hidaya Queen of chaos ~Zoë~
3 Excellent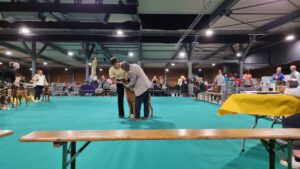 Sunday 24-07-2022
Golden Dog Trophy Day 2
Intermediate Class
JCh. Hidaya Queen of Chaos ~Zoë~
3 Excellent
~~~~~~~~~~
13-07-2022
Now it is official!
Zoë is Belgian Junior Champion!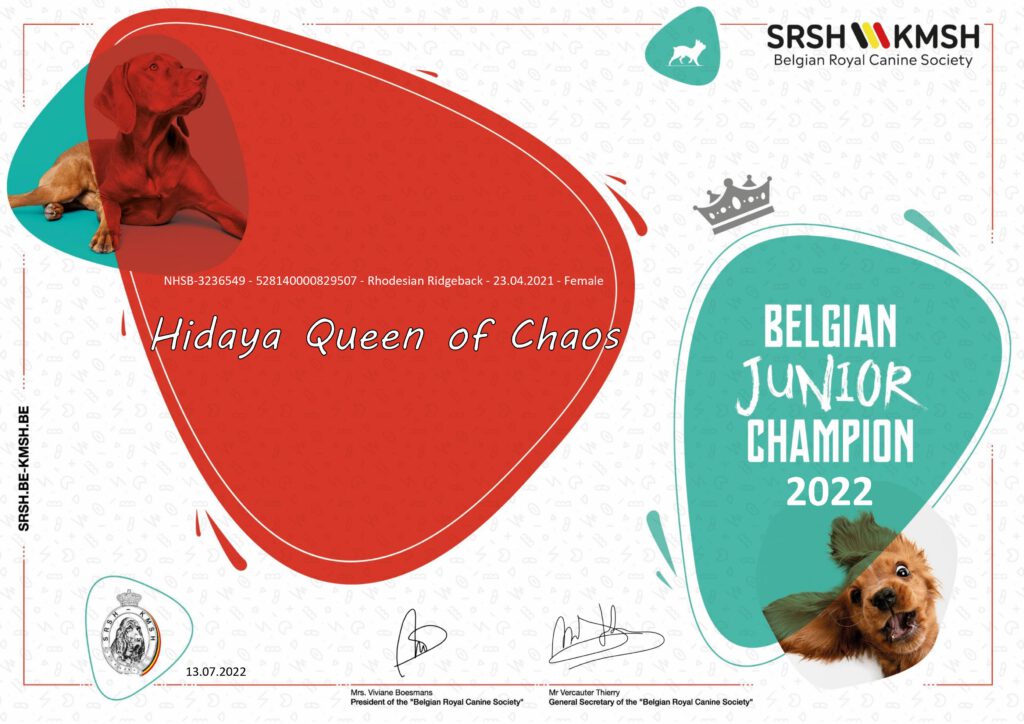 ~~~~~~~~~~
11-07-2022
Yesterday was a pretty hot day in Belgium.
Zoë and I attended the open show Dulle Griet.
But despite of the heat, Zoë did wonderdfull and we got some amazing results.
We both and enjoy outdoor show more, and that makes us bot feel better in the ring.
Junior Class
JCH. Hidaya Queen of Chaos
1 Excellent
BOB Junior
Best Female
Best of Breed
2nd Best in Group
By winning the Junior Class today, Zoë fullfiled all the conditions for Belgium Junior Champion.
I am so proud of all the amazing results Zoë and me already achieved together. We have so much fun in the shows and the training for it.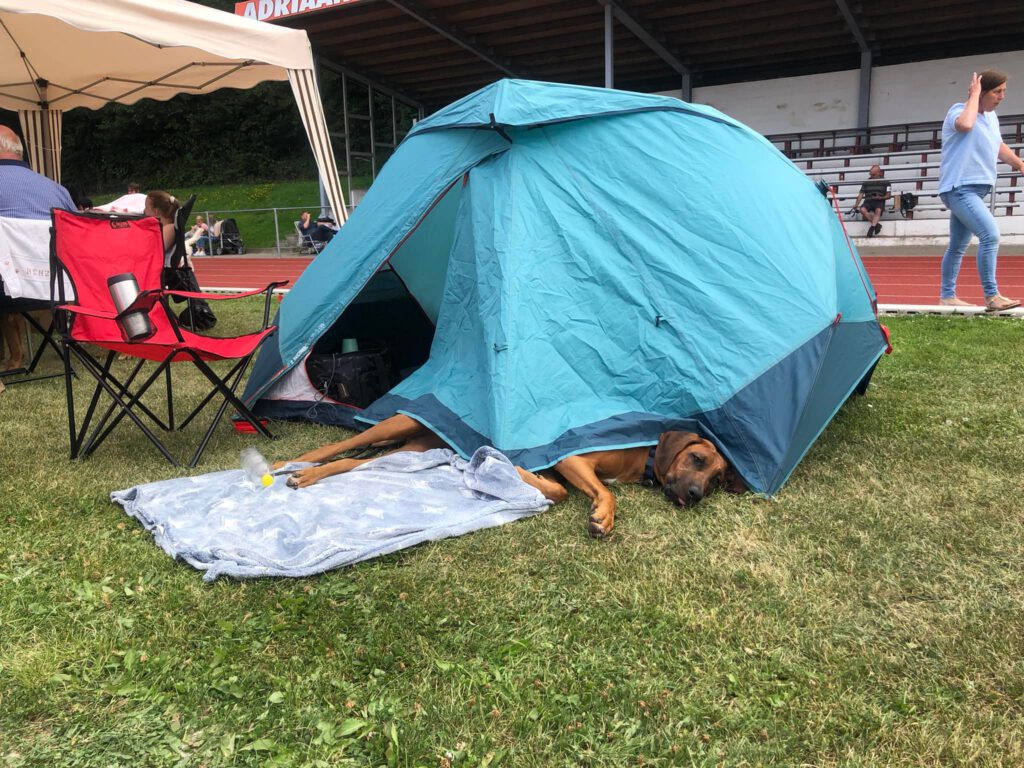 ~~~~~~~~~~
02-07-2022
Ambiorixtrofee Genk
Junior Class
JCH. Hidaya Queen of Chaos
3 Very Good
~~~~~~~~~~

06-06-2022
Again an early morning! Zoë and I went to the Pinksterhow Gorinchem (NL).
Junior Class
JCh. Hidaya Queen of Chaos ~Zoë~
Excellent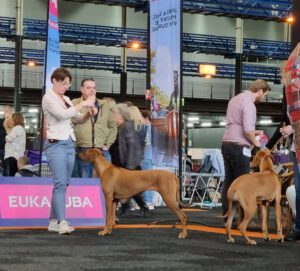 Now we take a little break from the showring! Ofcourse week on training! In July we have some shows planned to try to get the least point for Belgium Junior Champion.
~~~~~~~~~~
04-06-2022
Again it was a showday today! We have been to the Holland Cup 2022.
Zoë really did fantastic today.
We train very hard to become a perfect showtim, and it is so nice, to see stuff you are training, are coming out in the showring.
Junior Class
JCh. Hidaya Queen of Chaos ~Zoë~
Very Good
~~~~~~~~~~
30-05-2022
Yesterday was the Belgium Rhodesian Ridgeback Specialty. And what a day it was! We had lots of sun and lots of rain, but it still was a wonderful day, with really amazing results!!
Junior Class
Hidaya Captain Chaos ~Meneer Janssen~
Excellent

Well done again Ilona and Meneer Janssen!!

After 2 years away from the showring, and for the very first time in champion class!

Champion Class
Ch. Heavens Red Angel by Luanda ~Ani~
3 Excellent
Last but this time for sure not least, Zoë!!
Junior Class
Jch. Hidaya Queen of Chaos ~Zoë~
1 Excellent
Best of Breed Junior
Best Female
Best of Opposite Sex
Reserve Best of Breed

Winning the big junior class at a Rhodesian Ridgeback Clubshow already is so great!!
But Zoë was on fire and made it all the way to Reserve best of Breed out of 102 entered ridgebacks.
This day really will be one of the showdays I will never forget!
I am so proud of my young girl who is already doing so great.
We still have so much to work on and so much to train, but this result give me the feeling
we are on a good way!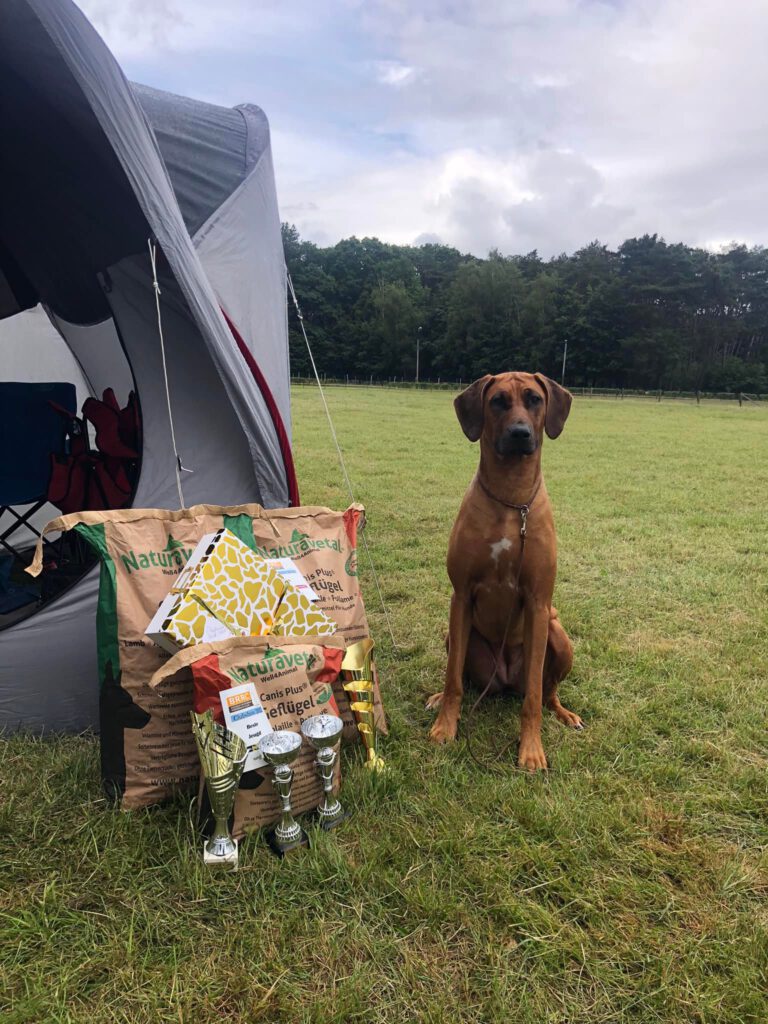 ~~~~~~~~~~
19-05-2022
We received some pictures of our offspring
~~~~~~~~~~
16-05-2022
Today we made x-ray of Zoë her spine and hips. Both looked perfect.
At the end of the day we received the official result of her hips: HD-A (Free)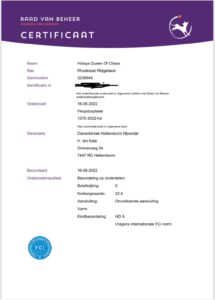 ~~~~~~~~~~
08-05-2022
This weekend Zoë and I went to the Flandres dogshow in Gent (Belgium)
JCh. Hidaya Queen of Chaos ~Zoë~
51 Flandres Dogshow / 07-05-2022
3 Excellent
52 Flandres Dogshow / 08-05-2022
3 Excellent
Unfortunately we have no pictures of the show, but Zoë and I had a wonderful weekend!
~~~~~~~~~~
05-05-2022
My girls during a training this morning.
Ch. Heavens Red Angel by Luanda ~Ani~
and her daughter
J.Ch Hidaya Queen of Chaos ~Zoë~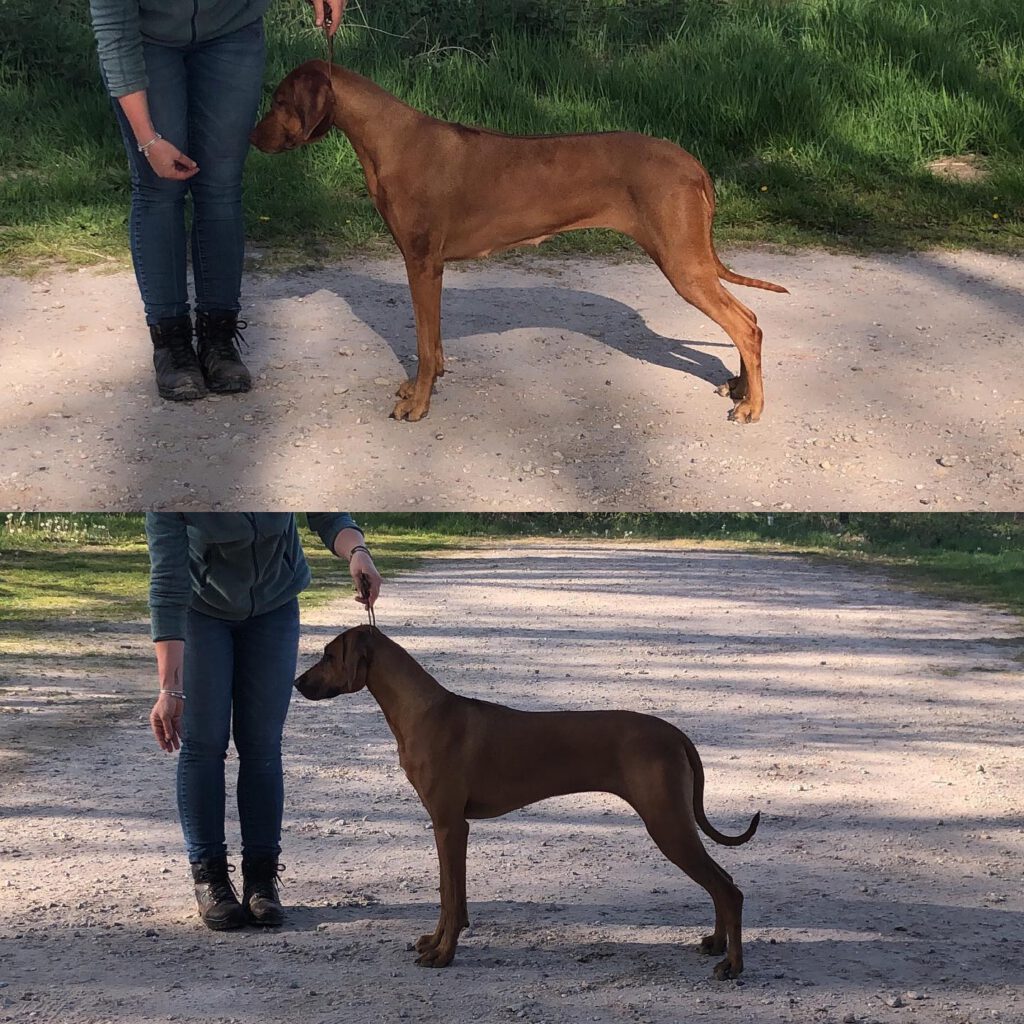 ~~~~~~~~~~
24-04-2022
Today was the Junior day of our Rhodesian Ridgeback Club.
All 3 puppies entered this unofficial show. For Zoë and Meneer Janssen was it a good practice.
But I am really proud of Afi and his owners. Afi is not used to shows and his owners never did that before.
They did there very best today! But it was a long wait for Afi, before it was his turn.

All puppies got a nice report (no qualifications at this shows), and for me as a young breeder it was very nice to hear what the judges had to say about the litter.
Dolce was also with us and I think she enjoyed this day the most. All the cuddles and al the treat she got. She just loved it!!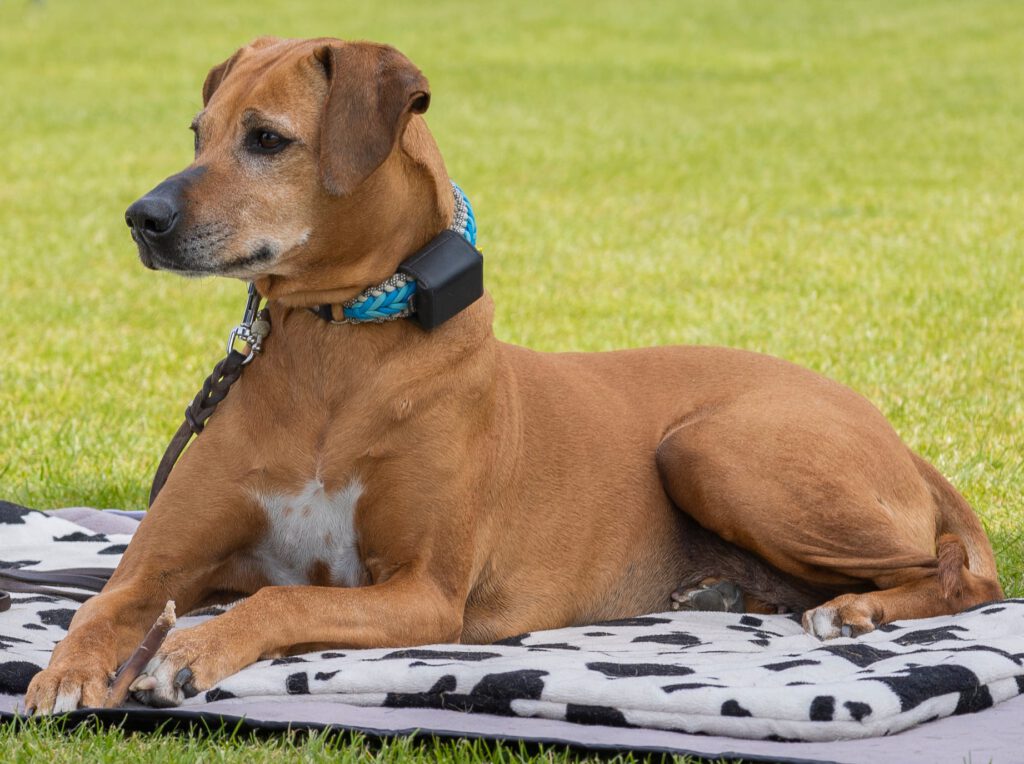 ~~~~~~~~~~
23-04-2022
Today our Chaos trio celebrate their very 1st birthday!
They are now big, lovely young dogs, with a great open and happy character!

We wish you all many more happy and healthy years!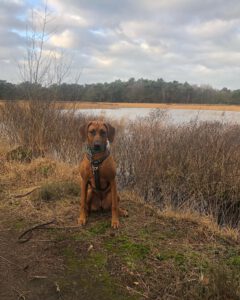 ~~~~~~~~~~
17-04-2022
Today we went to Outdoor Zeeland CAC show. Zoë and Meneer Janssen bot where entered in junior class. It was a wonderfull day with perfect weather and lots of fun.
Hidaya Captain Chaos ~Meneer Janssen~
4th Excellent
Jch. Hidaya Queen of Chaos ~Zoë~
Good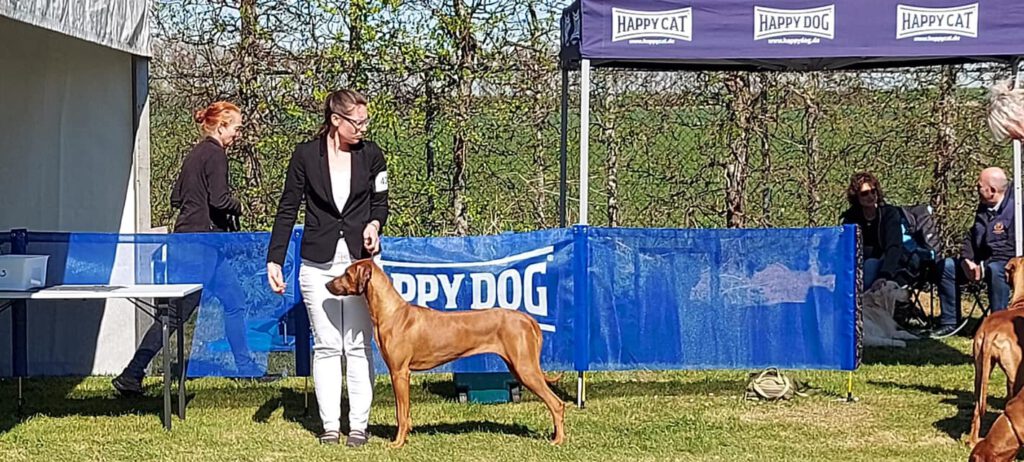 Unfortunally Zoë was totally not the type the judge was looking for. But that is what it is, next time better! I am really proud of Ilona and Meneer Janssen, how they work in the ring together!
~~~~~~~~~~
13-04-2022
Today is a very special day.
Because today our Dolce celebrate her 10th birthday.

We hope our sweetest girl of the pack will stay with us for some more years in the great health she is in now.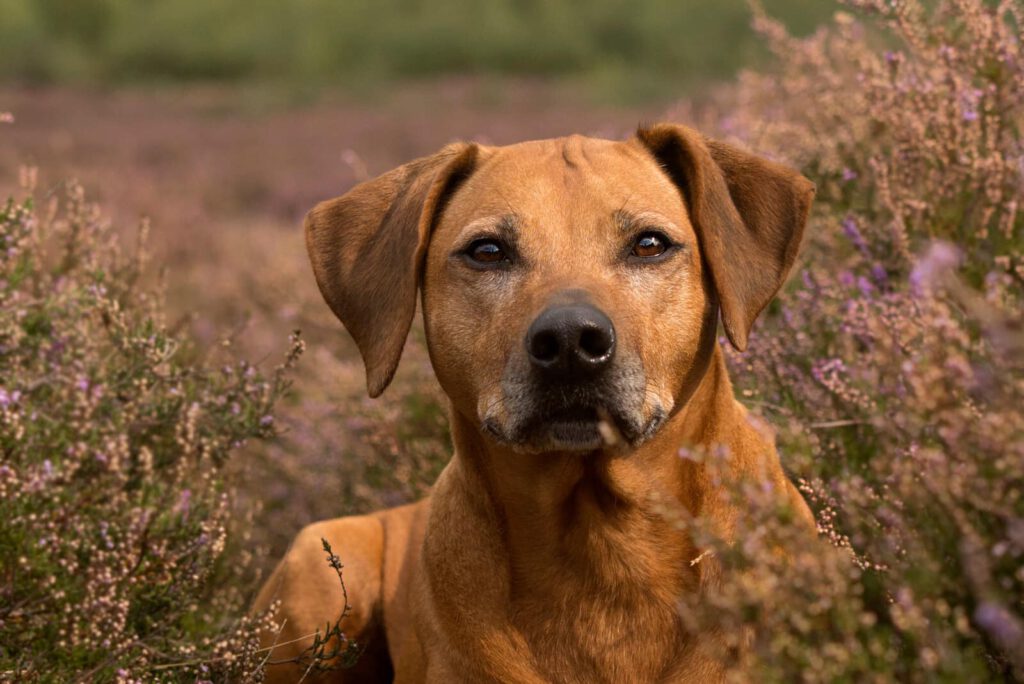 ~~~~~~~~~~
11-04-2022
It took some time, but we finally made a page on our website for our co-own male
Hidaya Captain Chaos ~Meneer Janssen~

Click HERE to go to his info page directly.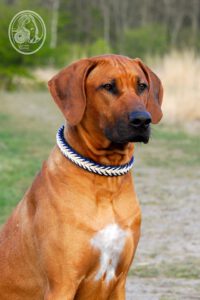 ~~~~~~~~~~
10-04-2022
Happy 5th birthday to you my dear Ani!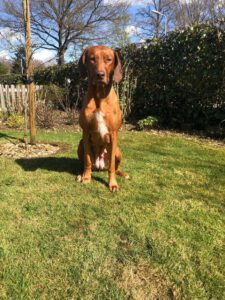 ~~~~~~~~~~
09-04-2022
We had a very very long, but wonderful day at the CACIB Antwerp Dogfair (Belgium) and arrived home with some amazing result.
Jch. Hidaya Queen of Chaos ~Zoë~
1 Excellent
Best of Breed Junior
That means we made the first step for Belgium Junior Champion. Let's see if we van finish it.
Because I have no photo's of the show, we made a quick one back home. Tired but so proud of my amazing little girl.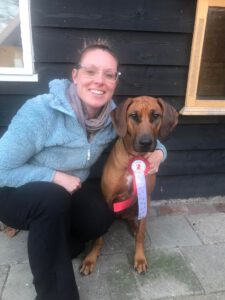 ~~~~~~~~~~
04-04-2022
We received some pictures of two of our offspring
Hidaya Captain Chaos ~Meneer Janssen~
11 months old
(CH. Heavens Red Angel by Luanda x CH. Ridgerules Ifa my Treasure)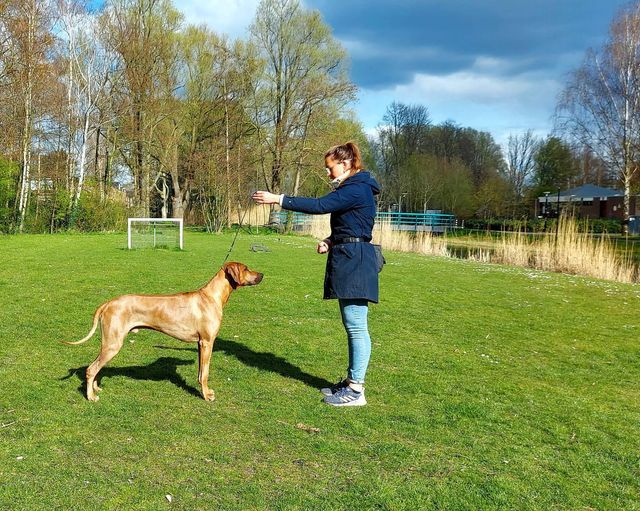 Hidaya Bello Azzurro ~Dax~
5,5 years old
(Paerdecroon Diva Dolce x Nemoyo Wangu Amore Rio Reiser)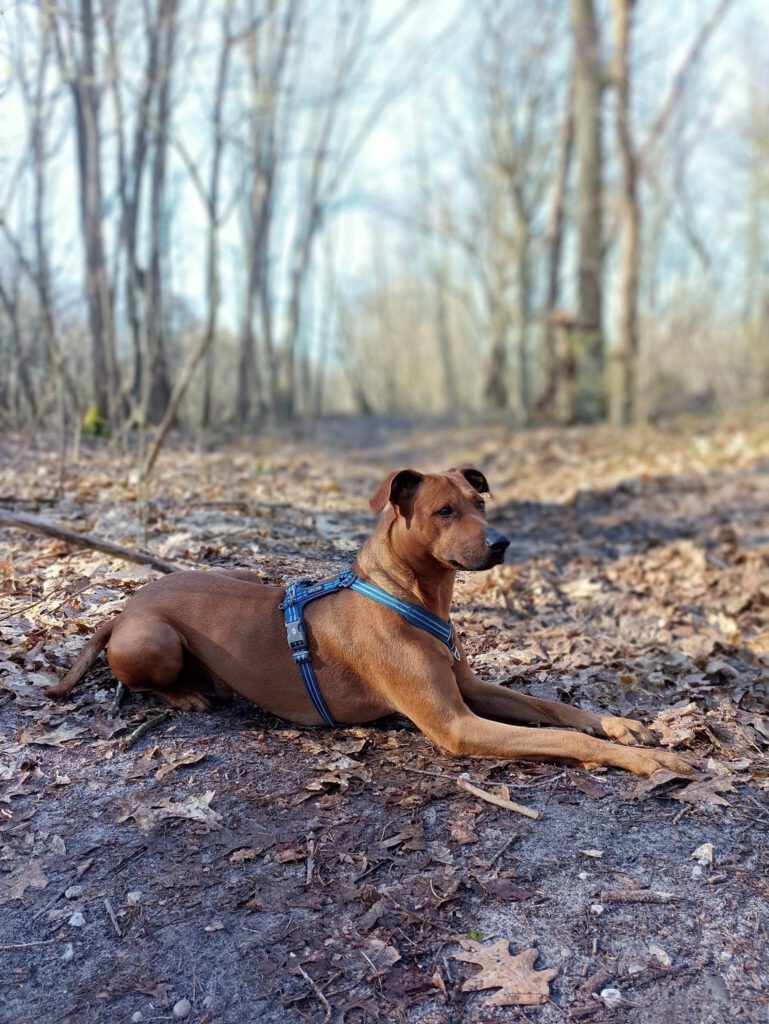 ~~~~~~~~~~
26-03-2022
Today Zoë and I went to the CACIB Rijnlandshow. Zoë achieved an Excellent in a big juniorclass. She did zo great again and got a very nice judgereport.
I was a wonderful day!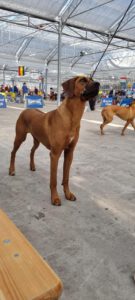 21-03-2022
Today our ABBA litter celebrates their 7th birthday. We wish you all a wonderfull day and many more happy and healthy years to come.

Today we have some special toughts for Kira.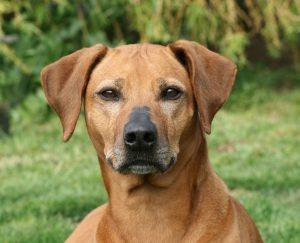 20-03-2022
Today we had our last showday at CACIB Semper-Vrtojba.
After yesterdays wonderful results, I did not think today could be any better.
But for sure it did.

JCH. Hidaya Queen of Chaos
1 Excellent
Junior Winner
BOB Junior
Best female
Best of Breed
Best Junior in Group
3rd Best in Group
I am so proud of Zoë, who went better and better everyday. Together we learned to work like a team more and more this weekend.

A big Thank you to everybody who who supported us at the show or from home.
I think we will be on cloud nine for a while.
19-03-2022
This morning Zoë and I made a wonderful walk in the area called "Pliskina Pot". I was nice 6 km tour that started in our small village Pliskina.
After the nice morning work-out is was time to go to the show, because today we entered the CACIB Miren-Kostanjevica show. And where we already were so happy with Zoë her results yesterday, today was even better.

Hidaya Queen of Chaos
1 Excellent
Junior Winner
BOB Junior
Best Female
Best of Opposite Sex
Best Junior in Group

After winning our FCI breed group we had our very first expercience to go for best junior in show.
Zoë did not got any prices on that competition, but only the experience was already worth it.
The music when you enter the ring, the people applause for you it was so great!

And on top of it, after today's results Zoë now is
JUNIOR CHAMPION OF SLOVENIA.

I hope to have some pictures soon.
18-03-2022
Zoë and I are on a show holiday in Slovenia. We love this country and the nature en we love to combine a holiday with some show.
Today we went to the CAC Kras show, where Zoë achieved some wonderful result:

Hidaya Queen of Chaos
1 Excellent
Junior Winner
BOB Junior
Best Female
Best of Opposite Sex
I was really happy how she was behaving in the ring. Only the wind made here a bit jumpy on the movement, so will try to improve that for tomorrow.
Unfortunally we have no pictures of the show.
So here is one of us enjoying a beautiful walk in the area.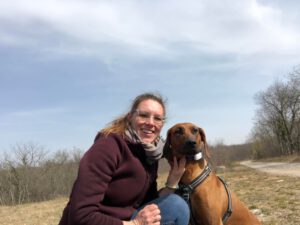 17-03-2022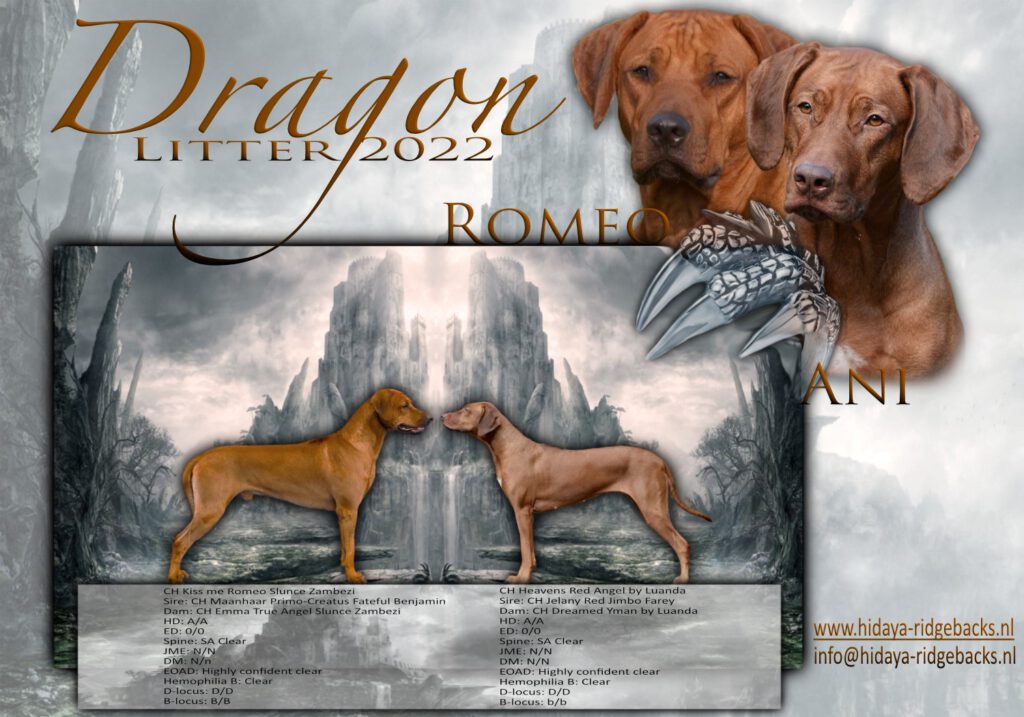 06-03-2022
Today we heard the sad news that Garri, the father of our ABBA litter passed away.
We wish his owners Terrie and Hana a lot of strenght in this time, and we are very thankfull that they allowed us to use Garri for our very first litter.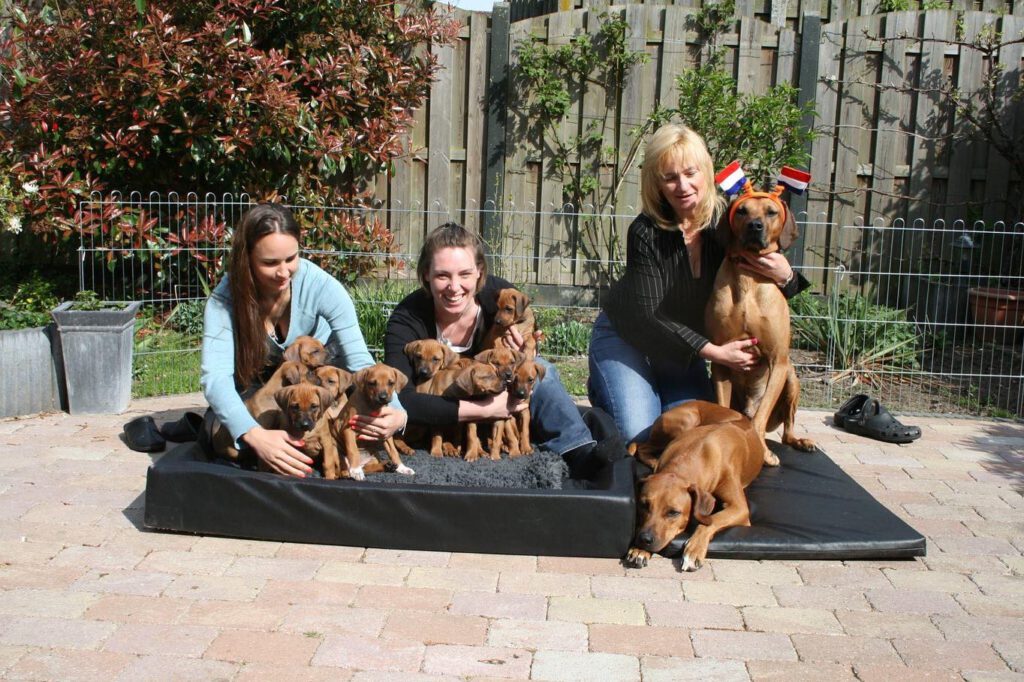 05-02-2022
Today Zoë had her first show in Junior Class. Because I had to work, my friend Ilse, took her to the show.
As youngest in a really big class with 18 entries, Zoë became 3rd wit an excellent!!!

I am so incredible proud of Zoë. She was so easy going at the show and in the ring.
Ilse thank you so much for giving Zoë this great experience and many congrats for the result with your boy Kian!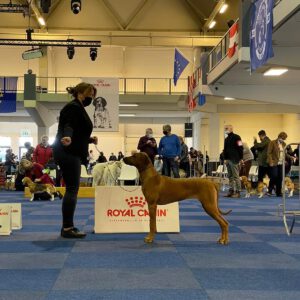 28-01-2022
We have tested Ani for Ventriculair arrhythmia (IVA) and we are happy that the result that came back clear. Ani is not a carrier for the tested gene.
She also started her heat. That means the countdown has started untill hear next heat! Her next heat we will visit handsome Romeo!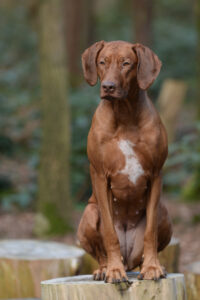 04-01-2022
Our upcoming D-litter is online now!
We are planning Ani her second litter for 2022, with the Czech male Kiss me Romeo Slunce Zambezi.
We are looking very forward to hopefully welcome Ani and Romeo puppies this year.
You can find more information about this litter HERE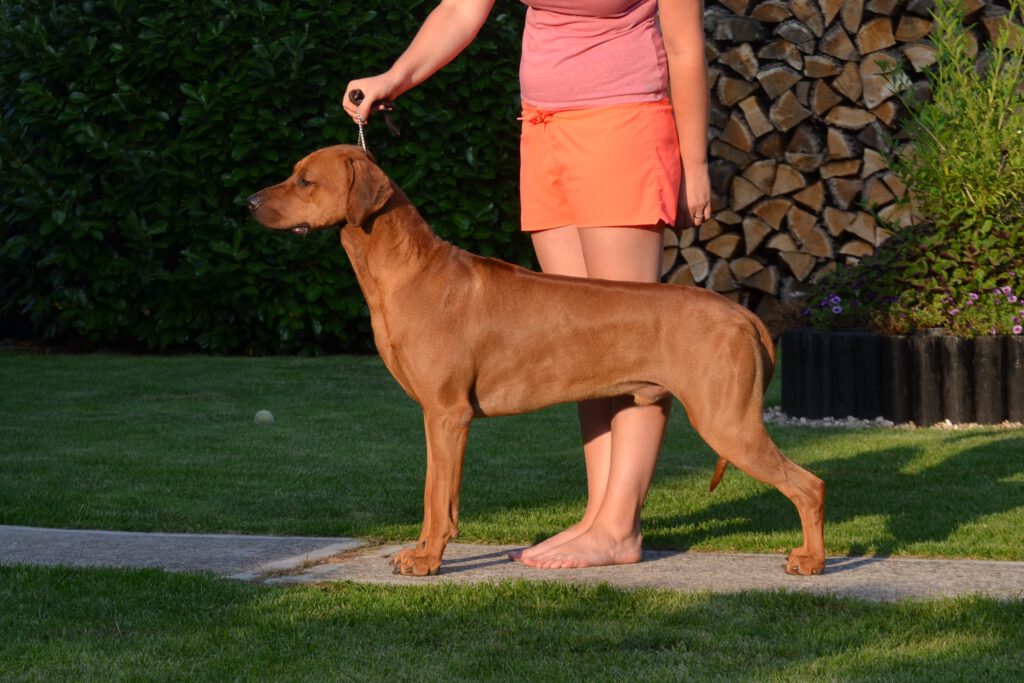 03-01-2022
Welcome in our 2022 newsblog!
We wish all our website visitors a wonderfull year, and hopefully all your dreams come true!
Last year has been a good one for the Hidaya family.
April 23rd was ofcourse the best day, when after a long wait we could welcome Ani her first puppies!
All 3 are doing great!

And ofcourse we are so happy to see all Dolce her offspring still begin happy and healthy with their wonderfull owners, who still keep us updated about them after all the years!
Zoë has started her show career in the puppy class with some nice achievements already!
And in the last days of december Ani and me made a little roadtrip to visit a lovely male and his owner for Ani her 2nd litter!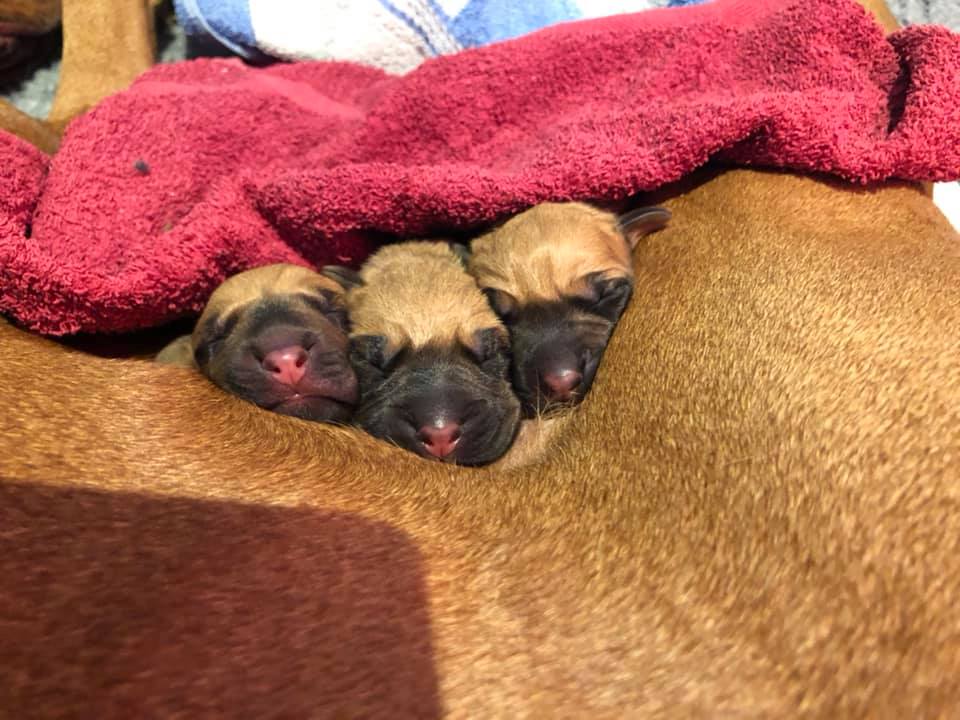 And we are looking forward to the year that is coming! Unfortunally due to covid-19 at the moment we have no plans for shows with Zoë. Hopefully everything will be better soon!
We have also planned Ani her 2nd litter for this year! The male we found for this litter will be announced soon!
In the meanwhile we are working on the farmhouse that we are renovating and hopefully this year, the dogs and us can move to their big new house!
The long and nice walks already started and we can only whish our pack stay happy and healthy!