10-06-2017
We have some great news!
Soon a Wonderfull baby girl will enjoy our pack.
Life is short, so just follow your heart.
And my heart was going back to Rusty's mother.
Year ago it was my wish to have one of her children in my live and that happend with the arrival of Rusty.
Unfortunately we have no part of him here anymore.
So that same wish was there again.
It was not planned to be a livernose again, but secretly I hoped for it.
Only 1 livernose was born, and this girl was exactly the type of ridgeback we hoped for.
So soon we will have a rednose in our life again.
HEAVENS RED ANGEL BY LUANDA
"ANI"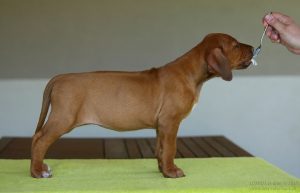 We have to wait a little bit longer before she is allowed to travel to the Netherlands,
but she already deserve her own page at the website 🙂
---
09-06-2017
We received a lot of pictures of our offspring, from the ABBA and also the BB litter.
You can find more pictures of our handsome and sweet boys and girls at there own pages!
A huge thank to all the great owners who keep me informed about my/our puppies!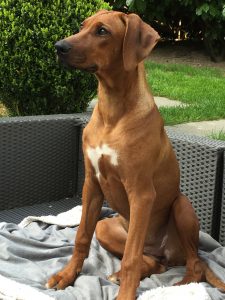 Hidaya Bella Rosa (Zina) from Dolce x Rio litter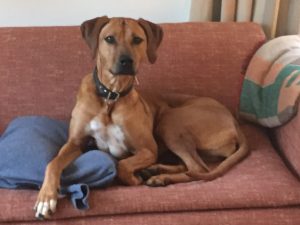 Hidaya Gimme Gimme Gimme (Kira) from Dolce x Garri litter
---
31-05-2017
And again we received some great pictures of our offspring.
You can find new pictures of Siep, Foo and Dino at there own pages 🙂
Thank you all for there great pictures!

Siep (Hidaya take a chance on me)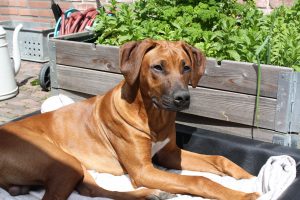 Foo (Hidaya Bello Nero)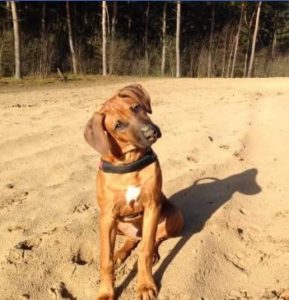 Dino (Hidaya Bello Lillo)
---
30-05-2017
We received some lovely pictures of Angie (Hidaya when I look at you).
Angie is from our Abba litter and 2,5 years old now.
Thank you Nico and Thea for these great pictures.

You can see more of Angie at her own page
---
27-05-2017
More news soon!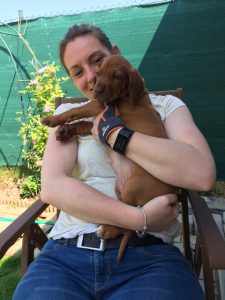 ---
25-05-2017
Dolce and I passed our exam for detection level 1.
Soon we start to work to level 2.
Very proud of my girl!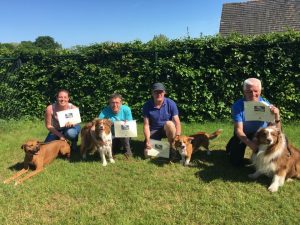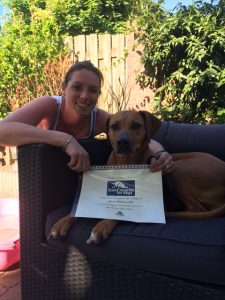 ---
23-05-2017
Hidaya Bella Ambra is JME N/N (clear).
Very happy with this result!
---
09-05-2017
We received some nice pictures of Hidaya Bello Azzurro (Dax).
We placed some pictures at Dax his own page at our website.
Thanks Hanne and Mathijs for the lovely pictures and the good care of my baby.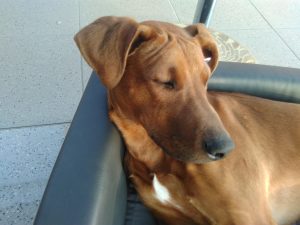 ---
07-05-2017
Last weekend we made a trip to Slovakia to visit rusty's breeder.
I had to make a picture with a very special lady.
Ani, Rusty's mother.
Years ago I Feld in love with her, when I saw her at a show.
Now she is 11,5 years old and still doing great.
It was so great to see her again, she remind me so much of my of her son!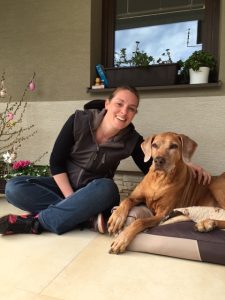 ---
05-05-2017
Today we received the JME Result of Hidaya Bello Lillo (Dino).
He is JME N/N (Clear).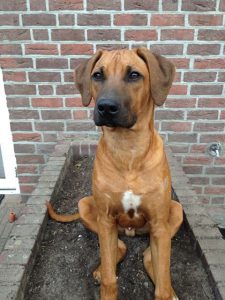 ---
30-04-2017
Last weekend Mia, Nero, Martijn and me, attended a 3 days mantrailing seminar, organized by the German Matrailing association from Andres Ebert.
The seminar was organized by our own mantraining school Dogsings.
The weather was great and we had 3 Wonderfull days.
The dogs worked very hard and we all learned a lot.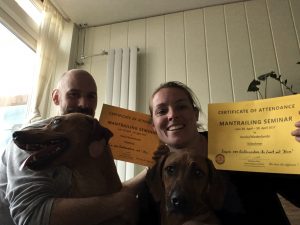 ---
13-04-2017
Today we received the result of the JME test for Mia and Nero:
Hidaya Mamma Mia: N/JME (carrier)
Hidaya Bello Nero: N/N (Free)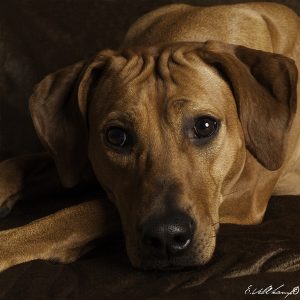 ---
09-04-2017
Normally Mia and Joyce enjoy their mantrail training every week.
But as Joyce gave a mantrail workshop yesterday, Martijn had the possibilty
to go for his first trail together with Mia.
They worked out a blind trail perfectly together.
Ivy (Hidaya does your mother know) and Angel (Hidaya Honey Honey) enjoyed the workshop.
For Ivy it was the first time and she did great.
Angel already did some trails, and today she worked out prefectly her first urban trail.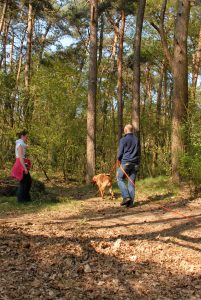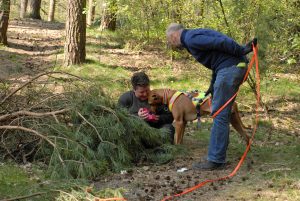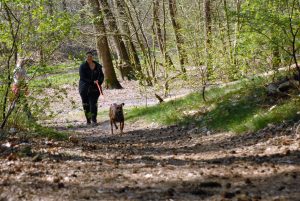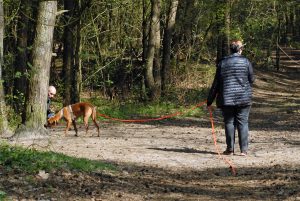 Ivy (unfortunally no pictures of Angel this time)
---
07-04-2017
We are busy to update the whole website.
We hope you enjoy al the new pages that will follow soon!