12-08-2018
This year the World dog show was organized in the Netherlands.
Ani and me went to this 3 days show.
Results for my girl:
" Heavens Red Angel by Luanda" 
09-08 Benelux Winnershow: (5th) Excellent
And of course 5th is no placement, but at her first show and a show this big I am very proud she was selected wit the 5 best bitches in her class.
10-08 World dog show Specialty: Excellent
11-08 World dog Show: Excellent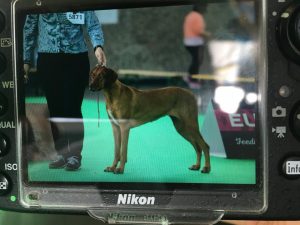 (hopefully better pictures will be added later)
---
17-07-2018
In July Ani and myself did our first Mantrailing (search and rescue) exam.
It was pretty hot and a hard test.
The rules are:
Distance: 400-600 meters
2-3 time change of direction
The trail is 20-30 minutes old
Ground: Soft, woods, hey, grass
Scent article: fabric in a plastic bag
Start direction: known
Traillayer is hide invisible for the dog and handler
Double blind (nobody knows the trail, only the traillayer)
Time limit: 20-30 minutes
I am very proud that Ani en me pass this exam!
On our group only two teams made it.
This test is not easy and made for experienced mantrailing teams.
Ani is only 1,5 years old…..
We will work hard to see how far we can come in mantrailing in the future.
As we both love this wonderful hobby/sport.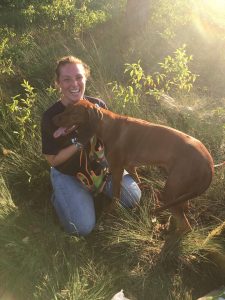 This picture is made just after we found our traillayer, both of us happy, proud but so tired after the hard work!.
---
29-06-2018
We made a big update on our website!
Just some things that are updated:
– the personal pages of our dogs
– You can read what is going on with Mia, at her page
– Our rescue boy Akiki, got his own personal page
– Litterplans
– Litterstatics
– Pictures
So take al look at the pages to see whats new.
And there is more to come:
– Nero will be X-rayed soon
– Ani will attend her first show soon
– Nero will attend his first show in a while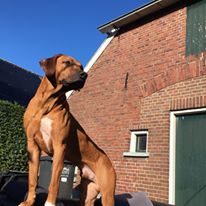 ---