03/11/2007 – 16/08/2020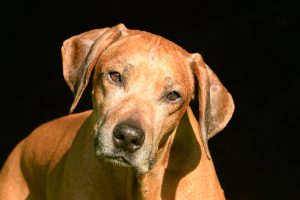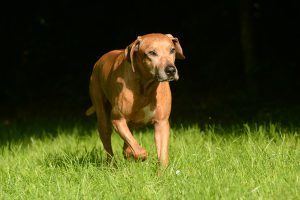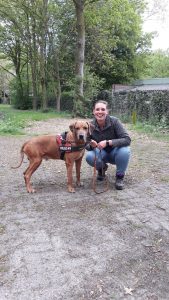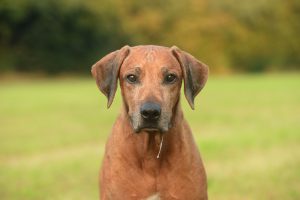 Well the story of Akiki, where to start…..
At April 24th 2018 in the evening I was checking my Facebook, and there I saw somebody sharing pictures of an old male who was living in a shelter.
The story written was about a ridgeback male, who was 10 years, and due to sad circumstances
he was in the shelter now.
It was an old male, who did not really wanted to go for a walk, and was weak in his rear.
He always lived in a big garden, and that was what he was looking for.
My heart broke, and when I shows Martijn those pictures, he had the same feeling.
But we also did recognize something in the pictures, but we did not knew what.
I decided to send an e-mail late in the evening to the shelter and I told them that, Akiki was welcome to spend the summer in our garden (we really had the idea, that it would his last months), and the only restriction I had, was that he was good with the dogs at home.
I also wrote in my e-mail that if there were other interested people that also was ok, but if no one wanted him, he was welcome with us.
The next morning before 9, the shelter called me.
That night they received more than 50 e-mails for Akiki!
After reading them all, about 20 where possible homes for him, and I still don't know why,
but the decided to call.
As it had to be, that day I gave a workshop near to the shelter, so after my work I directly drove to the shelter, to meet Akiki.
In the shelter I saw a sweet naughty male, and when I made a walk with him, he did not listen at all, not even to his name. For a moment I thought he was deaf.
But he was so sweet and so adorable that I decided he was welcome in our house.
So the next day I drove to the shelter again, together with Dolce and Nero.
The shelter had the rule, they want to see my pack leader and Nero, because both males are intact.
In 5 minutes the dogs were ok together, so Akiki's new adventure started at April 26th.
And now Akiki already lives with for more then a year.
A lot happend in that time.
His coat is so much better now, after 10 years he learned what is name is, and even listen to it now and then.
He steals food as much as possible, and if he has to jump on table's or anything to get that food, he will do that.
He walks almost every day for 30 minutes in the forrest, and when he want to go home, he just turn around and runs (!!) to the car.
But the most important, we took him to the vet, for his teeth.
8 elements had to be removed, and there is not much left anymore (as he already missed a lot).
But we saw after the operation he is much better, no pain anymore.
When we saw his first pictures we thought he could spend is last months with us, but now we see a good possibility it will be some years!
We are so happy we could do this for him! And so proud how easy, he found his place with us.
But also the rest of our pack, who directly accept Akiki, made us very proud.
And for the people who want to know what we reconized in the pictures.
We found out that Akiki is born in the same kennel as our first ridgeback Jambo, and
that they are related….
Some things maybe are just meant to be…..
Goodbye my friend….
On august 14, 2020 Akiki sadly got a gastric dilatation.
He needed a surgery, and altough we did not expect it, he survived the operation and the first night and day afterwards he did well.
He even went to the kitchen to look for some food.
Unfortunally the second night he became very ill.
Akiki got high fever and his heart was going way to fast.
Akiki was fighting for is live. Probably some infection was going on inside.
At 5 in the morning the vet visit us to look at him, and together we deceide it was the best to let Akiki go.
He was in mucht pain, and their were no expectations that he would survive this.
We had the choise to wait for him to go by him self or relieve him from this pain and let him go. Ofcourse we deceide to take away the pain.
2 years, 3 months and 17 days, he was with us, but it feels like he was there for all the 12,5 years he lived.
From the day I took him out the car at his new home with us, he became my shadow. He was always with me from that day.
And altough Akiki got a beautifull age, it still hurts so much to say goodbye.