"Ani"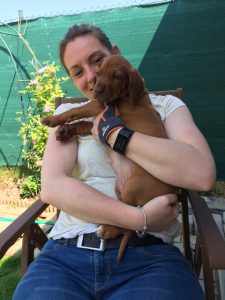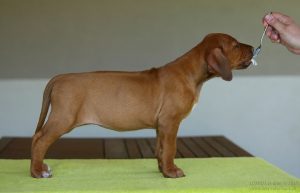 | | | | | |
| --- | --- | --- | --- | --- |
| NHSB: | import SK | | HD-Result: | november 2018 |
| Date of Birth: | 10-04-2017 | | ED-Result: | november 2018 |
| Gender: | Female | | OCD-shoulder: | november 2018 |
| Height: | Growing | | LTV: | november 2018 |
| Weight: | Growing | | Blue Dilute: | coming soon |
| Bite: | Correct | | SOD1-DM: | coming soon |
| Color: | Livernose | | EOAD: | coming soon |
| | | | JME: | coming soon |
Ani is born at Luanda kennel in Slovakia.
Already for years I am in love with Ani's grandmother.
So years ago I was very happy to have the chance to have her son our life.
After Rusty passed away, I deceide to look if there was a possibility to get this breeding line in the house again.
Ani's breeder planned a lovely combination with her girl Yman.
As Milada was also Rusty's breeder, I deceided to contact her to tell her my toughts, and ask if she would consider to let go another puppy from her kennel to us.
On april 10th 2017 four lovely puppies were born.
Ani was the only livernose in the litter.
And Milada told us, after a couple days, that if we wanted, she was avalible for us.
We saw the puppy growing up at pictures and movies and when they were 3,5 week old, we made our first long trip to Slovakia to visit them,
When te puppies were almost 6 weeks old, I went to visit them again.
And then I deceided, that this livernose girl had almost everything I was looking for, in body and mind.
So we deceided she is welcome with us.
We are so happy to welcome this little livernose girl in the house.
A little piece of Rusty (he is a halfbrother of Ani's mother) and also a girl that goes back to my most favourite ridgeback ever.
And that is why we call her Ani, after her grandmother Ani.
We have to wait a litlle bit longer before Ani is allowed to travel all the way to the Netherlands (15weeks), but she already deserve a place at our website 🙂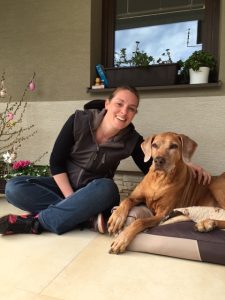 Hillvalley's Angel for Luanda (Ani) at 11,5 years old and me.
She is little Ani's grandmother and Rusty's mother.
We called our little Ani after her grandmother, as she is a very special ridgeback for me.