We expect our C-litter spring 2021
Click HERE for more information.

01-11-2020
Last week I made some picture of the dogs during our daily walks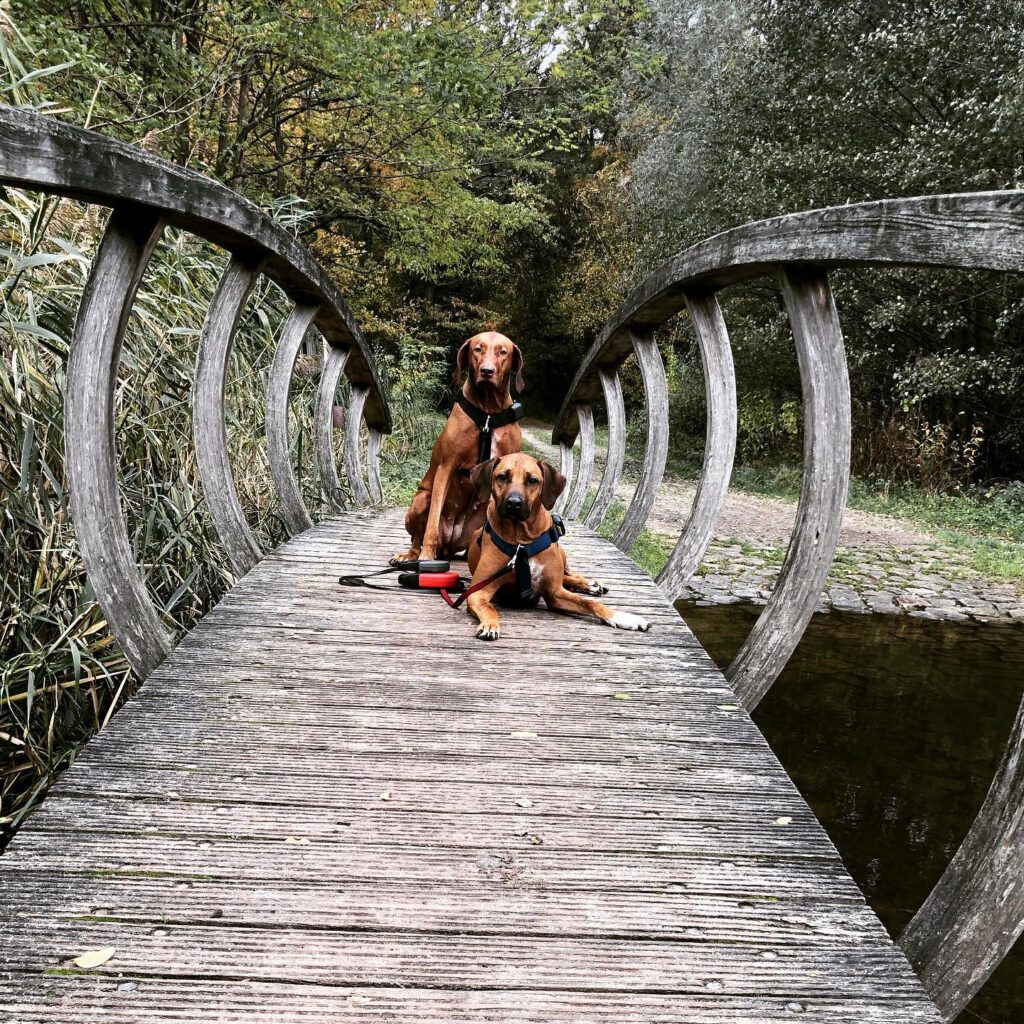 23-10-2020
Our B-litter celebrate their 4th birthday today.
We wish you all many more wonderfull years to come!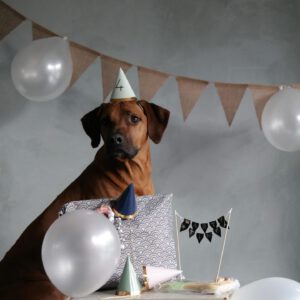 21-10-2020
We have made a page on our website calles "puppy price", because there is a lot going around about the good price for a Rhodesian Ridgeback.
20-10-2020
Nero is on a holiday trip to friends for a short week.
They live close to Angie, from our Abba litter.
Today Nero and Angie had a playdate!
Wish I was there also!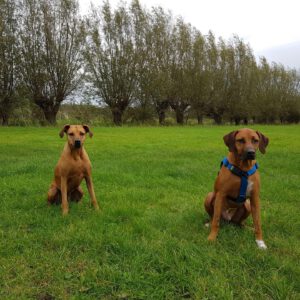 19-10-2020
It has been a while since our last update. The loss of Akiki was very hard for us. And it took a while before we started to give this a place.
We needed some time for our selfs, together with the dogs.
But ofcourse we still go on with mantrailing, and scentdetection training.
Because of covid-19 there are no dogshows we can participacte with Ani.
Last month my dear friend Ilse took some beautifull pictures of Dolce.
I am very happy with the pictures, as Dolce slowly also start to get a bit older.
It is important to have these memories.
16-08-2020
Exactly 1 week after Ani her great win, we had a really really sad day.
Our golden oldie Akiki left us forever.

2 days ago he got a gastric dilatation and needed surgery.
Unfortunally the second night after the surgery he became very ill.
Akiki lived with us for 2 years 3 months and 17 days (we took him from the shelter when he was 10,5 years), but it feels he was with us for all the 12,5 years that he lived.
From the moment he was with us, he became my shadow.
And it is pretty difficult to live without you shadow.
Goodbye my friend….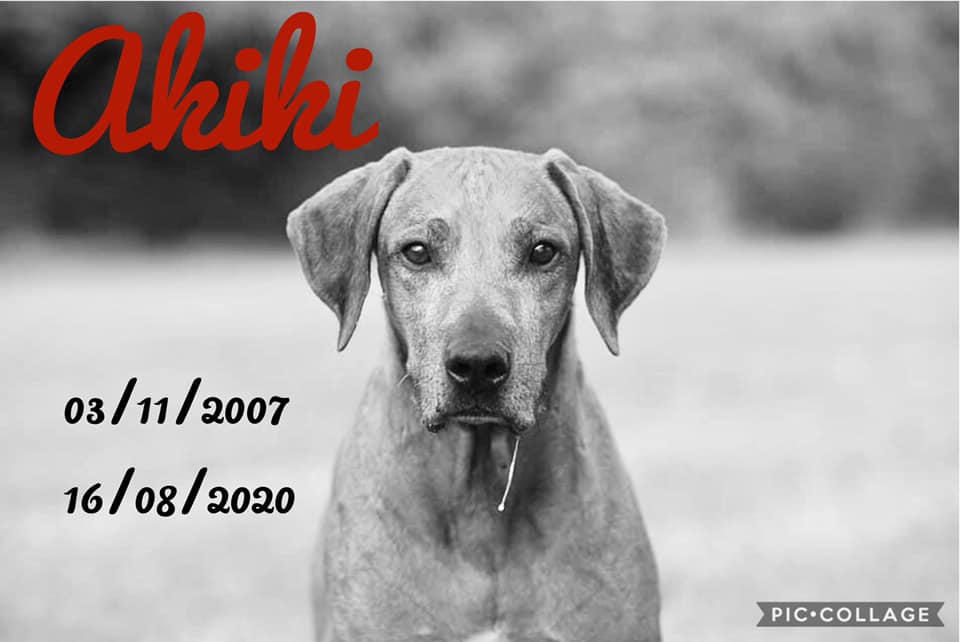 11-08-2020
Last week me and Ilse went on a holiday / show tour with our girls Ani and Khami.
We visited beautifull Slovenia and attended the 4 days show at the Alpe Adria Winner.
Ani did great at the shows and gained the following results:
Day 1: Excellent 1st place with CAC
Day 2: Very good 3rd place
Day 3: Excellent 2nd place with Res. CAC
Day 4: Excellent 1st place with CAC
And with this result Ani became:
SLOVENIAN CHAMPION
I am really happy how Ani did on these incredible hot shows.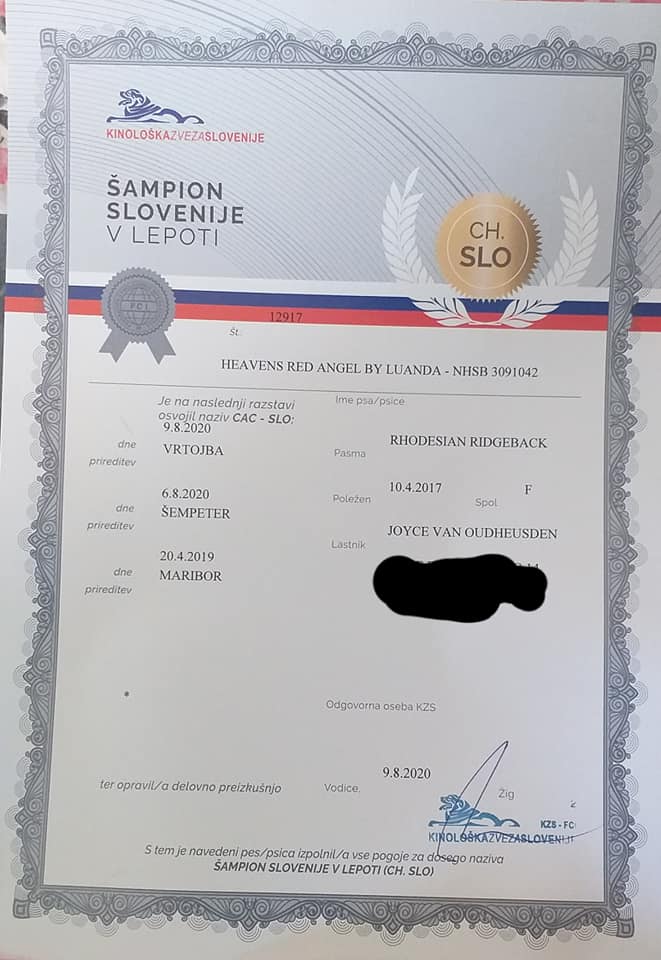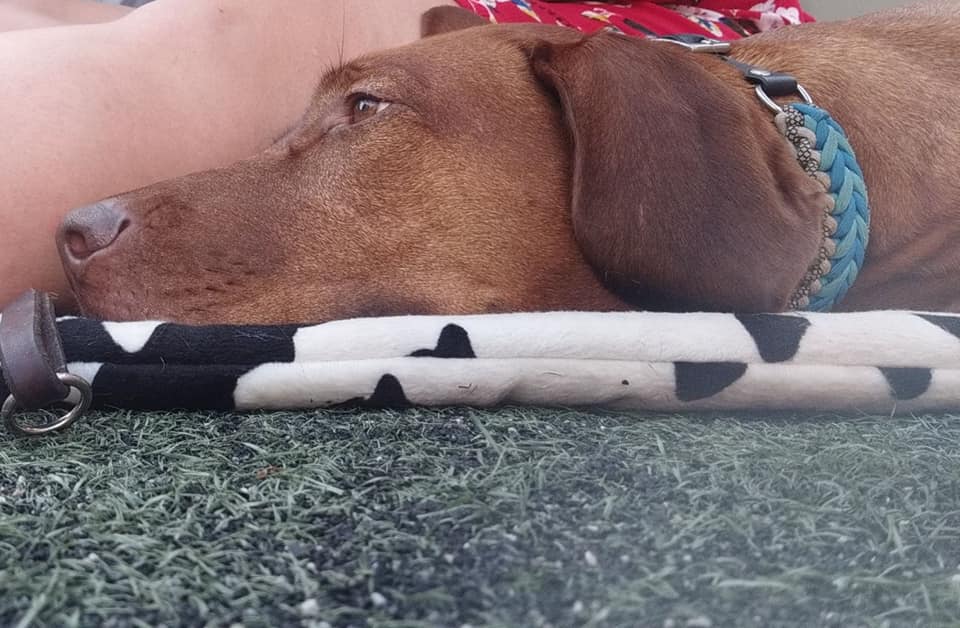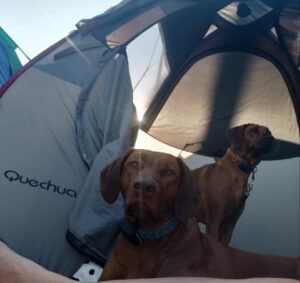 03-07-2020
Last week we made an ultrasound with Ani.
We where happy that we could see some little embryo's.
Because it was early in het pregnancy, we made a new ultrasound yesterday.
Unfortunally the embryo's where not there anymore.
So there we be not be any Ani and Ifa puppies this summer.
We are very sad, but also looing forward.
When Ani will come in heat again around January/February we will try it between Ifa and Ani again.
22-06-2020
Our coffee litter diary is up to date again.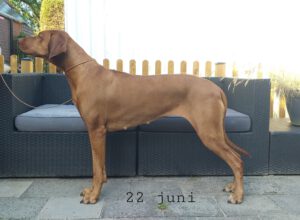 10-06-2020
Last week we have been in Sweden for the mating between Ifa and Ani.
We had several good mating, and now keep our fingers crossed, to welcome a healthy and beautifull litter around August 7.
You can read more about our trip in the C-litter Diary.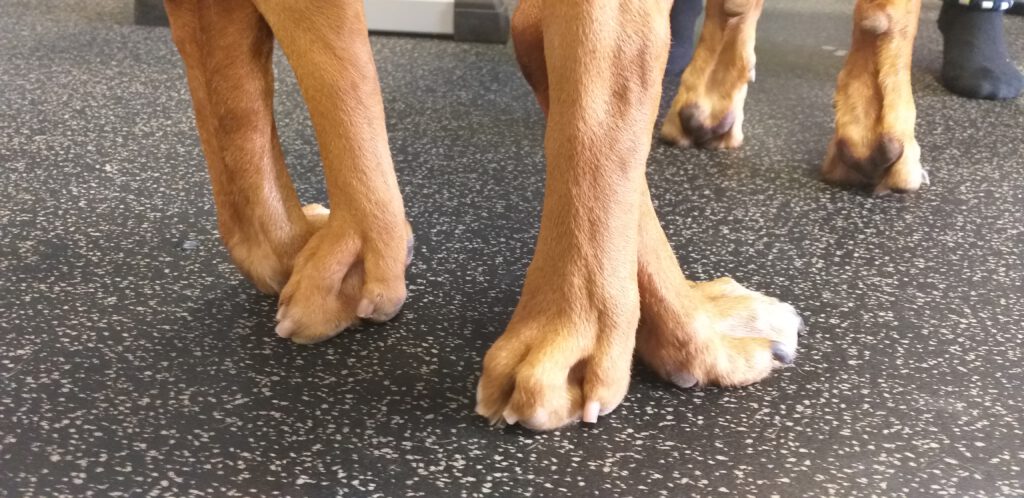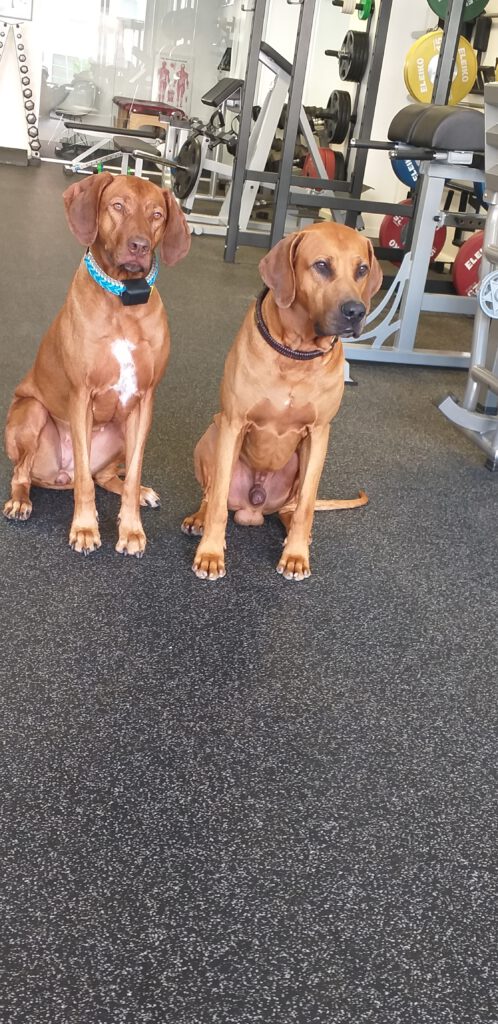 23-05-2020
Ani is in heat!
We expect our Ani and Ifa puppies half August 🙂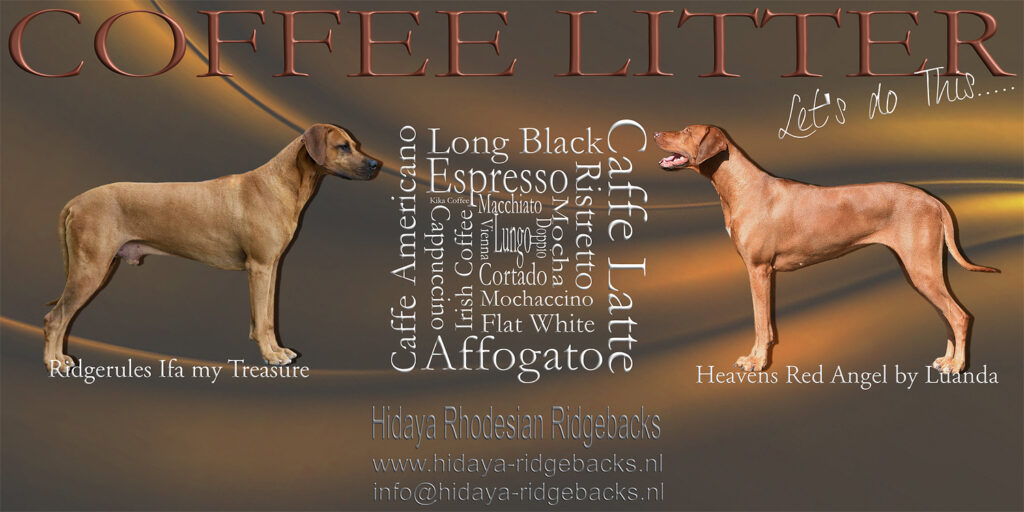 19-04-2020
The waitinglist for our upcoming Ani & Ifa litter is full.
At this moment we only can place people on our reserve list now.

When you are interested in a place on the reservelist, pleas send us an e-mail with a little introduction about yourself.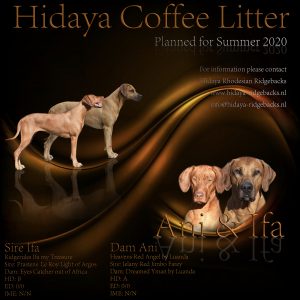 17-04-2020
Al lot of people are interesting in buying a dog at this moment.
Also the ridgeback is very populair Ofcourse we understand that because a ridgeback is a great breed to own.

But please only buy a dog (no matter what breed or age) if you have time for him/her the next 12 years. Not only now because you have to stay home because of covid-19.
Covid-19 will be over sooner or later, but a dog will stay with you for many more years!

At this moment we got so many e-mails from people who are interested in a puppy from our upcoming litter.
We want to ask people who are interested in a puppy to send us an e-mail and directly tell a bit about yourself.
We want to find perfect matches between our puppies and their future owners, so we would love to learn more about you.

And is you have any questions about the breed, you are always welcome to contact us. We are pleased to tell you more about the Rhodesian Ridgeback.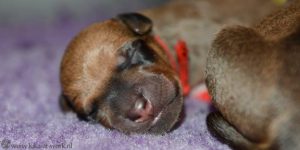 13-4-2020
And today we have another birthday. Dolce became 8th today.
So she is officially a senior now.
But she still behave like a young dog, who loves to run trough the forrest.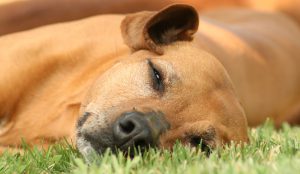 And that also means that we have now 2 seniors living in our house at the same time 🙂
Akiki 12,5 years and Dolce 8 year.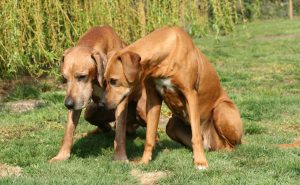 11-04-2020
We have started our coffee litter diary because we think Ani will start her heat soon 🙂
Due to all what happens because of the Corona virus (Covid-19) we have taught very hard, what to do, breeding a litter with Ani at this moment or not.
We have made the decision to go for it, are sure we can handle this.
It will take a while before the puppies will be born, so everything can be better at that moment.

But if not, we made a plan how to take care that our puppies will have the normal socializing they need, to have the best start in this world, also when they are with there new future owners.

The world is strange now, but we decided to look for the solutions and possibilities and not only see the problems.
As we expect Ani het perfect moment for mating is in May, we already know that it is not possible to drive with Ani to Sweden, to meet Ifa unfortunally.
Before I choose a male for a litter I do a lot of research, to decide this is going to be the male for my girl.
And now we can not travel to Sweden it is no option for me to just look for another male, somewhere close to us.
So with the big help of Ifa his owner Emelie, frozen semen is send to the Netherlands and stored in the fertility clinic, so that we still can use Ifa as dad for this litter.
Everything is ready and we are totally prepared for this litter, so now we can only wait patiently until Ani also is ready.
If you have any questions, please contact me in person.
10-04-2020
Today our youngest Ani became 3 years old!
Happy birthday sweet girl.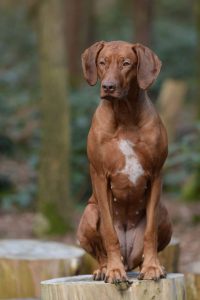 21-03-2020
Our Abba litter (Dolce x Garri) celebrate their 5th birthday!
We wish all our Abba puppies many more happy and healthy years together with their owners.

And today 5 years after Dolce her first litter was born, she became Grandmom for the first time ;-).
Ambra, form our B-litter gave birth to 4 beautifull puppies.
Gesina and Alexandra, many many congrats!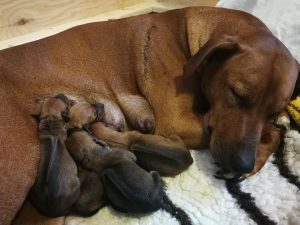 03-03-2020
We are very happy many people are interested in a puppy from Ani and Ifa, and from us as breeder.

For this moment we a have no place for a female puppy on the waiting list anymore. First we want to see how many female puppies will be born this summer. (If you are interested in a female puppy you are welcome to contact us for a place on te reserve list).
For a male we have some places left on the waiting list.
We like to meet potential puppyowers before the litter is born.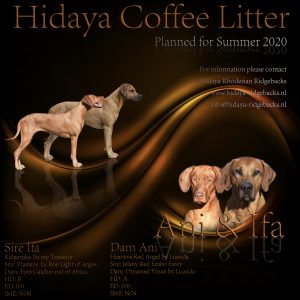 01-03-2020
Ani and me have been to de CACIB show in Groningen.
Ani achieved a 2nd place Very Good.
10-02-2020
Yesterday Ani was entered at the RRCD Landessiegerschau West in Germany.
Ani was entered in a big Open Class of 13 females.
She showed what she was worth en became 2nd Place EXCELLENT with reserve CAC VDH Germany.
I am really proud of Ani and want to thank my friend Ilse who handled Ani perfectly!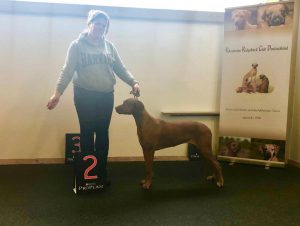 04-02-2020
Today I went wit Ani to the Naturopathic Praktijk Paard & Hond, to do a check.
Ani is in perfect health, in body and mind, for her upcoming litter.
We love to combine the "standard" vet with the naturopathic. And try to use the best of both worlds for our dogs.
For now we are just happy, that she doing so good.
Count down has started, in 2,5 – 3 months we expect Ani to start her heat!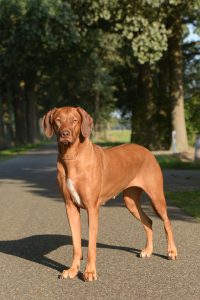 After a lot of thinking, we decided to castrate Nero.
In september we gave him chemical castration, and we saw positive results, for him without all those hormones running trough his body.
I am not a person who just neuter my dogs. So it was a tough decision, but we think this is the best for Nero. Yesterday he was not feeling very well, but today he is already our happy boy!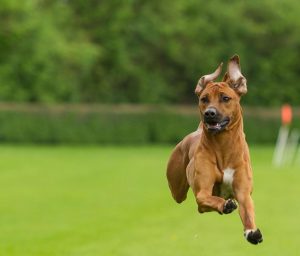 03-02-2020
Beau (Hidaya Lay all your love on me) from our ABBA litter passed her mantrailing level 1 exam last week.
Many congratulations Patricia & Beau, we are very proud!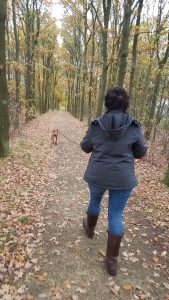 28-01-2020
Our English website is ready.
We are still working on the dutch website, hopefully it will be ready very soon also.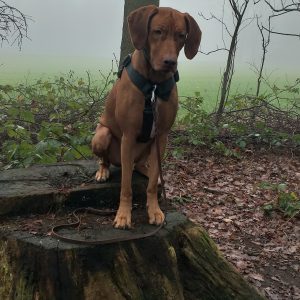 16-01-2020
We changed the lay out of our website, because the old lay out did not work very well on a mobile phone or Ipad.
Some pages still have to be changed, we will do that soon.

And in the menu you can also see a button "Nederlands".
We are working on a dutch version of our website.
All will come soon!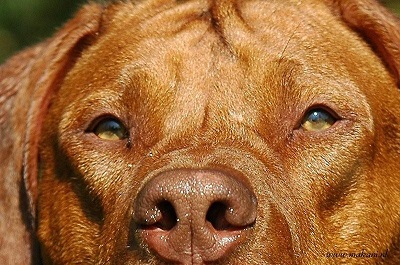 10-01-2020
Our first news blog for 2020.
An empty page, what at the end of 2020 hopefully will be a full page with a lot of great news about our dogs, our offspring and of course with Ani-puppies.

2019 had been a great year.
Our dogs were healthy and happy, and we had a lot of nice walks.
Nero got his level 1 decent detection.
Ani got her level 2 Mantrailing and level 1 scent detection.
Mia and Dolce went on a lot of walks and had fun together.
And Akiki, he just enjoys life and a lot of sleep and not so long walks 😉

For 2020 we have a lot of nice plans for the first part of the year.
But after April the calendar is empty!
We expect Ani to come in heat end of april / beginning of May.
So hopefully we will have a very busy summer, with our C-litter.

Let see what the year 2020 will bring us!