Europa Jugend Siegerin 2017 & Brabowinner 2008
"Jinaki"
14/03/2007 – 21/01/2012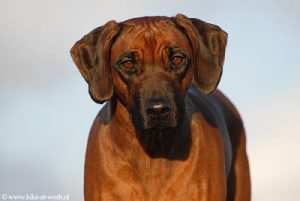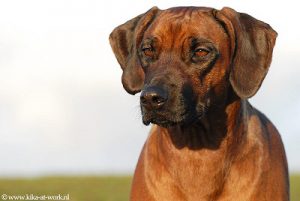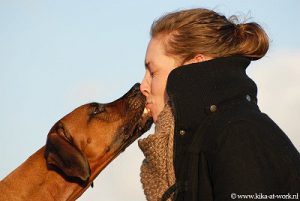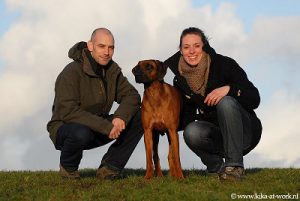 Where to start….
When Jambo was 1 year old, we decide to start a search, for a second ridgeback.
This time we wanted a female.
After searching for 6 months we found a combination, we really liked.
And on March 14th 2007 it happend, the puppy's from Madzinza Basheera Nkosazana & Tarujen Penzi, were
born at kennel Madzinza.
In the litter there were 2 correct girls.
And believe it or not, when the pupp's were 1 day old I knew wich one I wanted.
By this picture I was in love.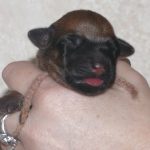 We had to wait for 6 weeks, but then the breeder told us, that pinky girl came to life with us.
We were so happy!!
So pinky girl became:
Madzinza Andwele Jinaki Hidaya

(Madzinza is the kennelname, Andwele the littername, Jinaki was here name, and Hidaya became hopefully our kennelname).
Jinaki means self-confidence and proud. At that moment, we did not know, that name would be perfect for her.
On Martijn's birthday, May 5th 2007, we could finally take Jinaki home with us.
I still remember it was a nice day, with great weather.
Jambo and Jinaki met eachother in our garden.
Jinaki walked into our garden, with an attitude like:
"The queen arrived".
And that never changed, untill the very last day she was the queen of the house.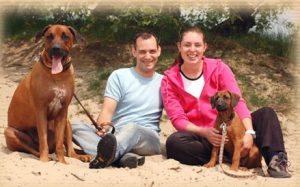 We started with obdience training with Jinaki, and also ringtraining.
Everything went well, and we enjoyed our live with 2 dogs.
Jinaki's very first dogshow was in June 2007, with a lot of different baby's.
Jinaki became second best baby of the show. We were so proud.
We did go to some different dogshows and obdience training more.
Unfortunally Jinaki showed us some bad behaviour, to strange dogs, when she was around a year old.
And from that time, we had to work very hard with her, to change that.
Unfortunally het strong behaviour did not go over totally, but we trained her how to deal, when she saw other dogs.
In the meanwhile we did go on with entering dogshows, and at the EuroSieger Dortmund,
Jinaki learned me how it feels to win.
Out of a lot of young bitches, she achieved a first place Excellent and became
Euro Jugend Siegerin at the age of 13 months.
But unless her nice showresults we deceided to cancel our plans, maybe to breed with Jinaki in the future.
Her behavior was not a contribute to the breed by our opnion.
But neverless, we did love her as much as we did before.
Just before Jinaki turned 3 years old, we started to search for a 3rd ridgeback.
Totally unexpected, Rusty, an 11 months old male came on our way.
We deceided to give Rusty a new home at our place.
What do I say… Jinaki and Rusty became friends for life!
Where Rusty was, was Jinaki, and where Jinaki was, was Rusty.
Always together.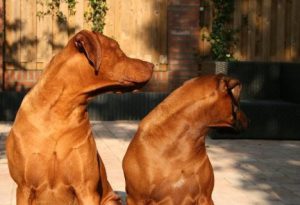 But also with the 3 of them they had fun together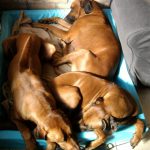 So since 2009 we enjoyed our pack of 3!
With the three of them we trained for long distance walks.
We trained them up for 40 kilometers 1 day and
25 kilometers 2 days behind eachother.
In 2010 I deceided to stop showing Jinaki.
She had some nice achievment, and now it was enough.
We never totally stopped, but I just took her sometimes into the showring.
And when we where at a show, we had much fun, my girl and me.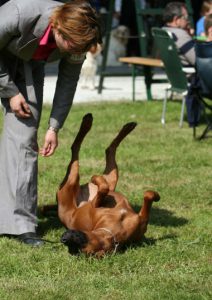 Unbelieveble, that Jinaki's last show was in November 2011, just 2 months before she passed away.
In 2011 we bought a small caravan.
so that spring and summer we were a lot on the road.
Jinaki liked it, to be in sun, just doing nothing.
Yes, like a real queen!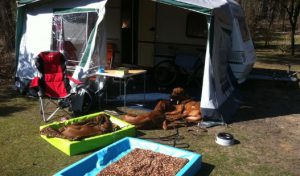 But there were also cold time, with snow.
Well that were not Jinaki's best day's.
Like a real african she hate the cold weather.
Only sometimes, in the garden, she wanted to play with the boys, in the snow.
But never longer then 10 minutes.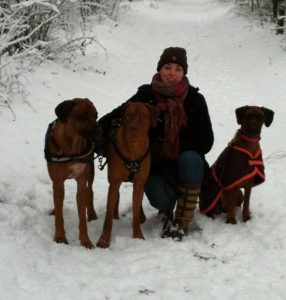 Above you can read some of the happy day's of Jinaki's life.
I am sure I forgot some.
In Januray 2012 our live changed.
Jinaki was diagnosed with an osteosarcoma in her 5th Lumbar Vertebra (bonecancer in her back).
In only 3 weeks, the pain changed, from some litlle pain, wich we tought it was because she hurt herself by playing, into
a pain wich was terrible for her.
A double dosis of painkillers did not help her enough.
The day after we got the final testresult back (were they told us, we could really not do anything to make her better)
the pain became way to much for her.
After much tears, talking and thinking, we had only one more decission we could make.
At the 27th of January 2012, Jinaki went to sleep forever at the age of only 4 years an 10 months.
Our life will never be the same anymore.
We know the wounds will heal,
but the scars never go away…