23-01-2023
After the busey weekend, we stayed home today. But the socalization progress keep going on.
Today I trained with the puppy's with the own names. Our future show puppy's had their first stack lession today.
And unexpect there was a big loud "monster in the street. Ofcourse we use this for a socialization moment.
~~~~~~~~~~
22-01-2023
It was time for a trip with the car today, and then we visit one of the future owners of our puppy's who live pretty close to us. A lot of new smells for the puppy's.
On the way back home most of the puppy's already fell asleep in the car.
~~~~~~~~~~
21-01-2023
Today the puppy's went on a field-trip again. We made a little walk in the doggyride and then the puppy's could discover a new place.
~~~~~~~~~~
20-01-2023
~~~~~~~~~~
19-01-2023
We try to make our puppy's comfortable with all normal thing in life. Next week we start to train with them with walking on a leash. So today they got a collar for a little while.
~~~~~~~~~~
18-01-2023
Today was a beautiful day. Finally not so many rain, bit a nice winter day.
It was very nice to be outside with the puppy's today.
Today we also did some enrinchment exercises. One of the things we do is scentwork.
We already did several excercises, and today we made it a bit more difficult.
But Nano did great!
~~~~~~~~~~
17-01-2023
Today was an exciting day! We matched the puppy's with their future owners.
The past 7 weeks we observed our puppy's very well. With the puppyculture programm we gave them a lot of enrichement excercises. Because we work individual a lot with our puppy's we have a good opinion about their characters and needs.
The future owners visit us a lot and we had many conversations about their family, wishes and plans.
It was a big puzzle to match each puppy with his own character to the right family.
But after sleepless night and a lot of thinking we did it.
That means that all our puppy's got a nickname now.
Two more weeks that we can enjoy our puppy's and get them ready for the big world, before they move to their new homes.
Let me introduce them: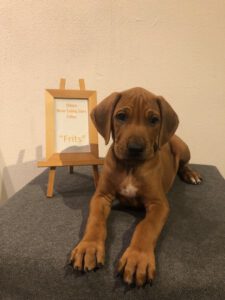 Hiday Never Ending Story Falkor "Frits"
will stay with us a bit longer. For us Frits is a very special boy. After the other puppy's moved to their new homes, we will see if we can find that special house for him.
We are very thankful that two of our puppy's are living with their new owners in co-own with us.
So we have the possibilty to use them in our breeding programm in the future.
Soon they will get their own page on our website.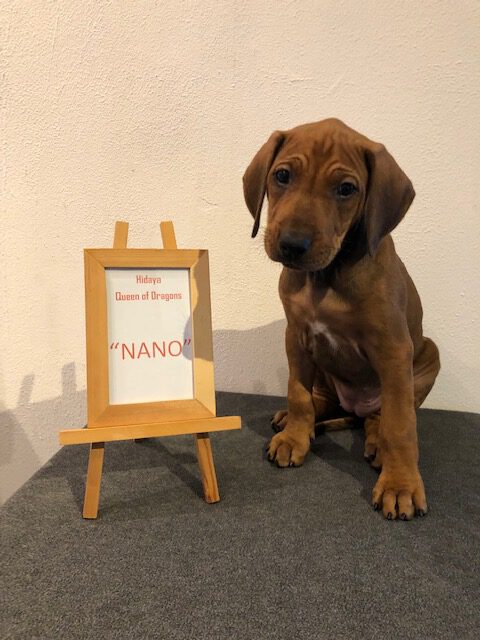 The rest of our beautiful dragons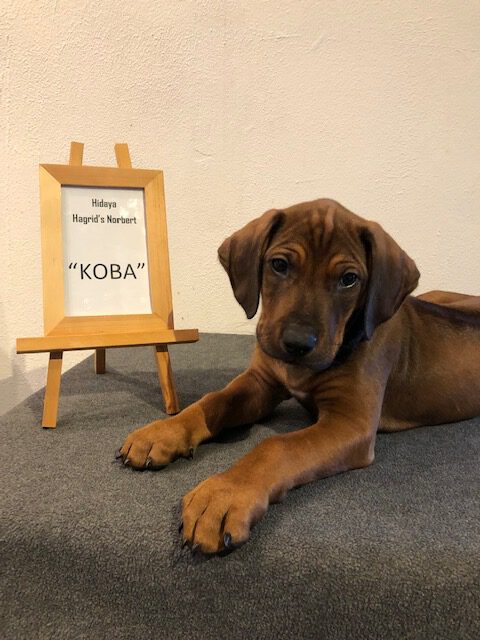 ~~~~~~~~~~
16-01-2023
Today we had a big adventure for our puppy's. We went to the forrest, where are not many people or dogs.
So they puppy's could discover, sniffle, and run around.
We enjoyed them so much but it also was hard work, and counting to 9 many many times.
~~~~~~~~~~
15-01-2023
After yesterday's adventure, we had a restday today. Just at home activities.
~~~~~~~~~~
14-01-2023
Today the vet visit us.
The puppy's are checked by the vet, and all are happy and healthy puppy's.
We also did a titertest, to check if they already have te be vaccinated or that they still have anough maternal antibodies.
The puppy's still have enough antibodies for at least 3 more weeks, so we did not vaccinate them today.
When we vaccinate them today it would not work because of the maternal antibodies.
In 3 weeks the puppy's can be test again to see if the maternal antibodies are low enough to vaccinate.
In this way our puppy's (and also our adult dogs) will be vaccinated at the moment they need it.
~~~~~~~~~~
13-01-2023
Today the wheater was a little bit better, so the puppy's went on their first trip.
Already for a couple days, the doggyride was in our room, so the puppy's could get used to it.
Today we went out.
We walked to the industrial area and from their safe place in the doggyride the puppy's could have a look at the trucks passing us, and the sounds and smells of all the company's.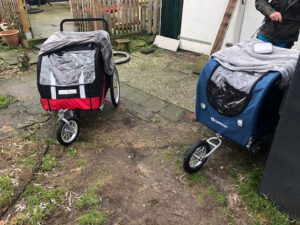 ~~~~~~~~~~
12-01-2023
Today is a really bad day to go outside. The wheater station gave a code yellow for storm and heavy rain.
So we stay inside today.
It will be a good day, for nailcutting, 2nd deworming and we will go for a sniffing exercise today.
Tomorrow we are ready for new adventures again!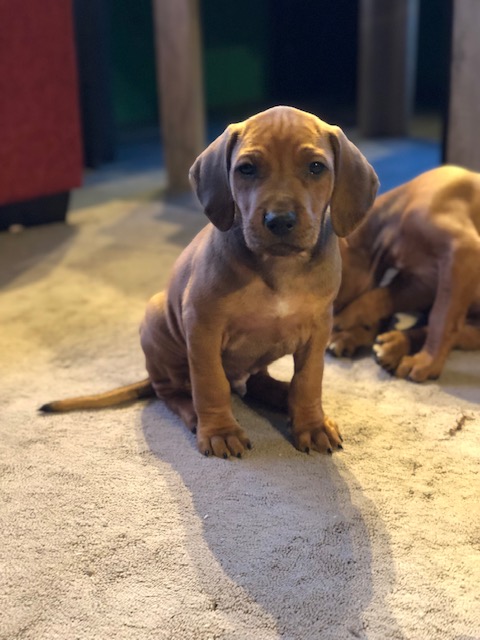 ~~~~~~~~~~
11-01-2023
Today was a big day for the puppy's.
In the morning they got a snifflemat for the first time.
They puppy's and adult dog like it 🙂
After that their new puppy-car arrived.
And the puppy's where so sweet to help me build up.
And last but for sure not least, the puppy's had a 5 minutes car drive in the real car.
We put them in groups of 3 in the crate with a nice snack (puppy's are crazy for rabbitears with hair).
I went in the backseat to watch the puppy's reaction and Martijn was driving the car, for 5 minute.
We took some corners, a roundabout, had to stop for other traffic etc.
The puppy's did so good. Some where looking around at the corners, but none of them was afraid and where just eating their snack.
Just 5 minutes was enough for them. you don't have to drive for hours directly. It was just the expierence, and they where so tired afterwards.
~~~~~~~~~~
10-01-2023
Unfortunately the wetter was bad today, a cold wind and lot of rain. It was too cold for the puppy's to play outside at the terras or in the garden for a long time. So we made an indoor activity. The puppy's where very curious and loved this new expierence.
~~~~~~~~~~
09-01-2023
We learn our puppy's that a crate is a happy place. The get most of their meals in their own crate.
And after the meal, we give them a snack. None of the puppy's is afraid in the crate and if they want out, we leave them out. We learn the puppy's that they can come out by just sitting and looking at us. Screaming or yelling is not necessary yo get our attention.
~~~~~~~~~~
08-01-2023
No Mountaing high enough!
~~~~~~~~~~
07-01-2023
Today the puppy's deceided that the terras at our puppypalace was not enough anymore. Some puppy's walked in to the garden a bit. We see the puppy's developing more every day, and they want to explore more and more everyday.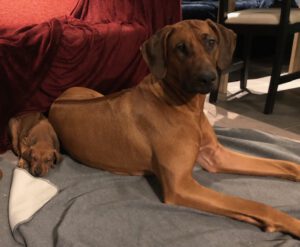 ~~~~~~~~~~
06-01-2023
Meneer Janssen out of our C-litter (Ani x Ifa), passed his first scent detection test today!
Many congrats!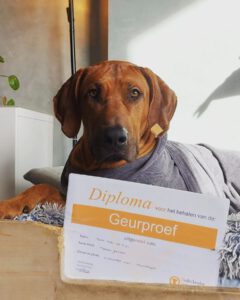 ~~~~~~~~~~
05-01-2023
We are in the middle of the socialisation period, so we are very busey with the puppy's to give them the right expierences they need at the moment.
Because of that we do not alway have enough time to give the website an update every day.
But we try to do as much as possible.
The puppy's walked around in our puppyplace almost the whole day, they eat alone ore in couples of two in their crates, they are going outside and already expierenced a lot of things in the house now.
A lot of people already have come to visit and cuddle the puppy's.
The puppy's and enjoy and dicover the whole day and we enjoy the puppy's so much.
Today the puppy's are microchipped and there has been taken a DNA sample from all of them.
That means our puppy's now have their own official name.
We are still looking for the perfect homes for 2 of our boys.
Contact us for more info.