21-11-2021
Today we had a reunion with our Chaos puppies.
We went for a nice walk with Afi and Meneer Janssen and of course Zoë was there.
It was so great to see the boys again, and I am so proud of what their owners already reached with them.

They for sure grow up as sweet, stable and wonderful dogs!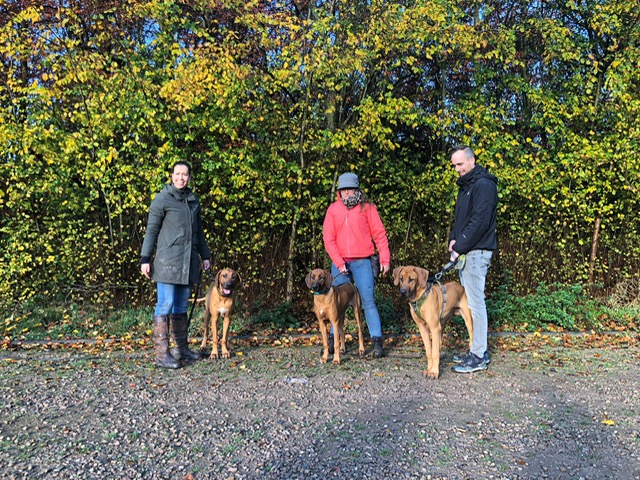 07-11-2021
Today it was showtime in the Netherlands again. Zoë and I picked up Marije and togheter we have been to Jubileum dogshow in Bleiswijk. Meneer Janssen and his owners where also there to participate. The young dogs where at a indoor show for the first time, but they behaved really great!
And on top of it both achieved a good result with nice judge reports!
Hidaya Queen of Chaos ~Zoë~
1 Very Promising in puppyclass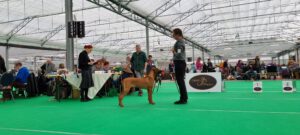 Hidaya Captain Chaos ~Meneer Janssen~
2 Very Promising in Puppyclass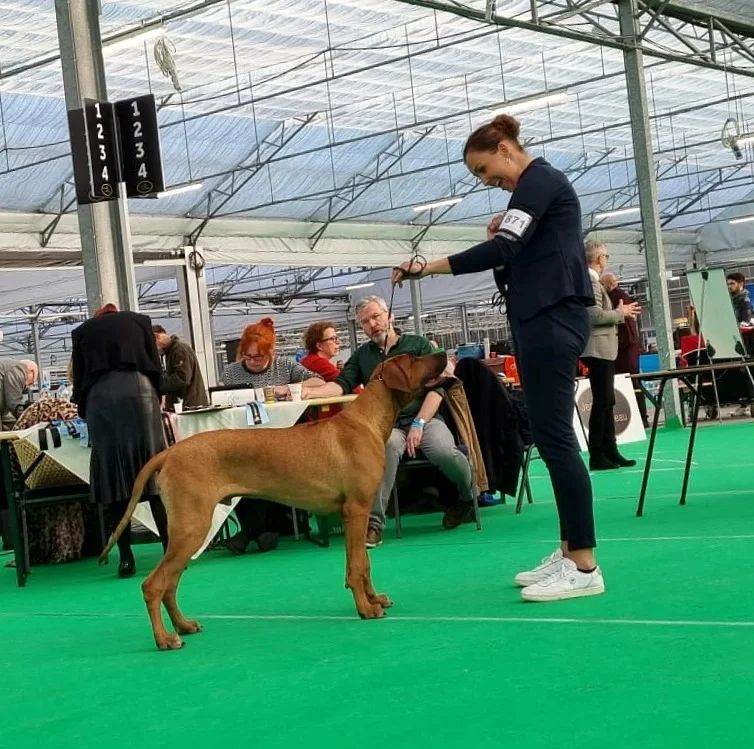 24-10-2021
Today Zoë and I went together with Ilse and Khami to the Bundessieger in Gelscenkirchen (Germany).
With 6 months and 1 day old it was time to start in the puppyclass for the first time.
Zoë achieved a Very Promising (without placement.)
I am very happy that all the training we do is working out in the ring.
Zoë is doing really good inside and outside the ring for a 6 months old puppy.
It was a beautiful autumn day with fun, laughter, nice chats and good results.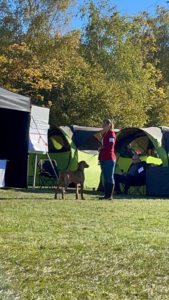 23-10-2021
It is already 5 years ago that our B-litter was born. Time is going so fast.
We wish all our B-litter puppies a fabulous birthday and we hope for many more happy and healthy years for all of you!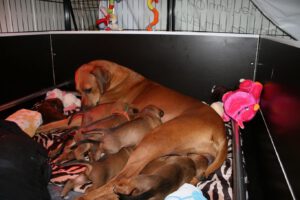 But our C-litter puppies are celebrating a little party also. They are 6 months old today!
All 3 are doing great, and grow up very well!

12-10-2021
Today Ilse made some new pictures of Zoë. As always I am very happy and thankful for the pictures she made of my dogs.
Hidaya Queen of Chaos ~Zoë~
Almost 6 months old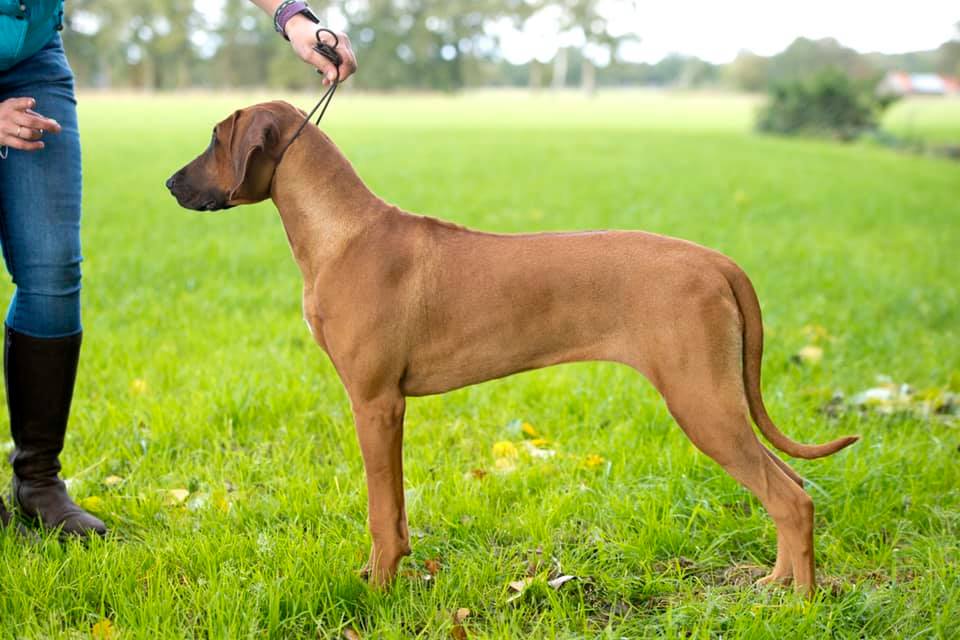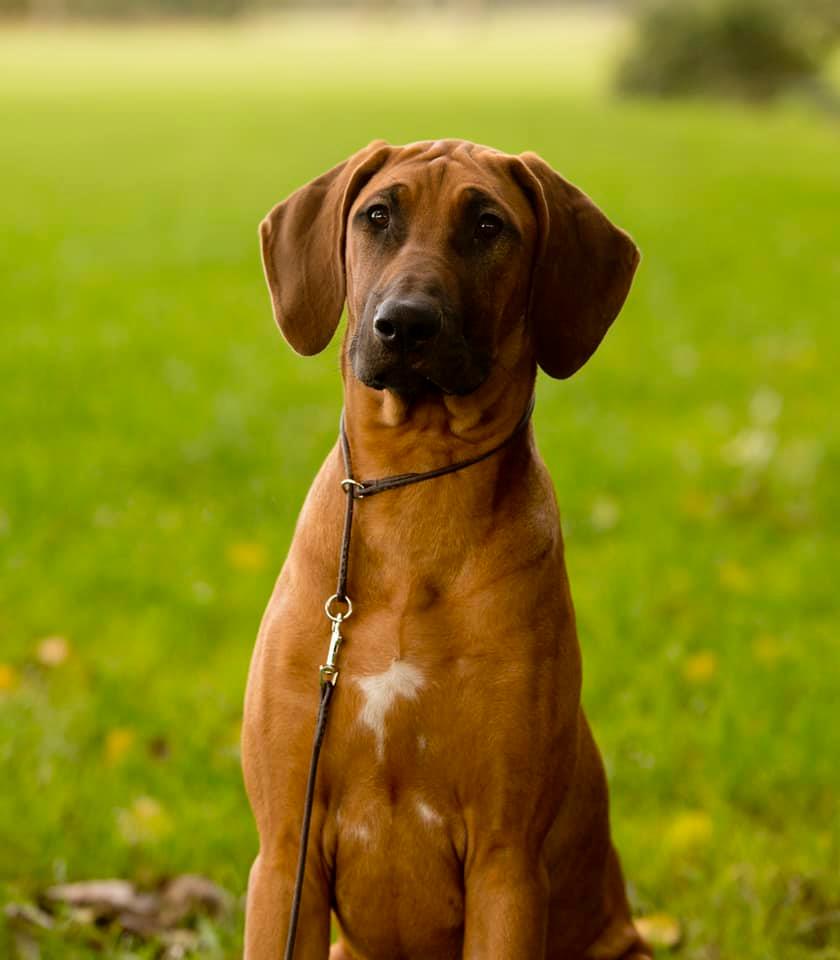 09-10-2021
Last week Zoë and I have been with a bunch of girls and their dogs also to the Rhodesian Ridgeback World Specialty Shows in Czech.
It was a wonderful weekend, with lots of fun. It was so great to have a show weekend in Europa after the long corona break. But it have been even more great to see so many people finally again, who we did not see due to the covid time.
But also the result of the shows have been so great!
Hidaya Queen of Chaos ~Zoë~ entered the Minor Puppy Class for the last time.
The first day the judge was Mrs. Hanka Pankova from Qwandoya kennel in Tsjech. Zoë achieved a 2nd place with Very Promising and a beautiful judgereport.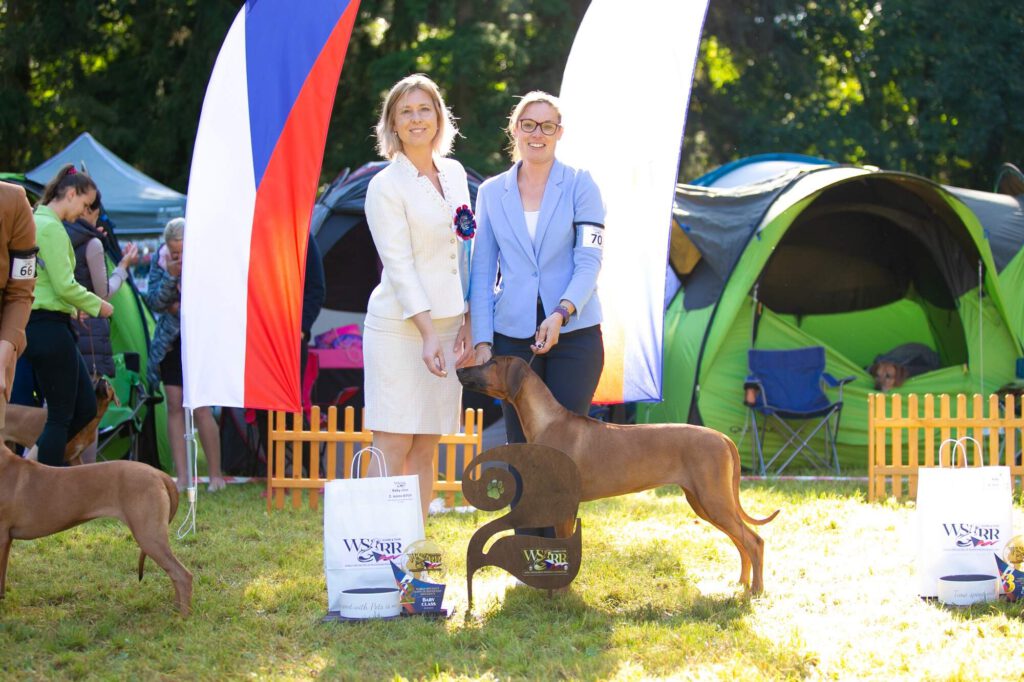 The 2nd day the judge was Mrs. Milada Krchnava from Luanda Kennel in Slovakia. Today was extra special to me, but also more nervous. The reason for that is, that today's judge is the breeder of Zoë her mother Ani (Heavens Red Angel by Luanda). Today Zoë achieved a 2nd place with Very Promising again.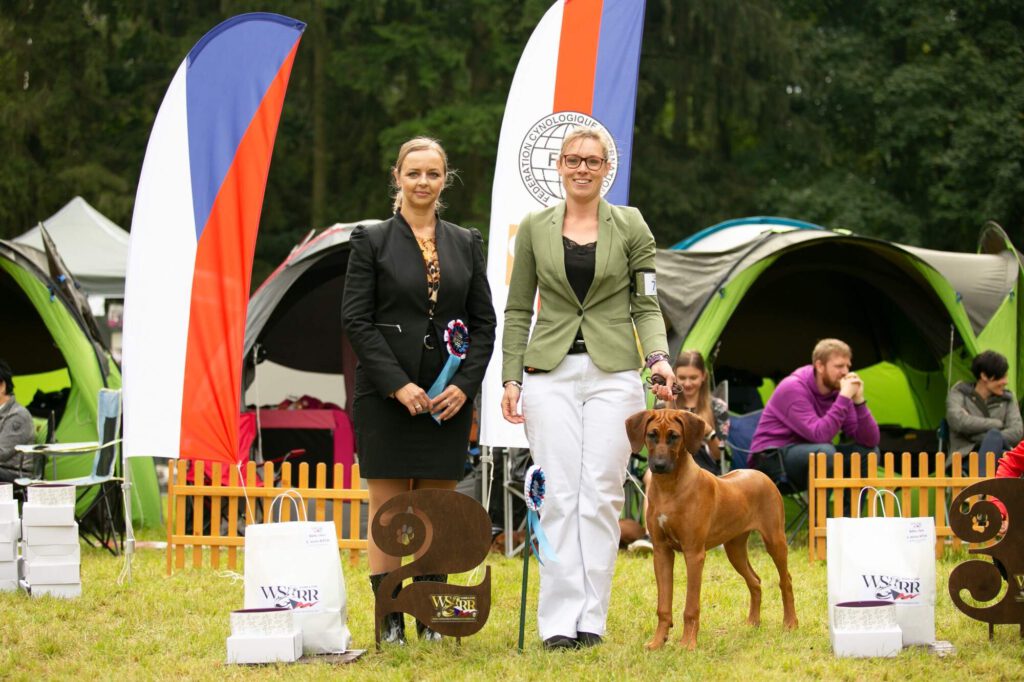 Both judges where very positive about Zoë her front and her powerful and free movement.
The 2nd day of the show I also showed C'hums K'akilah Juna Gaudiwa Musana, who is owned by Denise and Esther. Me showing Juna was a little bit unexpected, so we had no time to practice. But we had so much fun in the ring and it went very well. Juna achieved a 2nd place with Very Promising.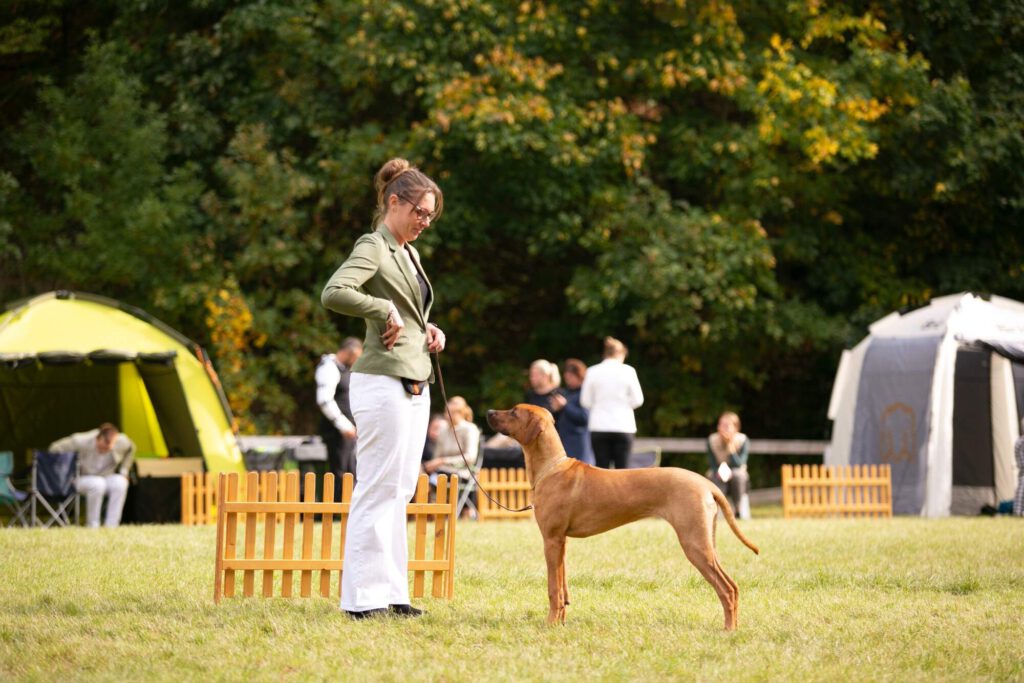 Some more pics of the weekend.
11-09-2021
Today was the Championship Clubmatch of our Rhodesian Ridgeback Club Netherlands.
We had a wonderful day, where we haven spoken so many people and have seen even more ridgebacks.
We are so proud of the results achieved by our C-litter puppies.
Hidaya Queen of Chaos ~Zoë~ and Hidaya Captain Chaos ~Meneer Janssen~
both achieved a 2nd place Very Promising with a beautiful judgereport.
05-09-2021
Today Zoë and I went to outdoor Zwolle. This was Zoë her very first dogshow.
She walk around on the showarea like she already did this so many times before. Easy, with self confident and not impressed at all.
Zoë was entered in the Minor Puppyclass and achieved a 1st place Very Promising and became best Minor Puppy.
We had a wonderful day and it was so great to see everybody again after such a long time.
Looking forward to the next show!
Yesterday Ilse and me went to the flowering heather with Kian and Zoë and we made some pictures. Thank you Ilse, I am very happy with those pictures.
06-07-2021
Last week we worked on a lot of updates at the website. Zoë got her own page now, and you can find the litter statistics of our CHAOS litter also.
We are starting to make our plans for Ani her next litter in autumn 2022.
We are still working on some informative pages about puppyculture and our way of vaccination and deworming our puppies. But first we will make an update on the Dutch verion of our website.
26-06-2021
Today the boys Afi en Meneer Janssen left to their wonderful homes. It had been an incredible, intesive and emotional time.
We will miss the boys deeply, because they really became a part of our household. But it is also nice to have our normal life back and have all the time for the rest of our dogs.
And now it is time to officially introduce our keeper"
Hidaya Queen of Chaos ~Zoë~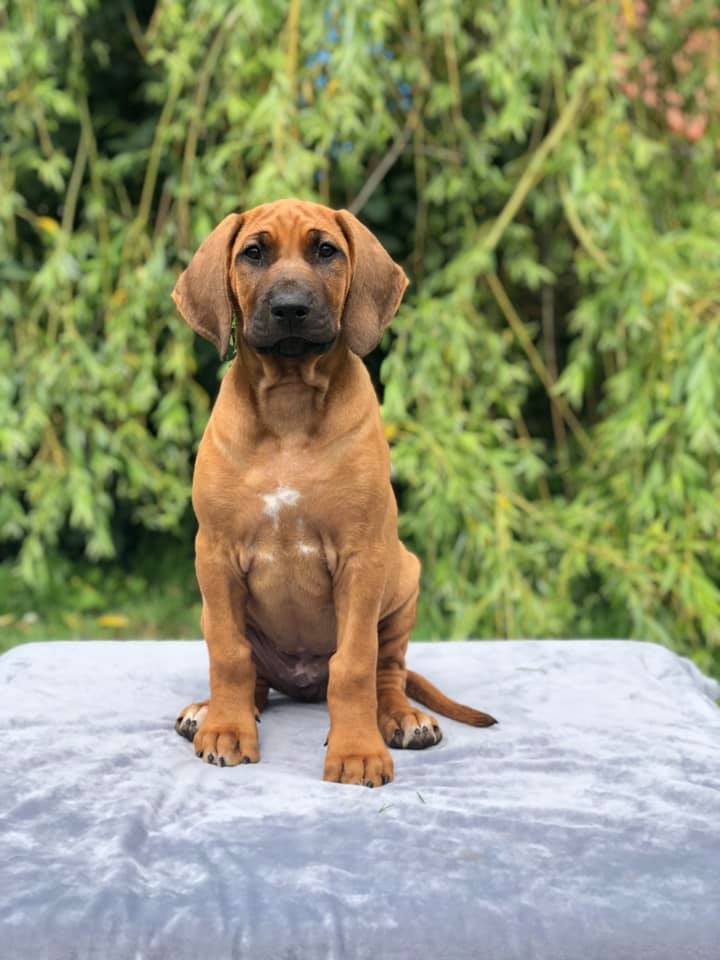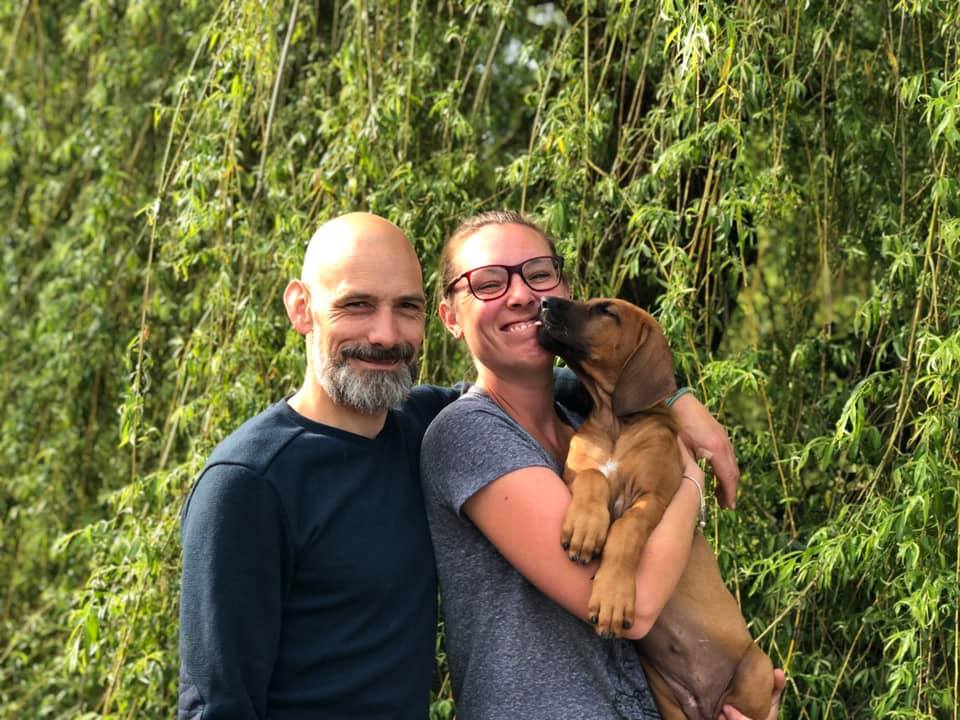 04-06-2021
Time is going so fast. We are very busey with our puppies and prepare them for big world!
They are already 6 weeks old!
Hidaya Ultimate Chaos ~Afi~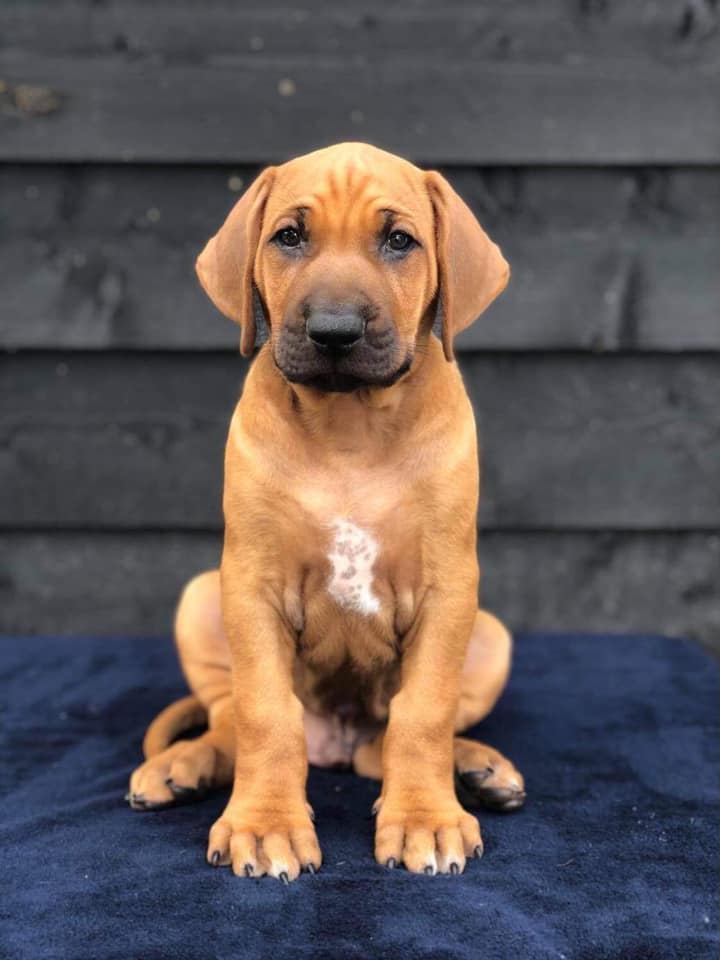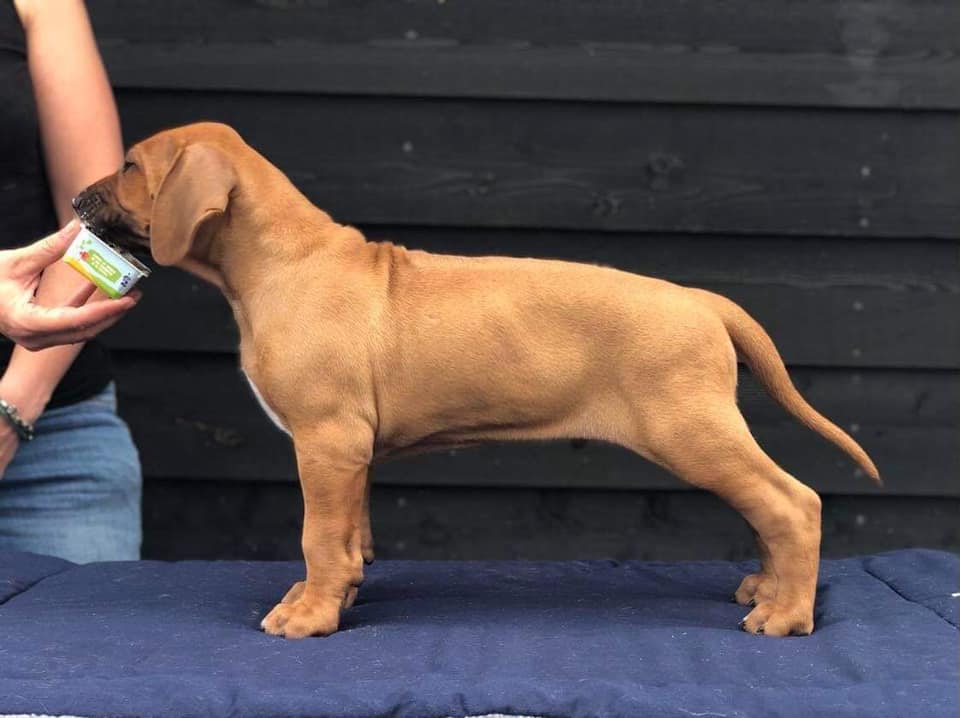 Hidaya Captain Chaos ~Meneer Janssen~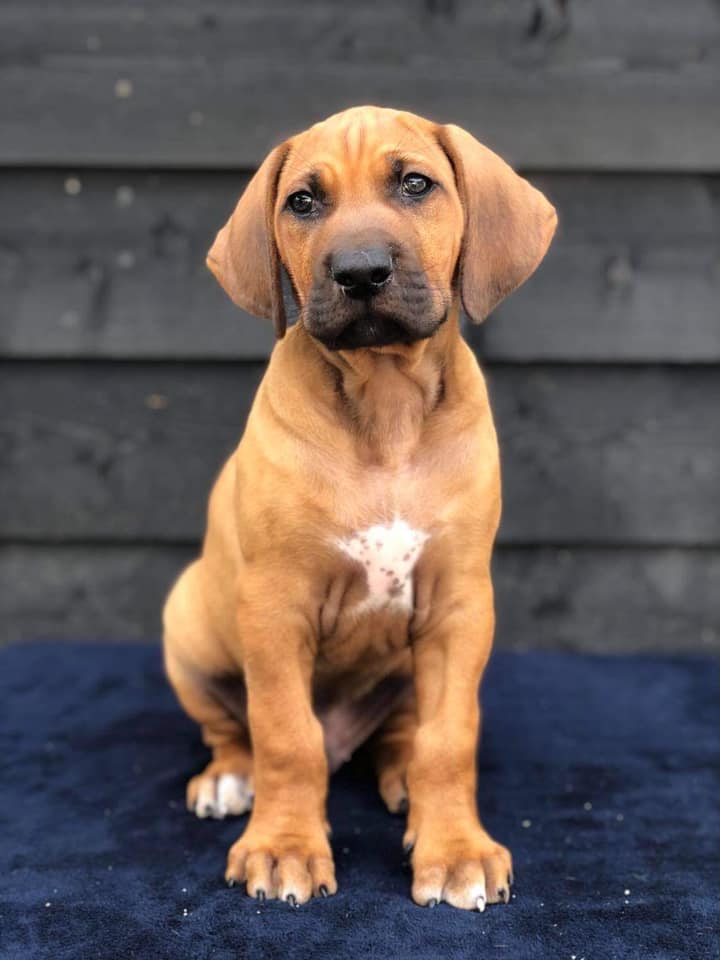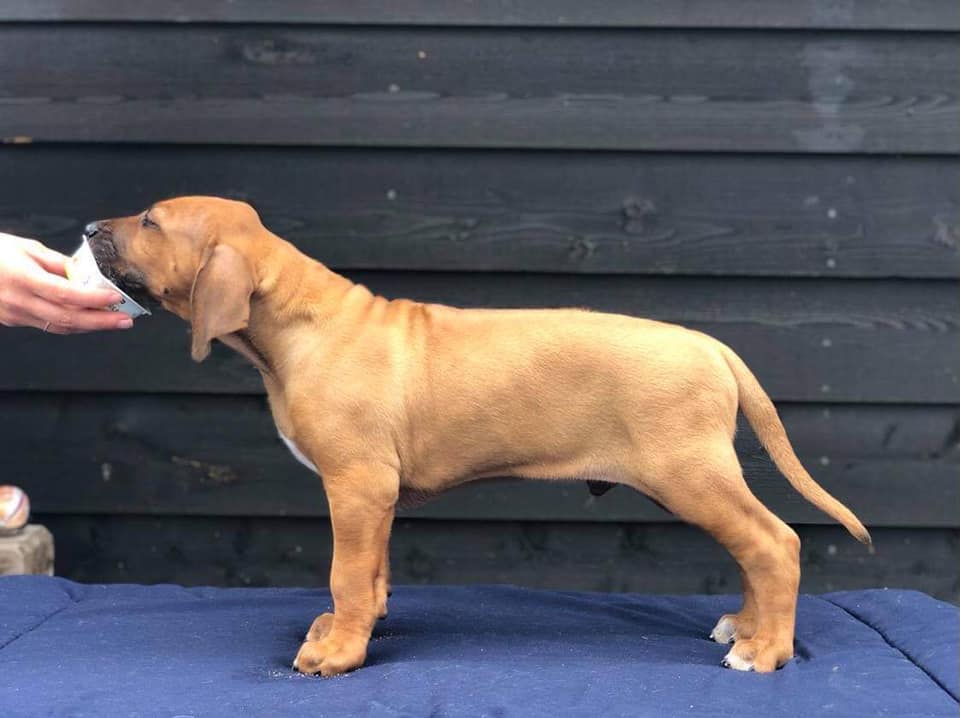 Hidaya Queen of Chaos ~Zoë~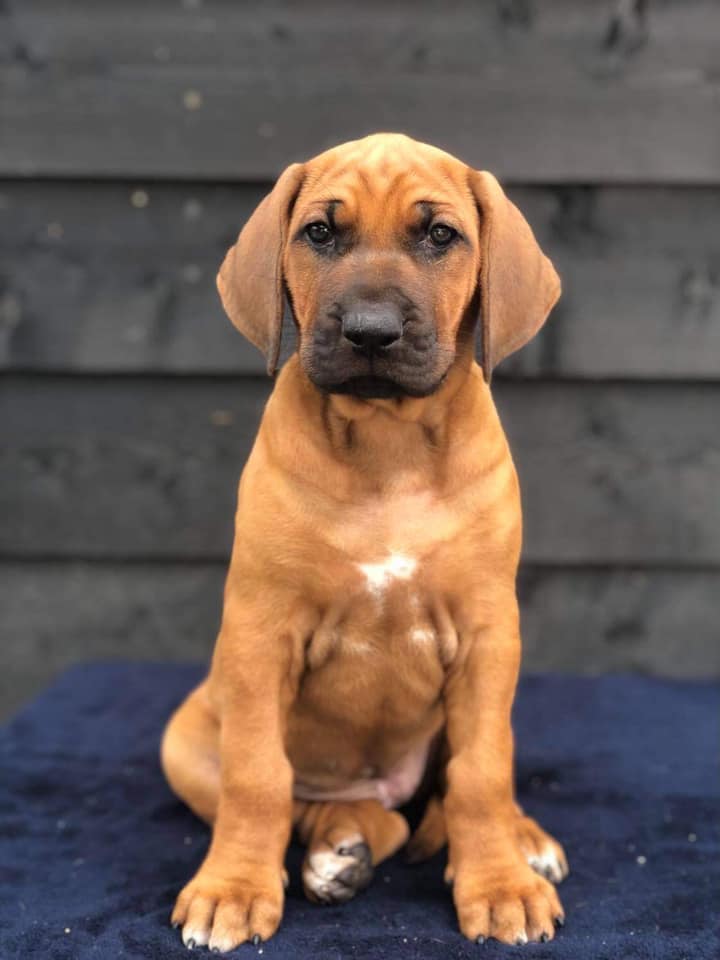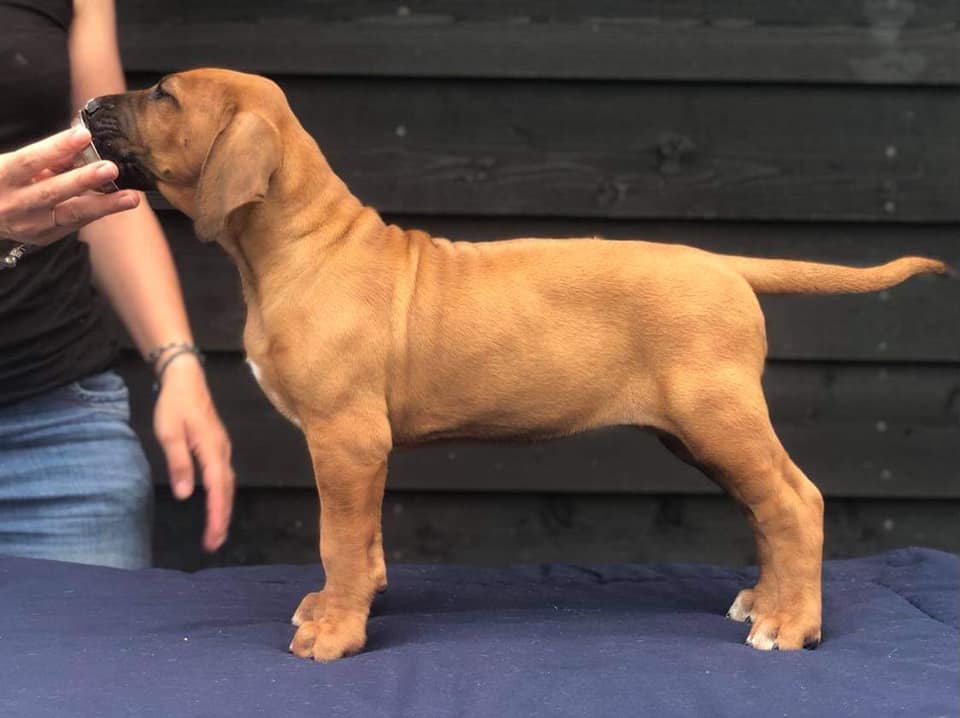 17-05-2021
We are very sad to say that we lost our beautifull co-own boy Daryll.
This morning Daryll went very ill, and at the end of the the day, there was was nothing anybody could do for him anymore.
This is so heartbreaking, he was still a puppy.
We wish his owners Erik and Esther lots of strength for the coming time.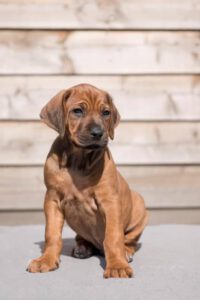 24-04-2021
Let me introduce our Chaos litter: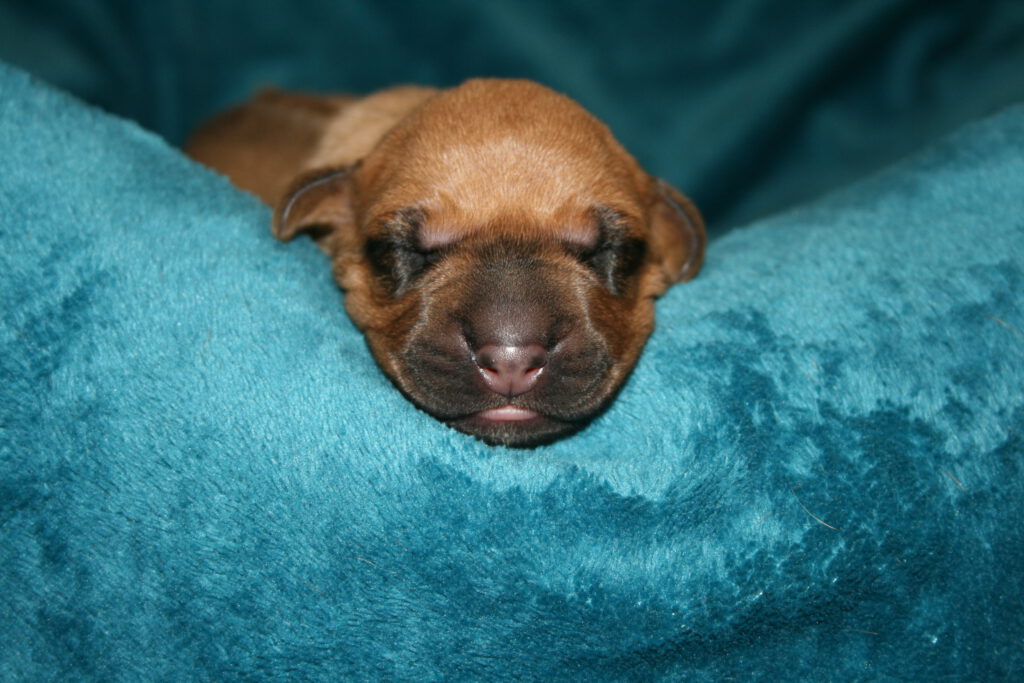 23-04-2021
We our so proud of the birth of our Choas litter.
4 puppies where born last night. Unfortunally one puppy is stillborn.

We have 2 males and 1 female who at this point all seems to be correct.
The stillborn puppy was a female with 3 crowns.
We are over the moon with the birth of this litter!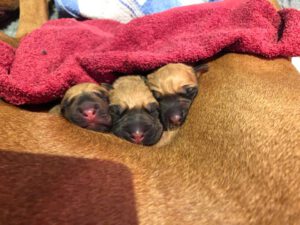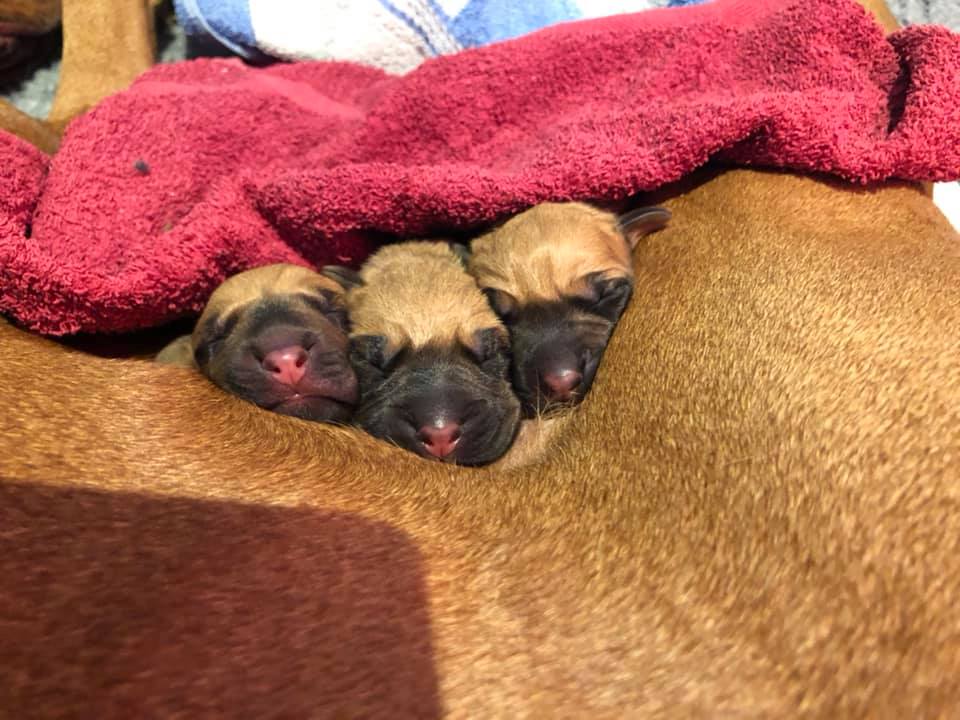 16-04-2021
Welcome to the family "Kuanzia Kani Promise Me Forever"
DARYLL
Already for years a new from the plans for this combination. When I heard about it, I was very interested for a puppy from those breedinglines.
I was there when the litter was born at one of my special ridgeback friends, and that makes is even more special!

Daryll is bred by my friend Ilse from Kuanzia Kani kennel. He will live 10 minutes from us in co-own with Esther and Erik.
Daryll will get his own page on the website soon!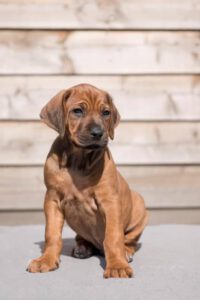 16-03-2021
"It is al about finding the calm in chaos"
Today the ultrasound told us that we can welcome the puppies of Ifa and Ani around April 23.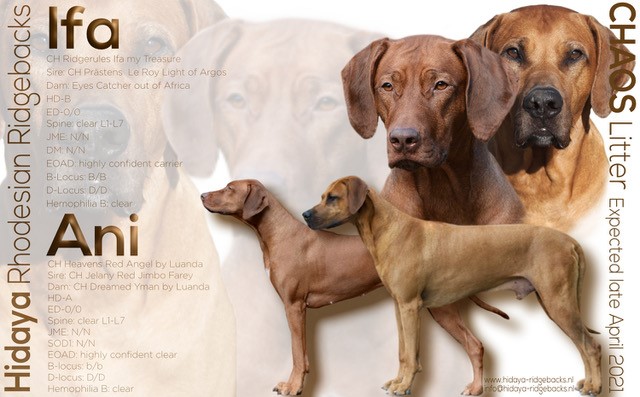 22-02-2021
We expect our C-litter in April.
The waitinglist for this litter is closed!