We are Martijn and Joyce van Oudheusden, and we live with our Ridgebacks in Neede. That is a small village in te east of Holland.
We live in a farmhouse that is almost 100 years old, and we are totally renovating it over the years.
Joyce got her own dog school for mantrailing and scent detection.
You can see more about that at Speurhondenschool Achterhoek.
In October 2005 our first Ridgeback "Jambo" was born.
And from that moment our lifes changed completely.
Dogs and especially the ridgeback became a big part of our lives.
This breed became our passion, and what all started with just having a dog in 2005 became a life with 4 dogs at the moment.
And we enjoy our dogs and the breed every single day!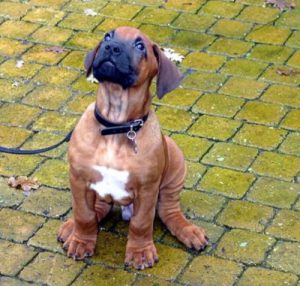 When we learned more about the Rhodesian Ridgeback a dream started to breed our own litter.
10 years after having our first ridgeback, our first litter was born.
We do not breed very often, because we think that breeding a litter is not something you just do.
We love to work with our dogs, and Mantrailing (search and rescue) is our biggest hobby. But you can also find us in the forrest for hours, for some nice long walks.
All our dogs from the present and the past have their own pages at our website, so you can read everything about them.
We hope you enjoy your visit at our website, and if you have any questions for us, don't hesitate to contact us.
Joyce & Martijn
Hidaya Rhodesian Ridgebacks