18-09-2022 RRCN Rhodesian Ridgeback Specialty / Judge: Mrs. K. van Klaveren (D)
Breeders Class
15 months.
From a big size.
Strong loin, masculine strong head.
Long strong muscles, a little bit too much lips.
Strong neck from good size. Straight back.
Really good angulation in front and rear.
Movement a little bit narrow in the front.
Lovely temperament. Nice presentation.
Very Good.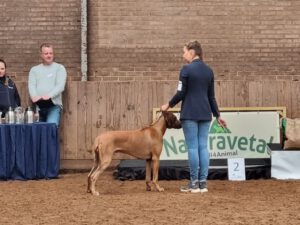 29-05-2022 BRRC Rhodesian Ridgeback Specialty / Judge: Mrs. I. Klapova (CZ)
Junior Class
13 months, very nice development.
Max hight, stop can be better.
Very happy.
Nice presentation, moves very well.
Excellent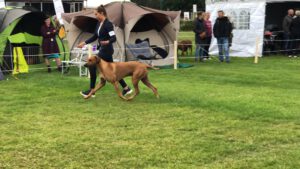 24-04-2022 RRCN Junior day (NL) / Judge: Mrs. M. Trésoor (NL/F)
Junior Class
Reu van 12 maanden. Enorme reu die wel in balans is met goed bone.
Schaargebit.
Mannelijke hoofd met goede verhoudingen. Goed oor en oog.
Krachtige voorsnuit.
Smal in de voorhand, matige voorborst, onvoldoende borstdiepte.
Rechte benen, krachtige voeten. Staat voor wat met de voeten naar buiten.
Mooie droge hals van goede lengte. Voldoende lengte borstbeen, matige ribwelving.
Voldoende hoeking achterhand.
Prima staartaanzet en dracht.
Gaat vlot, uitstekende ridge.
Goed voorgebracht!
No qualification at this unofficial show
17-04-2022 CAC Outdoor Zeeland (NL) / Judge: Mr. J. Roberts (NL)
Junior Class
Enthousiaste reu.
Mooi mannelijk hoofd. Goed schaargebit.
Goed oog en Oor.
Net voldoende voorborst.
Goede ribwelving.
Diepe borst, maar wel in verhouding met zijn hoogte.
Mooie ridge.
Voorvoeten draaien iets naar buiten.
Goede bespiering. Mooie bovenbelijning.
Goede hoeking.
Vriendelijk ringgedrag.
4 Excellent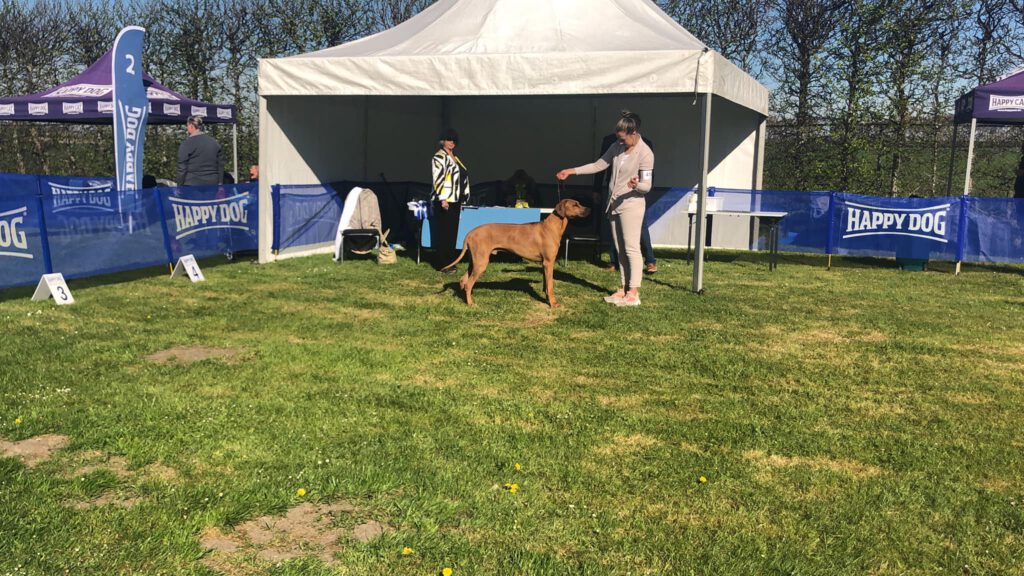 07-11-2021 Jubileumshow Bleiswijk (NL) / Judge: Mr. R. Smits (NL)
Puppy Class
Forse 6 maanden oude reu, nu al aan de maat.
Fors reuenhoofd, mooi oog. Schaargebit.
Prachtige hals.
Goede voorborst, sterke bone.
Voeten nog wat los.
Ribpartij reeds goede diepte.
Sterke rug met mooie ridge, alhoewel licht offset.
Goed uitgrijpend gangwerk. Croupe iets aflopend.
Veel belovende reu, maar mag eigenlijk niet meer groeien.
2 Very Promising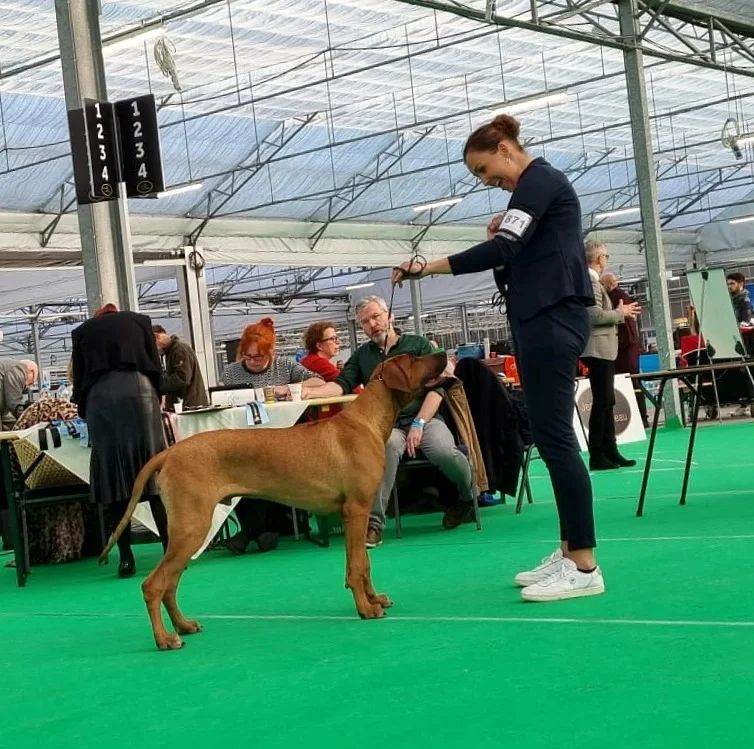 11-09-2021 RRCN Championship Clubmatch (NL) / Judge: Mrs. M. Franke (NL)
Minor Puppy Class
4 maanden. Flink ontwikkeld voor leeftijd.
Voldoende mannelijk hoofd, fraaie volle voorsnuit.
Onderkaak mag iets krachtiger.
Voldoende droge hals.
Ruime hoekingen voor en achter.
Mooie bovenbelijning en croupe.
Wat opgetrokken in de onderbelijning.
Voeten mogen sterker. Correcte ridge.
2 Very Promising